MCAS Students attend 'Hidden Figures' talk with author, Margot Lee Shetterly | May 2017
Newsletter May 2017
MCAS Students attend 'Hidden Figures' talk with author, Margot Lee Shetterly
The movie Hidden Figures has brought to light the vital contributions of three African American women who worked at NASA. Speaking to all of their work behind an operation that reshaped our view of the world. Eight MCAS students had the opportunity to hear the 'Hidden Figures' author, Margot Lee Shetterly and her experiences at Monroe Community College's Damon City Campus on May 3rd. She talked about the women in her book, the challenges she experienced in the writing process and how meaningful it has been to her.
"It was enlightening to get a sneak peek on parts that weren't mentioned in the book or the movie. Hearing about how the women guided the people coming after them, regardless of their color or background, was very inspiring, " said Dimple Joseph, a 4th year student with a dual major in Industrial Engineering and Masters of Engineering in Engineering Management. "As a future Industrial Engineer, I hope to also be a humanitarian and positively influence the people that cross my path."
Shetterly's message resonated with everyone as she spoke on the importance of having patience and how her spirit of perseverance unveiled throughout her six-year writing journey of the 'Hidden Figures' book. Shetterly also talked about the editing process and how being comfortable with ambiguity assisted her. As an author, she felt it was important to share many details and steps in her drafts that weren't actually helpful to crafting the story. Shetterly shared aspects of her journey, especially on compiling data and her extraction process. Ultimately, Shetterly grew and felt stretched during those years and now said "she wrote the book she wanted to read."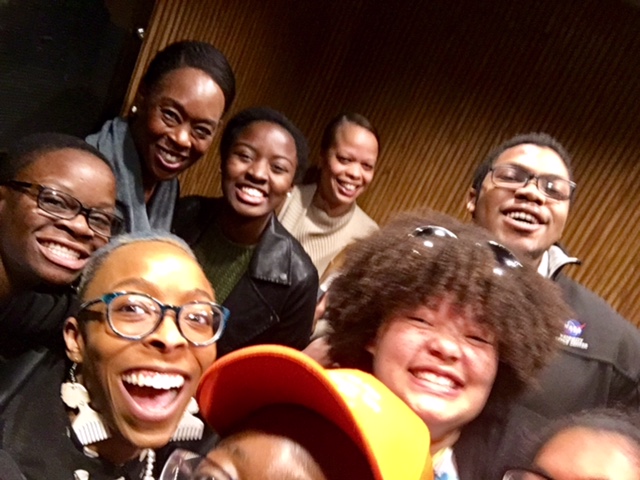 Students had the opportunity to attend a book signing and takes pictures, too. As the students were heading back to RIT they surprisingly got an elevator selfie in with the author! MCAS supports unique educational, cultural and professional development excursions for students to enhance their RIT learning experiences.