Faculty members named to leadership positions in RIT's Kate Gleason College of Engineering
Ferat Sahin and Amlan Ganguly become department heads of growing programs at the university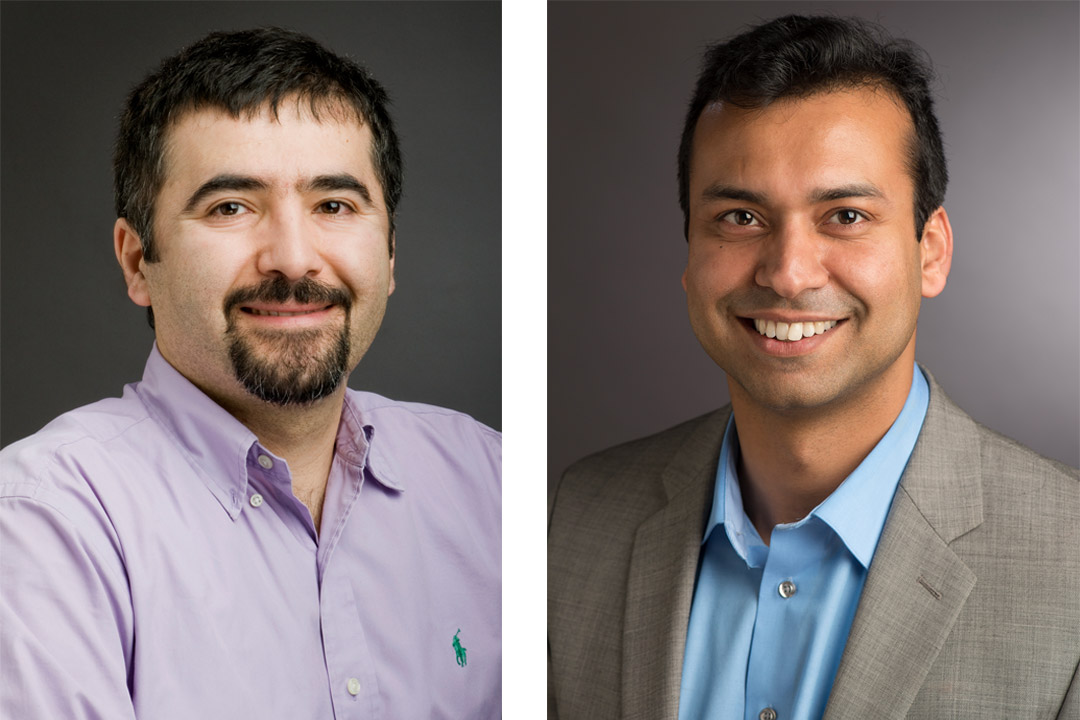 Ferat Sahin and Amlan Ganguly, professors at Rochester Institute of Technology, were recently appointed department heads for two of the university's engineering programs. Sahin will lead the electrical and microelectonic engineering department and Ganguly will direct the computer engineering department—both part of RIT's Kate Gleason College of Engineering. They will assume duties on July 1.
"Ferat and Amlan are great colleagues, accomplished faculty members and productive scholars. I look forward to working them in their new roles as leaders of their respective departments," said Doreen Edwards, dean of the Kate Gleason College of Engineering.
Sahin, a professor of electrical and microelectronic engineering, has been with the university since 2000 and is an expert in collaborative robotics, machine learning and biological signal processing.
As director of the Multi Agent Bio-Robotics Laboratory and Century Mold Collaborative Robotics Laboratory, he has been instrumental in the development of innovative research in multi-agent systems, collaborative robots and machine learning. His focus is to apply and transform these research efforts into industrial settings, particularly the manufacturing industry. In addition to authoring more than 140 conference and journal publications, Sahin is also the co-author of two books, Experimental and Practical Robotics and Intelligent Control Systems with an Introduction to System of Systems Engineering.
Sahin is a member of the IEEE Systems, Man and Cybernetics Society and currently holds several key roles for the society including an associate editor of the society's magazine and AutoSoft Journal, as well as the vice president of finance. He is a member of the Robotics and Automation Society, and Computational Intelligence Society. Sahin also established the popular RoboCamp, a K-12 computing and robotics outreach program for middle school and high school age students that takes place during the summer at RIT. Since 2008, the program has provided students the opportunity to learn how to design, build and program mobile robots.
Sahin replaces Sohail Dianat, a professor of electrical engineering, who was department head since 2009. Dianat will continue as a faculty member in the department.
Ganguly has been interim computer engineering department head for the past academic year.
In 2016, he received a National Science Foundation CAREER Award for "Energy-efficient data center with wireless interconnection networks." The five-year grant award is being used toward further exploring the design of energy efficient data centers utilizing a communication infrastructure with wireless interconnections. He has also been part of a larger collaborative team working with corporate partner Toyota to design smart manufacturing functions in a warehouse setting.
Ganguly's research interests are in developing energy-efficient interconnection architectures for multicore chips using novel technologies such as wireless and photonic interconnects. He works on designing robust and failure resistant on-chip networks for future generations of multicore systems-on-chips. Ganguly is a member of the RESIST research group established at RIT to create cross-disciplinary collaborative research on Resilient, Secure and Reliable systems, networks and computation methods.
He takes over the role from former department head Shanchieh Jay Yang, who has been on sabbatical and will resume work as director of global outreach for RIT's new Global Cybersecurity Institute.