Student Spotlight: Device helps children with physical disabilities
Meet Cesar Borges, fifth-year biomedical engineering, and Kalie Lazarou, industrial and systems engineering
Cesar Borges, a fifth-year biomedical engineering student from Salvador, Brazil, and Kalie Lazarou, a fifth-year industrial and systems engineering student from Buffalo, N.Y., are part of a team working on the Overcomer, an assistive device that helps children with physical disabilities have a more inclusive playground experience. Borges and Lazarou are completing this project as part of a multidisciplinary senior design (MSD) team—a senior project that all engineering students need to complete before they graduate—with fellow teammates Rachel Mahoney, a fifth-year biomedical engineering student; Michael Martin, a fifth-year mechanical engineering student; and Karn Mishra, a fifth-year industrial and systems engineering student.
Previous MSD teams have worked on the Overcomer in the past, and this current team is working to improve a pre-existing prototype that would help children using wheelchairs, walkers or other mobility aids catch and throw a ball. Borges, Lazarou and the rest of their team will be conducting their first round of user testing on April 9 and 11 at the Mary Cariola Children's Center.
Borges, Lazarou and the team wanted to extend a special thanks to the people who helped them accomplish this project, including: The Senior Design Department; the Albert J. Simone Center for Innovation and Entrepreneurship, which provided a grant to help complete the project; client Joe Kabes, owner of Inclusivity Incorporated; faculty guide Gerry Garavuso; and the Mary Cariola Children's Center, which gave the team the opportunity to conduct user testing at its facility.
For more information about the Overcomer project, go to http://edge.rit.edu/edge/P19046/public/Home.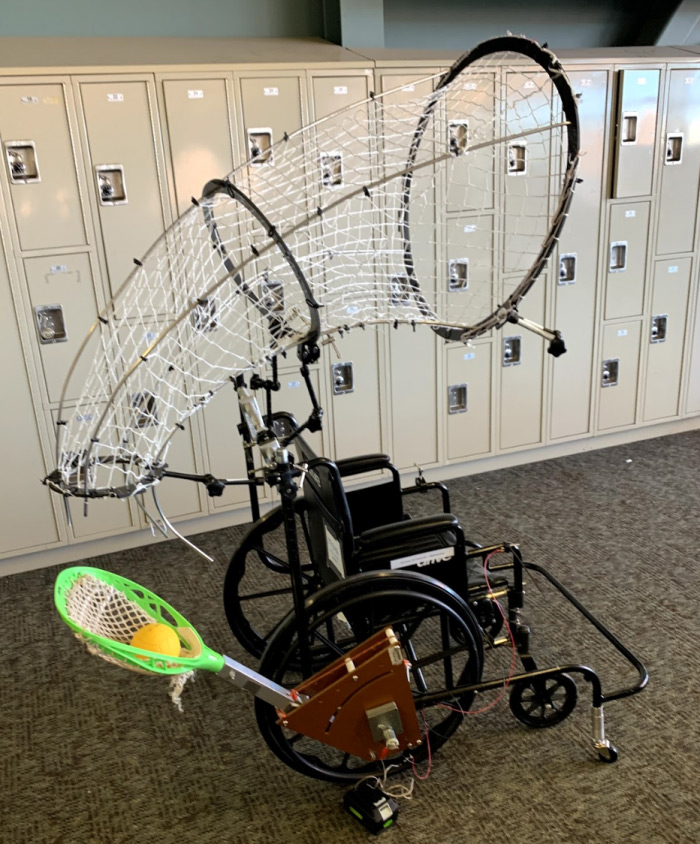 Question: What is the Overcomer?
Answer (Lazarou): The Overcomer is a form of assistive technology that helps individuals who have physical disabilities become more active in physical and social activities from their wheelchair, walker, stander or other mobility aids. The Overcomer intends to help users interact, socialize and enjoy their time being active. This version of the Overcomer aims to help children participate in a game of catch.
Question: Why were you interested in working on this project?
Answer (Borges): Being a biomedical engineering student, I decided to go with this major mainly because I wanted to be able to create things that will assist people in their daily lives and health. The fact that the Overcomer is a project helps children achieve those daily activities that they normally wouldn't be able to do was really appealing to me. I was interested in participating in this project because it allows us to actually make a change in individual lives. It's not something that helps the overall good of humanity, but, for that one family, it might make a difference and change their lives.
Question: In what ways do you think this will help children with physical disabilities?
Answer (Lazarou): I would say, overall, it helps kids be more connected to the emotional experience of achieving different forms of independence. Joe, our client, told us from the beginning of our project that we all take something like throwing a ball for granted. For us, that's so simple, but for others it takes so much more effort and, sometimes, they need people to help them. Being able to see the look on their face or the look on their parent's face when they see their child experience this type of playful independence is the way that we really get to influence people through this project.
Question: What features or product design elements are you guys focusing on and how will that enhance the current prototype?
Answer (Borges): In terms of new features, the main aspect we are working on is the throwing device. We had a previous two-in-one throwing and catching mechanism, but we had to separate the two so we could focus on the performance of the throwing device specifically. We changed many aspects of this mechanism, including changing it from being made up of exclusively mechanical parts to including electronics. We are trying to reach a wider range of users who may not be able to mechanically activate the device. Now, they have the option to push a button and have the system do all of the physical work for them. We are also making improvements to the throwing device in terms of how far the ball is actually thrown, as the previous device would kind of just plop the ball onto the ground. So we've picked apart the device and basically put a whole different device together that had the same features as the old device, but was organized in an improved way.
Question: So far, what has been the most rewarding part of working on this project?
Answer (Lazarou): Getting to experience the product development cycle with an actual customer that has some sort of investment in the project. Joe really cares about the work that we're doing and he wants us to succeed and do well, which, in turn, makes us feel very accountable to do well for him and for his potential customers. I think that whole support circle has been the most rewarding so far. I'm excited to get into the user testing and see how it will feel seeing the product in action.
Answer (Borges): For me, it would definitely be my teammates' recognition of the efforts I've put into the project, and the recognition from our client and the support from our guide. I can say that, personally, I've put many hours into this. All of my team members have been very willing to help, but a lot of times different tasks can only be tackled by one person. Having the support and the continuous gratification of compliments on the efforts I've made feels great.
Question: What are the final deliverables for your project?
Answer (Borges): The three general deliverables for senior design are a paper talking about our project and our overall process, a poster about the project and the actual physical device or software that you have worked on. So, in our case, the physical deliverable is a device that is going to go on a wheelchair. As of right now, it's more of a prototype stage. We do hope to make it more professional looking so it will be aesthetically pleasing for users and possible customers.
Question: How do you think working on this project will help you as you move forward in your career?
Answer (Lazarou): My immediate career after graduation is going to be in a project engineering role. So I'll be the project lead for a various array of capital investment projects where a lot of things are going on at once. I think this has taught me how to balance all of those moving parts and what types of things you really need to control in a long-term project. Working on a project for about 10 months has definitely taught me more about how that type of product development cycle goes. I would also say, in general, this project has really opened my eyes to the different types of accessibility in the world and shown me that, when you're developing a product or a new feature in something, accessibility for people of all abilities should be one of the top priorities.
Topics