Students test site operations skills at Raymond Corp.
Workflow recommendations from student-engineers may be incorporated into future company processes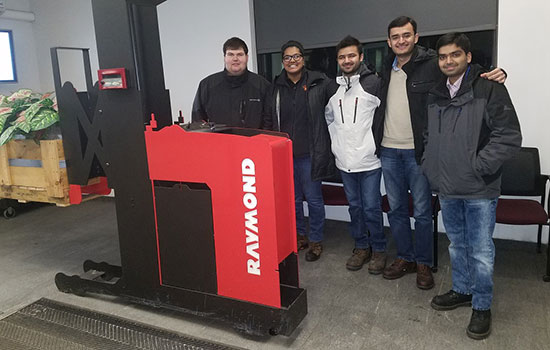 RIT's Kate Gleason College of Engineering provides its students with real world experiences beyond co-op. This past week, five graduate students participated in an intensive, three-day work experience at the Raymond Corp. and were challenged to find ways to improve one of the company's manufacturing workflow processes.
Data and recommendations they provided at the end of the three days could contribute to continuous improvement efforts in its assembly department, said John Kaemmerlen, senior lecturer in industrial and systems engineering (ISE) who has led the Raymond Corp. experience for the past four years. He works with the company's Toyota Production Systems team to determine the project scope. While onsite, the students use the lean and Toyota production systems methodologies they learn in classes and in RIT's Toyota Production Systems Laboratory, located in the engineering college.
"The idea is to do a quick hit, small scale, consulting project where the students are given a problem, go to the workplace, collect and analyze the data, then make recommendations," Kaemmerlen said, who traveled with the students to the company's plant in Greene, N.Y. just north of Binghamton. The company provides technologies and systems for largescale warehouse and distribution operations.
"I wanted to see if RIT students, based on combinations of working in the lab, co-op and our courses, can do meaningful work, with a very fast start, two-to-four hours, in a factory that is very mature in terms of the use of lean practices," he added. "We've shown that they can. The students really enjoy it, and the Raymond feedback has been very positive. "
Assessing one of the workflow systems, the industrial and systems engineering students provided time data analysis and determined how to alleviate system backlogs and where material waste could be reduced to effect even higher efficiencies in the overall workflow process. Results and recommendations were presented to Raymond managers for review.
"From problem definition to resolution and presentation, RIT students have consistently shown that they can apply what they've learned to a non-textbook case, a real-life example, where the data, although there, is not always neatly presented—therefore the challenge. It was enjoyable to be a part of their experience as they learn and grow into the industrial engineering profession," said Daphne Dallard, Toyota Production Systems engineer, one of several Raymond Corp. staff who prepared a brief orientation and training session for the student team to help them define the project scope.
"It helped us understand what we were going to do and how," said Sidharajsinh Harisang Jadeja, one of the graduate students who spent time on the shop floor observing and interacting with company staff. "Knowing that continuous improvement is something integrated in the company culture and practiced made asking questions a lot easier."
Those participating in the non-credit onsite experience at Raymond Corp. are in Kaemmerlen's graduate courses and student-employees in the Toyota Production Systems (TPS) Laboratory. Established in 2006, the TPS lab provides hands-on education in state-of-the-art production systems. Particular emphasis is placed on teamwork, problem solving and process improvement by studying the fundamental behavior of production lines.
"One of the students asked me what was the best part of the trip. Watching them scrambling to finish their analyses and data summarization, then watching them 15 minutes later delivering five concise and on-target presentations of their work with almost no prep time, and zero practice time, to four levels of management," he said.
Another ISE student just started a co-op at Raymond Corp., and one of his first tasks is to take his classmates' data and recommendations, continue the study and develop an implementation plan.