Women in Engineering

WE@RIT (Women in Engineering) is dedicated to encouraging the participation of women in engineering and preparing students for leadership roles within the engineering profession. 
WE@RIT programming serves three distinct audiences: students new to KGCOE; current KGCOE students; and the K-12 Community. By employing research-based best-practices, WE@RIT builds community and develops leadership skills in the next generation of engineers. WE@RIT programming is open to all students, regardless of gender.
KGCOE is the only engineering college in the nation named in honor of a woman. Kate Gleason demonstrated innovative, entrepreneurial, and technical abilities at a time when women could not even vote! Kate Gleason's legacy and inspiration, together with the college's strong commitment to foster gender equality in the engineering field led to the creation of a women in engineering program called WE@RIT. It was founded in 2003 by a group of dedicated faculty and staff. WE@RIT develops and hosts programs that support, educate and inspire young women both academically and socially. 
The Executive Advisory Board provides consistent guidance to WE@RIT on strategic direction, programs, and partnerships. They assist with our extensive collaborations with University Programs, College of Engineering Departments, Faculty, and Industry partners. This valued method of operation has a positive impact on programs and student success.

KATE GLEASON WAS A BUSINESS LEADER, INVENTOR, AND THE FIRST WOMAN MEMBER OF THE AMERICAN SOCIETY OF MECHANICAL ENGINEERS.
Catherine Anselm Gleason was born in Rochester during 1865 and has been heralded as the first lady of gearing and the ideal business woman.
Kate's career began at age eleven when she started helping her father, William, in his machine shop after her older half-brother died from typhoid. By fourteen, Kate was the company bookkeeper and in 1884 she became the first woman to enroll in the Mechanical Arts program at Cornell University.
When Kate left for Cornell, her father hired someone to replace her in the business, but the firm began struggling financially. Her father couldn't afford to pay the salary of the man he had hired to replace Kate, and she was called home to help at Gleason Works.
By 1890, Kate was the Secretary-Treasurer and soon led sales and finance within the business. In 1893, the tool business dried up in the US and Kate decided to expand her sales region to include the European market. After a two month voyage, she arrived in Europe where she secured orders from England, Scotland, France, and Germany. This trip was among the first attempts by any American manufacturer to globalize their business.
Kate resigned from Gleason Works in 1913, and the next year was the first woman in New York to be named Receiver in Bankruptcy, serving as such for the Ingle Machine Company in East Rochester. Also in 1914, Kate was unanimously elected to membership in the American Society of Mechanical Engineers as its first woman member. In 1917, Kate became the President of the First National Bank of East Rochester, another first for an American woman.
Years later, Kate left Rochester for business ventures in California and South Carolina, travelling extensively and eventually purchased an estate in France.
Kate Gleason serves as an inspirational role model for the engineering students studying within the RIT College named in her honor. The Kate Gleason College of Engineering (KGCOE) is committed to producing engineering graduates who provide innovation in product development, becoming leaders in the global engineering community.
New Students
WE@RIT offers two programs for students new to RIT. WE Retreat is an evening program held the night before each Accepted Student Open House in the spring of a student's senior year of high school. The Mentoring Program aims to build community and increase the confidence of new students as they transition into the Kate Gleason College of Engineering.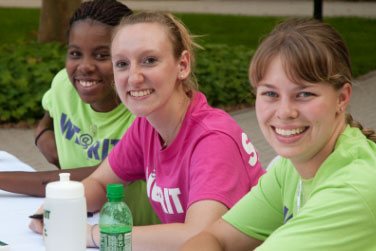 WE Retreat
This free of charge evening program held each spring for accepted high school seniors introduces prospective students to the culture of KGCOE, and invites them to take their place within it.
Mentoring Program
A program that aims to build community and increase the confidence of new students.
RIT Community
WE@RIT holds a series of programs called "Kate's Hours" throughout the year for our current KGCOE student population.  All Kate's Hours touch upon one of the WE@RIT programming pillars: to build community and/or empower leaders.
Kate's Hours are a way for students to connect with each other and with WE@RIT throughout their years in KGCOE.  Some events, like our fall field trip and kickoff dinner, emphasize social, community-building opportunities.  Others, such as resume reviews, mock interviews, and visits from alumnae offer opportunities to grow professionally. The line-up of current events is ever-changing to best meet current student needs.
K-12 Outreach
WE@RIT typically offers two outreach events each year: the WE@RIT Engineering Open House each fall, and an outreach experience each spring. These outreach opportunities represent leadership experiences for current engineering students, as well as a chance for youth to "see themselves as an engineer."
WE@RIT Engineering Open House
Typically held the first Saturday in November, the Engineering Open House is a buffet of engineering activities for youth in grades 5-8, regardless of gender, their parents, and educators to explore at no cost. It is led by KGCOE engineering students.
Registration
At this time, the WE@RIT Engineering Open House is presented to partner schools within the City of Rochester by invitation only.
WE@RIT's spring outreach varies year to year. Follow along on our social media to stay in the loop.
Support Us
Your support is vital to the success of our mission. WE@RIT encourages participation in our programs at all levels in an effort to inspire, educate, recruit and retain women in engineering. Help make a difference today!