Getting the job done right—and safely
RIT alumnus James Frederick becomes deputy director of OSHA, an integral part of Biden Administration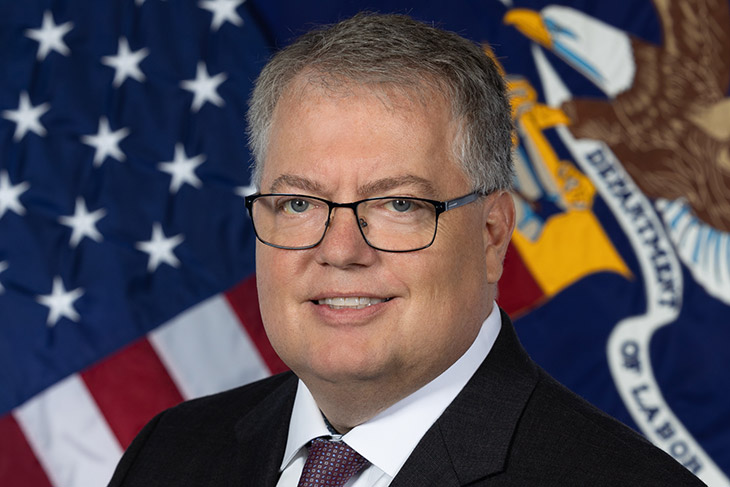 OSHA
RIT alumnus James Frederick has not only held the position of deputy assistant secretary for the Occupational Safety and Health Administration (OSHA) since January, but he has managed the day-to-day operations of OSHA while the agency's incoming nominee for assistant secretary awaits confirmation by Congress.
"He's cleared committee. The next step is the full Senate vote. And the line I have about this is—no one hopes that this vote happens more than me!" said Frederick about nominee Douglas Parker.
OSHA is one of 26 departments in the U.S. Department of Labor, and Frederick '03 MS (environmental, health and safety management) became an integral part of the agency that is charged with developing workplace safety and health standards and providing education and training to ensure safe working conditions.
"The role itself in the first 5 ½ months has been a little bit larger, broader than I had in mind from my understanding of the deputy role—and I knew darn well that this would be the case, that it would take months for the assistant secretary to be confirmed," said Frederick, who was appointed to the OSHA leadership position by President Joe Biden.
When news of his appointment was announced, many in industry praised the selection because of his skills and unwavering advocacy for workers. Frederick is seen as a "leader of intellect and empathy," according to Tom Conway, president of United Steelworkers.
"There is no stronger advocate for worker safety in this country than Jim Frederick," Conway said. "He brings to OSHA not just a deep commitment to safer workplaces for all Americans, but the expertise and experience to get the job done right."
That experience is built on more than 30 years as an environmental, health and safety management professional. Prior to his current work, Frederick was the assistant director and principal investigator for the United Steel Workers Union's health, safety and environment department, one of the country's largest and oldest unions. He has seen how safety professionals have contributed to workplace improvements and he's held on to the philosophy that employees themselves provide keen insights into workplace safety.
More environmental, health and safety management staff are being embedded in all types of organizations, not just large-scale manufacturing facilities. Frederick sees these individuals as key to making workplaces safer.
"No one knows about workplace health and safety than the people who do the jobs," Frederick said. That awareness could mean the difference between minor down-time and tragic accidents. 
Growing up in Indiana, influences from his father, an engineer, and mother, a public health nurse, allowed Frederick to see two distinct sides of the workplace—processes and safety.
"Fast forwarding to work life, to some of the work I was doing with the Steel Workers Union, we recognized that we could make more progress when we would deal with the larger employers at multiple sites across the union and try to address bigger health and safety issues at the corporate level so that we weren't doing just area-by-area, job-by-job," he explained. "We could make a bigger impact if we helped affect the overall health and safety systems. It's important to make certain that local health and safety representatives have the tools they need to be effective and educate all involved about problems and solutions."
The United Steel Workers Union is a collective of multiple industries from manufacturing and utilities to healthcare and transportation. Frederick would be involved in work that took him to shop floors as well as company board rooms.
He supplemented this "experiential learning" with graduate coursework, coming to RIT after several years in industry and taking courses in environmental, health and safety management part time.
Giving workers a strong, collective voice and the tools to be effective leaders and contribute to organizations has been a mainstay for Frederick, and one he'll continue to advocate for as he leads OSHA. There is a focus within the organization on recognizing the value that workers bring to the workplace and the way the regulating community sees its obligations.
"I have always thought that the obligations are one part legal but three or four parts moral. It's so important, it's a moral imperative that employers provide safety and health in their workplaces, reducing risks so that folks can get home the same way they showed up."
President Biden has asked his new administrative team to enact a "season of change" where government overall improves services for U.S. citizens, and by extension, advocates for workers in a country just emerging from the pandemic.
"OSHA is already here," said Frederick, who will commemorate the agency's 50th anniversary this year. 
Topics