Packaging solutions improve product shelf life and sustainability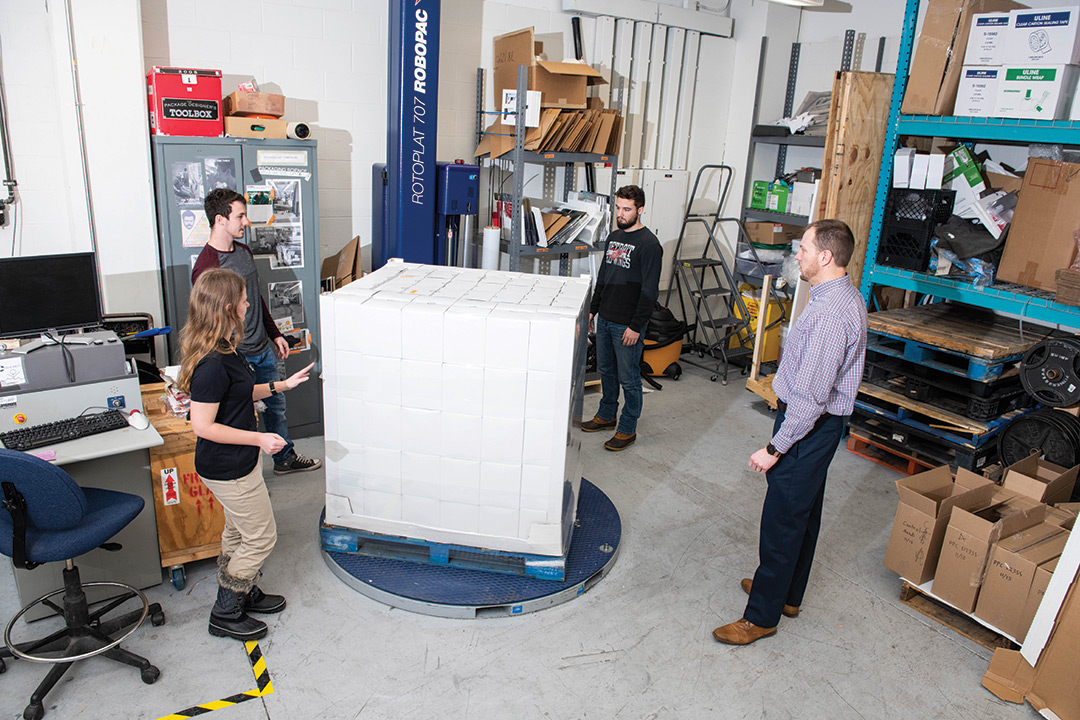 Gabrielle Plucknette-DeVito
Images of plastic bags and bottles clogging beaches and oceans have some calling for a ban on all such products.
But packaging experts say it's not that easy to eliminate a highly effective material that is in so many things people use every day, from bread bags and milk cartons to pouches for blood products and vials for pills.
Instead, researchers at RIT are looking to strike a balance: Find a way to produce plastics that retain their best qualities and yet are more environmentally friendly.
Carlos Diaz-Acosta, associate professor of packaging science in RIT's College of Engineering Technology, believes plastic products are good at what they do, and if disposed of correctly, could do little or no harm to individuals or to the environment.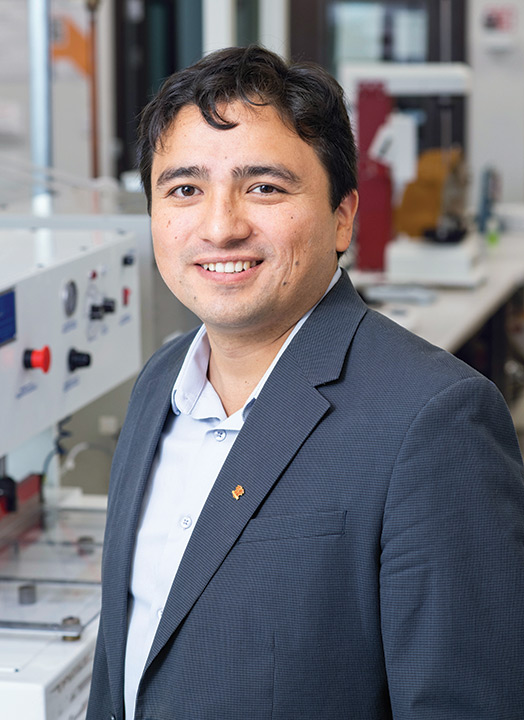 Gabrielle Plucknette-DeVito
"People think they can live without packaging," he said. "Yet, some traditional plastics are super efficient. They are produced with minimum energy and perform well. We're trying to balance performance and biodegradation. One question we are tackling is how can we develop materials with this balance?"
Alternative materials
RIT packaging science researchers are developing cost-effective alternatives to petroleum-based plastic made with biodegradable polymers. These materials keep products fresher longer and are sustainable for the environment.
But there are trade-offs—there is no one single material that is best across the package development process.
 By continually improving alternative materials and disposal options, as well as itemizing data about these options, companies can choose appropriate materials and designs for consumer products.
Polylactic acid is one of the alternative materials being used by Diaz-Acosta and colleagues in RIT's Golisano Institute for Sustainability.
Used in products such as food containers, once processed, polylactic acid could help reduce landfill waste by employing anaerobic digestion, a biochemical process in which microorganisms digest organic matter to produce methane-rich bio-gas—a renewable energy source.
The team is also testing how "active oxygen scavenging films" might extend the life of bread and decrease mold production.
These oxygen-inhibiting chemicals, familiar to consumers as the small sachets in product boxes, are integrated with film produced for bread bags.
Early test results indicate this multi-layered improvement in bag film extends bread freshness.
Alternative processes
The plastics themselves are only part of the problem.
Retrofitting current manufacturing processes because of new materials and the way they need to be recycled or composted is also important.
Diaz-Acosta; Changfeng Ge, professor of packaging science; and Mark Olles, associate professor of mechanical engineering technology, are awaiting patent confirmation on a thermodynamic process they developed to improve production of foam trays for transporting goods such as fruits and vegetables.
The cushioning materials they produced from agricultural waste, and the new process they developed to form the cushioning materials, could be a key step in transitioning traditional manufacturing and recycling processes
to dispose of alternative materials.
Producing a substance that does its job—such as protecting goods during transport—is also key. Researchers have been seeing increased damage in shipments that use newer, lighter materials and thin films.
Twenty years ago, water bottles had thicker walls and were more structurally rigid, said Kyle Dunno, assistant professor of packaging science.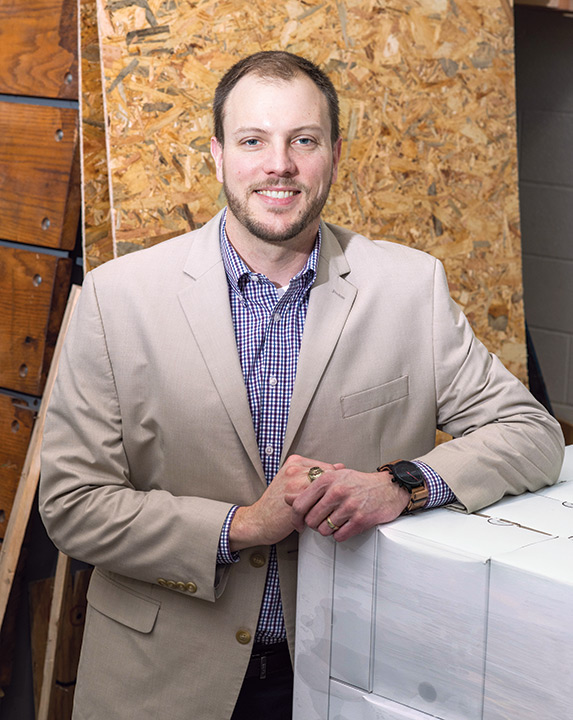 Gabrielle Plucknette-DeVito
"Now, my 4-year-old can crush a bottle," he said. "We are driving out unneeded packaging materials, but at what costs? We look at reduction—of materials pri­marily—as a big opportunity. With some of the reduction in packaging materials, there is an increase in load failures."
 Dunno and his packaging science colleagues are teaching their students about the range of information needed to make strategic decisions along the packaging supply chain, including what happens during transportation and distribution. Having that information allows packaging engineers to design appropriately, selecting materials to isolate or dissipate damage.
New materials and sustainable practices have also made an impact on the packaging supply chain. Decisions made in one area affect another part of the system—sometimes dramatically. The transition to plastic alternatives, while evolving, is not yet a mainstream practice, but that is shifting.
 "We see the growth in population, it correlates with the growth in plastics, and an increase in things. We are a society dependent on technology; one of those technologies is plastic," Diaz-Acosta said. "Plastics provide that safety, hygiene. It is idealistic to want a society without plastics, but that mindset also pushes us to think in a different way and to develop alternatives. We have to keep our options open."
About packaging science at RIT
Packaging is about getting things correct—the correct amount of the right material with the right kind of design for the right fit in the supply chain, said Daniel Johnson, professor and chair of the department of packaging science in RIT's College of Engineering Technology. 
Johnson leads a multidisciplinary department that provides students with opportunities to explore career options along the packaging supply chain using state-of-the-art facilities and software combined with faculty expertise, design projects, and co-op experiences.
National corporations also seek the department's expertise in product, materials, and distribution testing.
Current faculty research reflects industry trends, including a long-time focus on sustainability, circular economy, and the impact of e-commerce.
Faculty-researchers, students, and corporate partners have numerous laboratories available, such as the American Packaging Corp. Center for Packaging Innovation as well as the Packaging Science Dynamics Lab.
"Our curriculum has the content about what high-performing packaging would be in both brick-and-mortar and e-commerce environments," Johnson said. "That dynamic drives innovation in packaging."
That innovation is encouraged in design and project experiences—from classes where students in packaging science, graphic design, and industrial design create prototypes for popular consumer products to course work where students help rework packaging options for local and regional companies.
Topics