RIT Baja Racing goes off-road for competition and careers
University hosts Baja SAE Rochester challenge June 6-9 with 100 collegiate race teams from across the country and around the world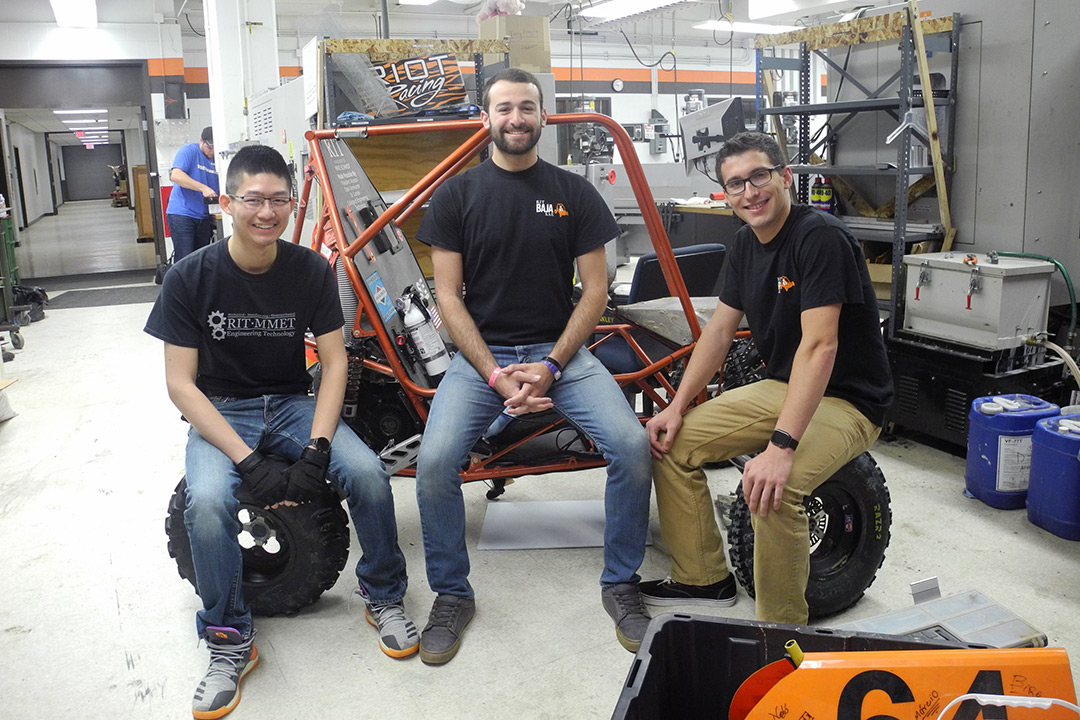 Michelle Cometa
The last time RIT hosted a Baja SAE off-road race competition, the home team had a come-from-behind, miracle finish in the endurance race. After pit stop repairs, they raced to catch up and finish fourth among 75 teams, recording one of the fastest lap times of the race.  
RIT Racing and the other teams from Brazil, Venezuela, Mexico, Canada, India and the United States are looking to bring similar excitement this weekend to the 2019 Baja SAE Rochester World Challenge June 6-9 at the university and Hogback Hill MotoCross site in Palmyra, N.Y. Teams will field race cars, built by student-engineers, and test them on a track that will challenge not only the durability of the cars but the problem-solving capabilities of the teams.  
The team is defending its 2018 season championship and already has two top-five finishes, putting them in contention for another Mike Schmidt Iron Team Trophy. Named after a former member of the team who passed away in 2000, the trophy is given to the team with the highest points over three national competitions and for displaying engineering excellence and sportsmanship.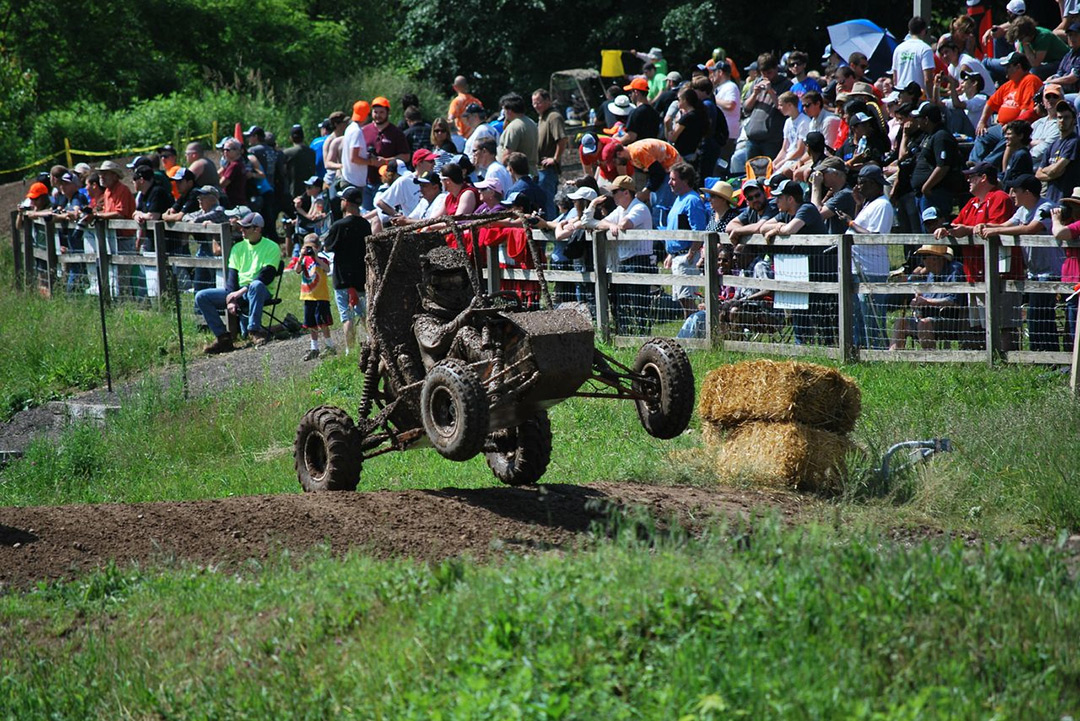 Ryan Hurley
Baja racing is more than design competitions and field challenges. It is real-world engineering experience in which students must design, build, test and compete in off-road vehicles during events. They are also tested on how their work progresses from a CAD design of a car to a high-performance vehicle that must navigate hairpin turns, hills, obstacles and rough, often muddy terrain.
As one of RIT's valuable experiential learning opportunities, Baja Racing provides students with relevant experience for careers in numerous fields including the highly competitive and evolving automotive industry.
RIT has been successful at national and international events and attained a reputation as a team that competes hard, but also one that helps other race teams when needed. The history of sportsmanship and racing knowledge are passed on from year-to-year, said Ethan Yaro, chief engineer for the RIT Baja team.
"My role is ensuring that designers follow the engineering cycle, ensuring that each of the components, systems and sub-assemblies are fully engineered to the best of their ability," said Yaro, a fourth-year mechanical engineering technology student from Great Falls, Va. "What we do on the team is like a gateway into industry, so we obviously get a wealth of knowledge from the courses we take, and the Baja team, along with all the other performance teams, provides a way to use that knowledge for something they are passionate about."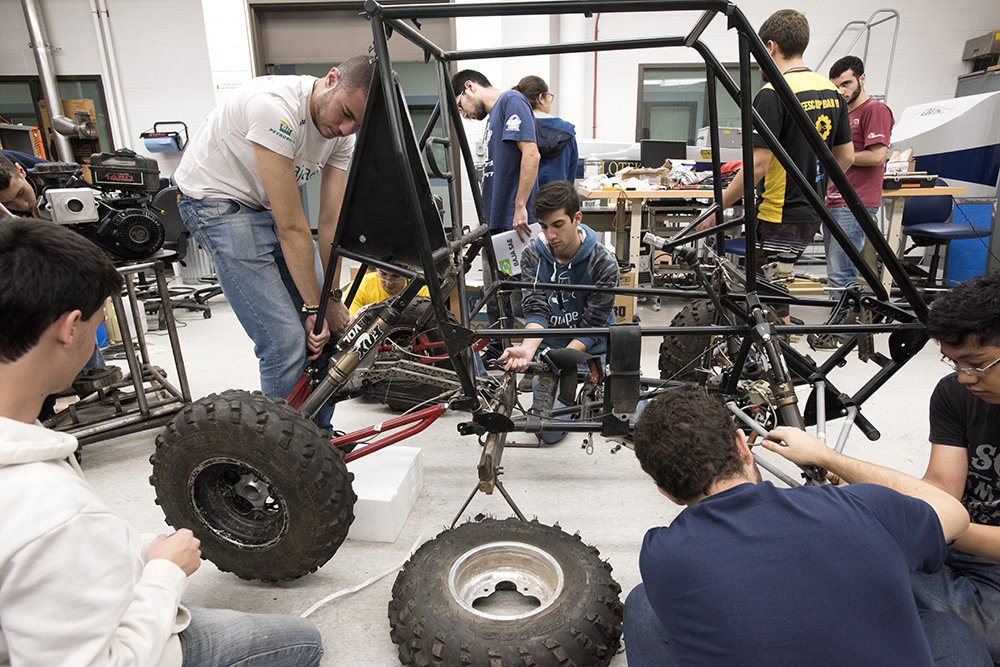 A. Sue Weisler
Justin Neves, project manager, agreed. He oversees all the design team members and first heard about the RIT Baja team as he was looking into colleges.
"I saw a video about the club on YouTube one week before I came here; I was hooked. During orientation in my freshman year, I was just waiting to go to club day to connect with the team. It felt like family," said Neves, a fourth-year, civil engineering technology major from Montgomery, N. J. 
Yaro and Neves are leaders on a team that has nearly 50 members representing multiple colleges, from engineering technology and business to art and design. More than 30 percent of the team is female. All have a passion for racing, and their experiences are preparing them for careers. They understand the engineering cycle as well as how to adjust when even the best plans go off course.
"As every first-year designer on the team learns, not everything goes right the first time," said Neves. "Experiencing real-world scenarios that professionals experience in industry—whether a manufacturer, a provider or the designers themselves—I think is one of the coolest things we can provide to students who come to the club. It is expertise that they will go into industry already having."
With more than 20 years of racing and many successful alumni from the team leaving a knowledge base to pass down information, the team has a solid foundation for success on and off the field. 
"We want to take concepts we learned in a course and apply it to something we are very passionate about," said Yaro. "It's a lot of commitment in terms of time and resources. I think a lot of people, especially those in our majors, know what we do, that we spend every hour outside of classes here in the shop. It can be a 40-hour week or more just doing Baja things. And that's kind of the commitment it takes to complete our end goals."
Those goals include addressing a few issues that arose during the recent California competition, from making adjustments to power and control systems to fine-tuning data acquisition equipment.
"We established a team goal, winning overall and getting the Schmidt trophy at home, especially in years like this when the last race is the Rochester race," said Yaro. "I remember my freshman year was 2016, the last time the competition was at RIT. And I remember distinctly what a big deal it was to get that award here in Rochester."
Remembering former teammates and continuing a legacy is ingrained in the RIT Racing team. Coupled with generous campus and community support and resources, the group is considered one of the top performing teams in the country. They are admired for their competitive spirit, but also seen as mentors to other, newer teams.
"At the end of the day, we know how hard these teams work; it is equal to the amount of time we put into our car," said Neves. "If their car makes it onto the track and just drives, it's an ecstatic day, they enjoy it, we enjoy it!"
Baja SAE Rochester takes place Thursday, June 6, through Sunday, June 9, at RIT and Hogback Hill. The event is free and open to the public. Video and images from the 2016 event, the last time the competition took place in Rochester are available online.
Related News
Topics