S. Manian Ramkumar named dean of RIT's College of Engineering Technology
His selection out of a national search caps a highly respected RIT career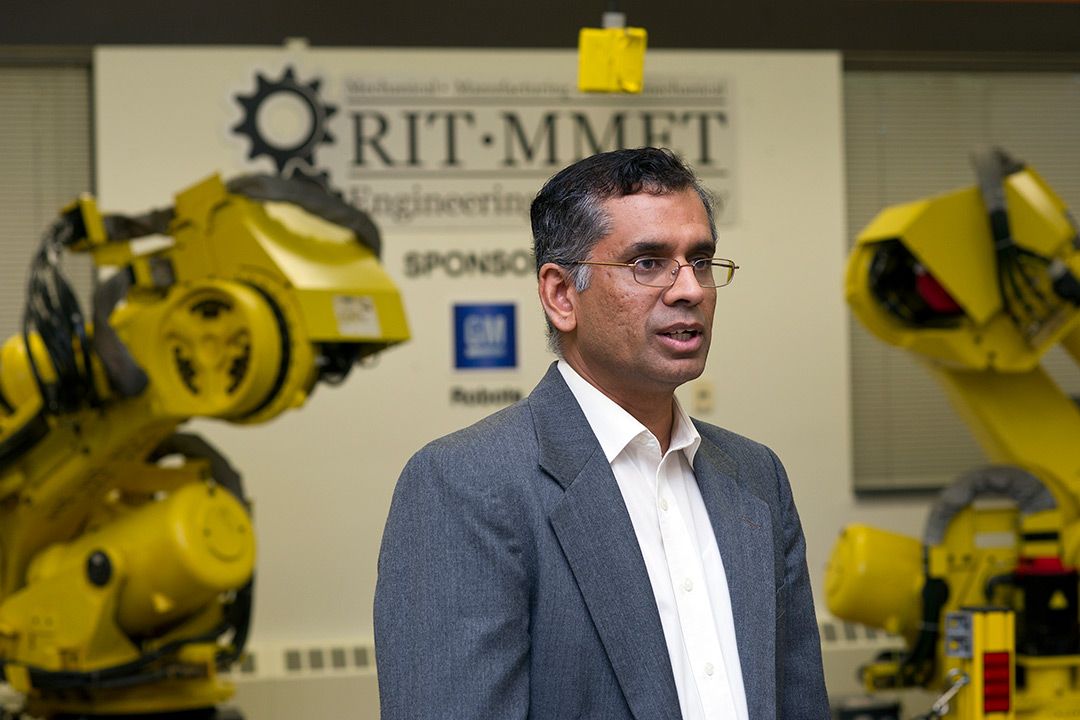 A. Sue Weisler
S. Manian Ramkumar has been named dean of the College of Engineering Technology at Rochester Institute of Technology, one of the university's oldest and largest colleges.
Ramkumar, an RIT alumnus and former faculty member, had been serving as interim dean and was named to the permanent position following a national search.
"Throughout his career at RIT, Dr. Ramkumar has brought an energy and passion for his field and for higher education," said Ellen Granberg, RIT provost and senior vice president of academic affairs. "He is greatly respected by faculty and students alike, and I look forward to working with him as he carries out his vision for the college."
Ramkumar, who assumes the permanent dean's role immediately, said he intends to continue the college's focus on producing highly talented, applied engineers and applied scientists who will make a difference.
"CET is a unique college that brings together programs that embrace the robust application and integration of engineering, technology, science and management principles under one roof. We have the ability to develop many unique intra-disciplinary and inter-disciplinary programs, and are poised to contribute successfully to RIT's Strategic Plan in multiple ways," said Ramkumar. "We hope to be the place that will employ and educate people who are inclusive, innovative, creative and impactful, that will contribute effectively to applied research, and will increase STEAM graduates. This college has been my home for 30 years, and I am humbled by the opportunity to lead its talented faculty and staff for many more years to come."
A graduate of PSG College of Technology, India, Ramkumar also holds a master's degree in manufacturing engineering from RIT and a doctoral degree in systems science from SUNY Binghamton. After receiving his master's degree, he served as an adjunct faculty member in the Department of Manufacturing Engineering Technology. Over the years, he progressed through the ranks to professor, and through various teaching and administrative responsibilities, including department head and mentor of the college's tenure track faculty. He has been recognized by RIT's Sponsored Research Office as a Principal Investigator Millionaire, a designation given to faculty that have generated funding of $1 million or more.
His research has been in the areas of manufacturing automation, systems integration, electronics packaging and surface mount technologies. These latter areas gave rise to the Center for Electronics Manufacturing and Assembly, which he founded in 1995. The center, which was established with funding and equipment support from the National Science Foundation and the Society of Manufacturing Engineers, has become a recognized training, research, testing, workforce development and teaching facility for campus students, faculty and national companies. He would serve as its director until he became interim dean in 2016. He is a member of the Society of Manufacturing Engineers, the Surface Mount Technology Association and member of the International Microelectronics and Packaging Society.