Students, faculty explore industry trends at Chicago print conference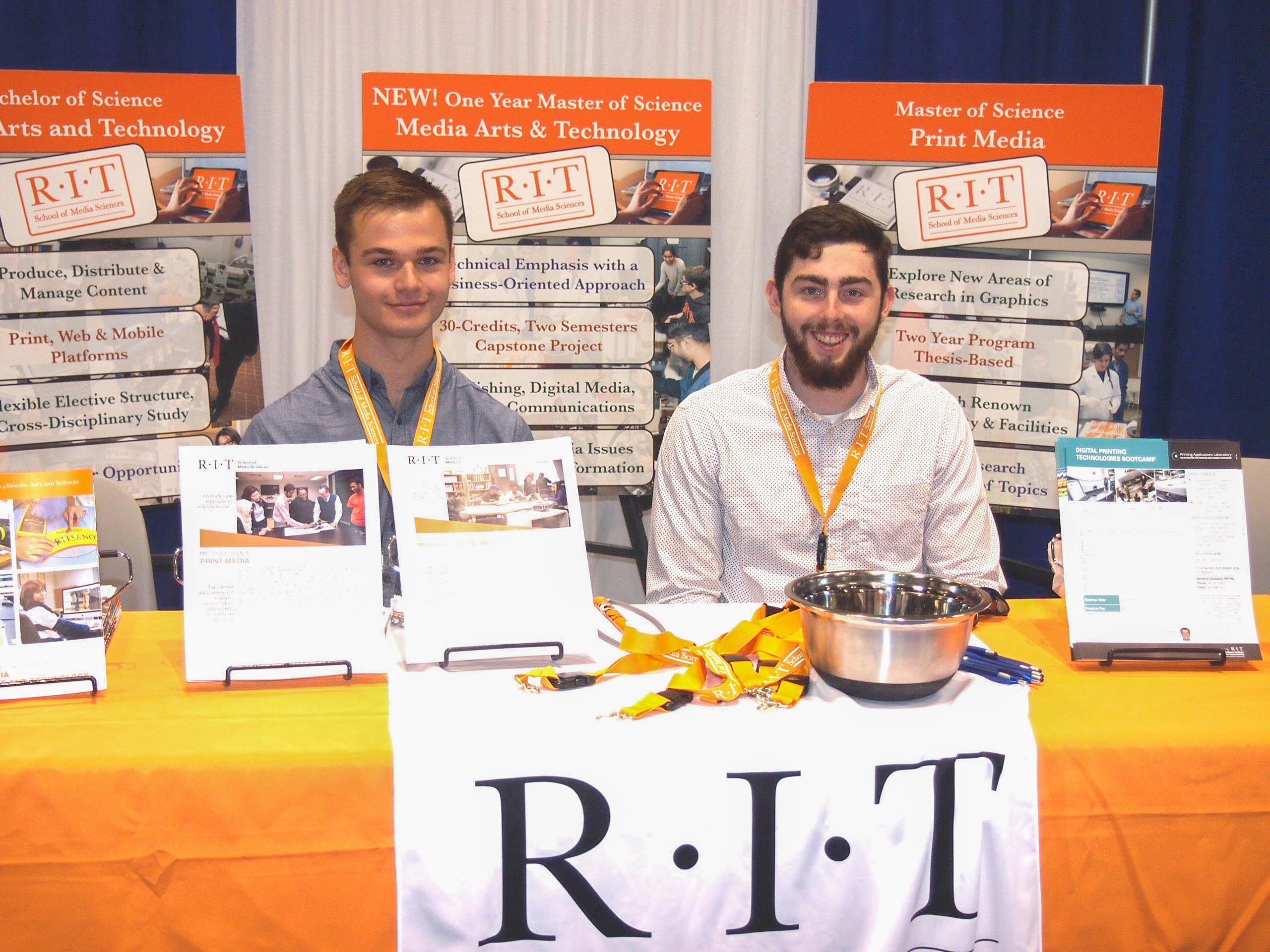 RIT School of Media Sciences faculty and students were exposed to new innovations in their field and exhibits by attending and running a booth at Print 17, an international trade show for the graphic communications industry.
The conference, run and managed by Graphic Arts Show Company, spanned from Sept. 10-14 at McCormick Place in Chicago. Graphic arts professionals from around the world flocked to Print 17 as cutting-edge printing technologies were shown. 
The annual show slaps the "Print" label on the event every four years, with the three preceding years being called Graph Expo. According to School of Media Sciences interim administrative chair Bruce Myers, Ph.D., the Print conferences feature more international manufacturers than Graph Expos. This year, Myers said, China and India had a substantial presence.
College of Art and Design at RIT administration joined SMS at the well-regarded trade show. RIT participation included:
Faculty/staff
Robin Cass, interim dean, College of Art and Design
Barbara Birkett, Ph.D., interim associate dean, College of Art and Design
Chris Bondy, SMS Gannett Endowed Professor
Christine Heusner, SMS graduate director and senior lecturer
Myers
Frank Romano, RIT professor emeritus and eminent printing expert
Lisa Vasaturo, director of alumni relations, College of Art and Design
SMS students
Alexander Greenhalgh
Tommy Hodgson
Victoria Wildow
Catherine Zic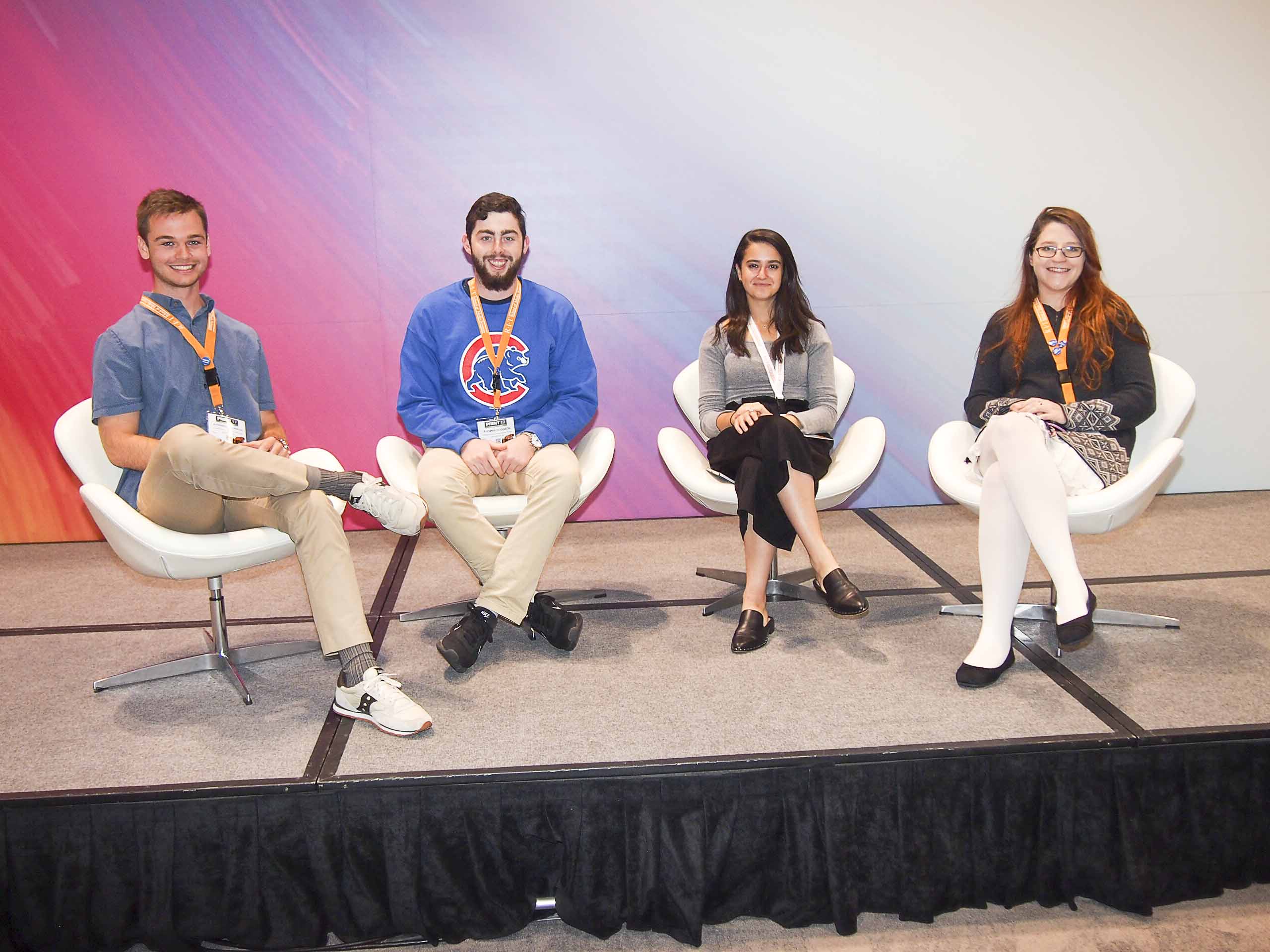 "I think it was very beneficial to go — I got an inside look at what the print industry looks like," said Wildow, a third-year student in SMS' media arts and technologyprogram. "Not only did I get to see the latest technology and processes, I also got to watch everyone marketing in real time. … The big companies had demonstrations where a salesperson would narrate as the machines were running. There was so much going on, so I got to see so many things."
Wildow said she also had the chance to talk with representatives from prominent companies like Xerox and Canon.
On top of the plethora of exhibits and presentations they took in, RIT's participants operated a booth in the Workforce Solutions sector, where informational material about RIT and SMS was offered. Printing Impressions released a write-up of SMS' new, one-year master of science media arts and technology program during its coverage of Print 17.
Chicago-area high school students, according to Myers, visited RIT's space one of the days to learn more about the university and SMS.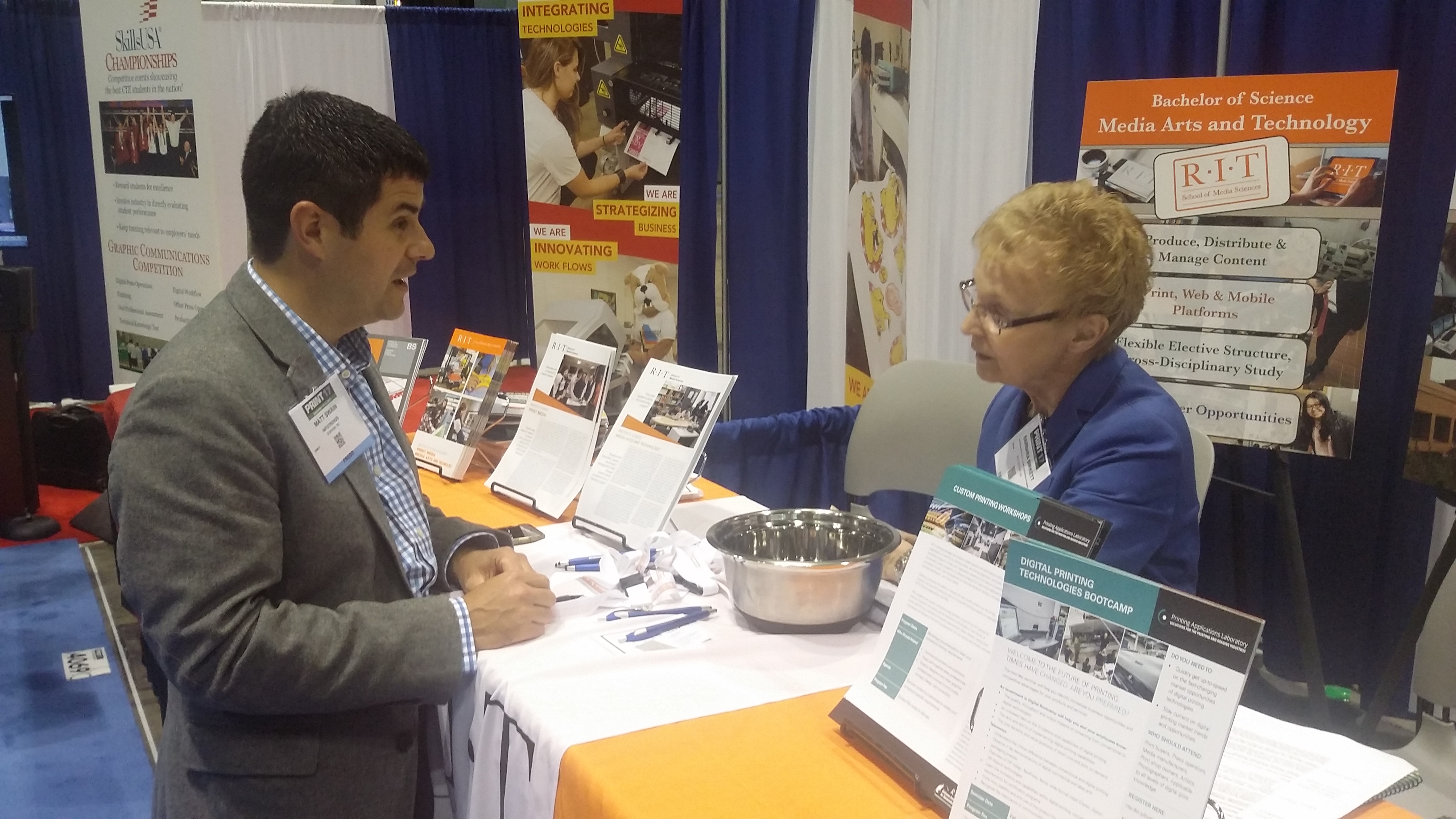 This year was the continuation of an SMS ritual. The school, according to Myers, has been at Print/Graph Expo each fall since he joined RIT in 2011.
"It was a great event for networking and there were many educational presentations," Myers said.
Romano, himself, conducted three presentations, on digital printing and inkjet trends, the future of print and new print markets.
RIT alumni attendance at Print 17 — as both visitors and vendor workers — was plentiful, according to Myers.
In fact, an alumni gathering was organized around the event by Vasaturo, at Kroll's South Loop restaurant. It was well-attended by RIT graduates representing every decade since the 1970s and, Myers said, a great opportunity for alumni to network with each other while reconnecting with the institute and meeting current students. Myers said alumni were excited to hear about SMS' new graduate program after Heusner made an announcement about it.
Later in the week, some of the students joined alumni and faculty in catching a Chicago Cubs MLB game.
"I've been told plenty of times that networking is an important part of being a professional, so I was excited to have the chance to do so," Wildow said. "Meeting the alumni was great. They had tons of knowledge and advice for us. Our alumni are in all different parts of the industry and it was interesting to hear more about the different perspectives."