Students produce flexographic labels in "Recognition Run"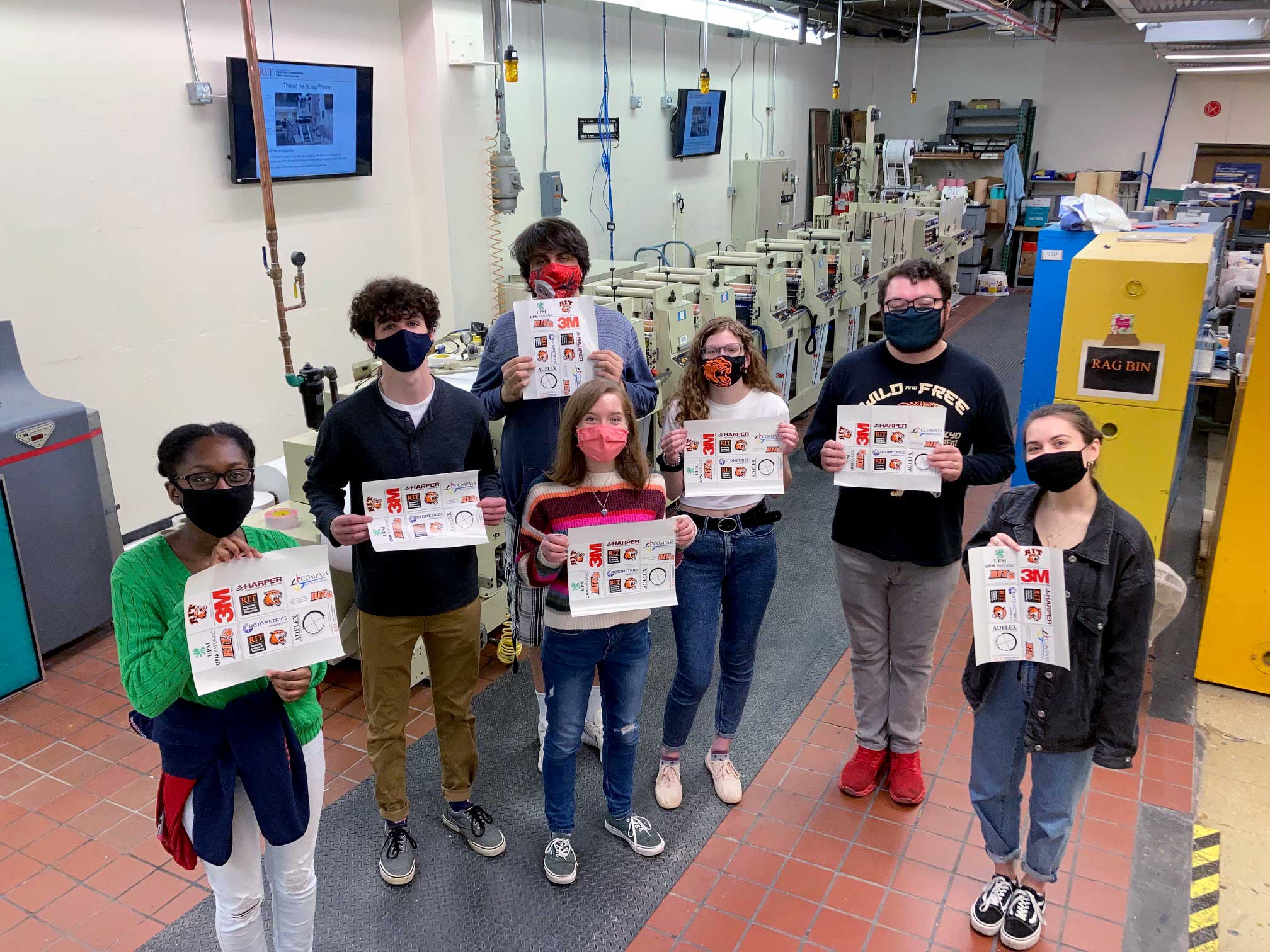 At the end of the Spring 2021 term, students in Dr. Greg D'Amico's Print Production course in the Department of Graphic Media Science and Technology completed the semester with a "Recognition Run," consisting of full-color pressure-sensitive labels printed on the Department's six-color Mark Andy flexographic press. In addition to giving the students real-world print production experience, generous companies that supported this particular course were recognized on the label graphics. D'Amico stated: "The Recognition Press Run gives us a chance to recognize our dedicated partners in Graphic Media education. At the same time, it gives students a rewarding hands-on experience in flexo press die-cutting. They learn about die registers, die pressure adjustment, and the accurate production of pressure-sensitive labels."
William Pope and Andy Heinzman supported the laboratory sections of the course. Pope stated: "Support from industry partners, which has been a cornerstone of our program for decades, provides a meaningful connection for our students. This run was conducted to recognize our key partners for the flexo lab and allowed our students to print live brand logos and learn the importance of print quality and brand colors." Heinzman added: "The outcome of this recognition run was extremely positive as students gained an appreciation for the Support RIT receives from our industry vendor partners via first-hand use of donated products and services. Students were engaged with the process and displayed a feeling of pride with the final printed results. Hands-on participation was evident and invaluable for the successful completion of the run. The recognized vendors generously donated the materials required to complete the run, including paper, inks, dies, tapes, rollers, and required technical support."
Hands-on laboratory experiences like the "Recognition Run" have long been the hallmark of an RIT education. The hard work of the faculty and staff ensured the safety of all involved, despite the challenges brought on by the global pandemic. The "Recognition Run" is only one example representative of the tremendous experiences offered in the Department this past academic year, thanks to the ongoing commitment of those involved.
The donating companies recognized by this project all supported this course in particular. They include:
Adflex is a full-service graphic, printing & plate supplier. Adflex works with photopolymer plating, pressure-sensitive product labels, digital prepress, and mounting services. The company provides design services and also uses their customers' artwork for the Using the "Direct to Digital Photopolymer" process. They also work with high-end label identification and controlled packaging products.
Compass Color and Coating. Compass combines smart business practices with the highest quality color and coating products. They work to give their clients unequaled technical service, application service, and product innovation, while ensuring consistent high quality, dependable delivery, and ongoing product and process improvements.
Harper Advanced Anilox and Coating Roll Division. Harper works with flexographic printing and is the first and the global leader in anilox roll products and manufacturing. They work to expand the boundaries of performance, consistency, and print quality.
Rotometrics, A Maxcess Brand.  Rotometrics is a world leader in precision rotary tooling. They allow the efficient conversion of substrates into individual labels and parts through customized cutting solutions.
3M Flexographic Plate Mounting Tapes. 3M works to apply science in collaborative ways to help improve our daily lives. One of their core values and long-standing commitments is to sustainability. They have shifted to renewable energy sources, reducing greenhouse gas emissions, increasing circular solutions, and growing their skills-based volunteering programs.
UPM Raflatac, who is becoming one of the leading companies in sustainable labeling. They create high-performance, sustainable labeling, and packaging for branding and promotion, informational labels, and labels with functionality. UPM Raflatac works with helping companies to find the best sustainable and creative labeling and packaging solutions.