Viktor Lazzeri of Barbieri Electronic visits RIT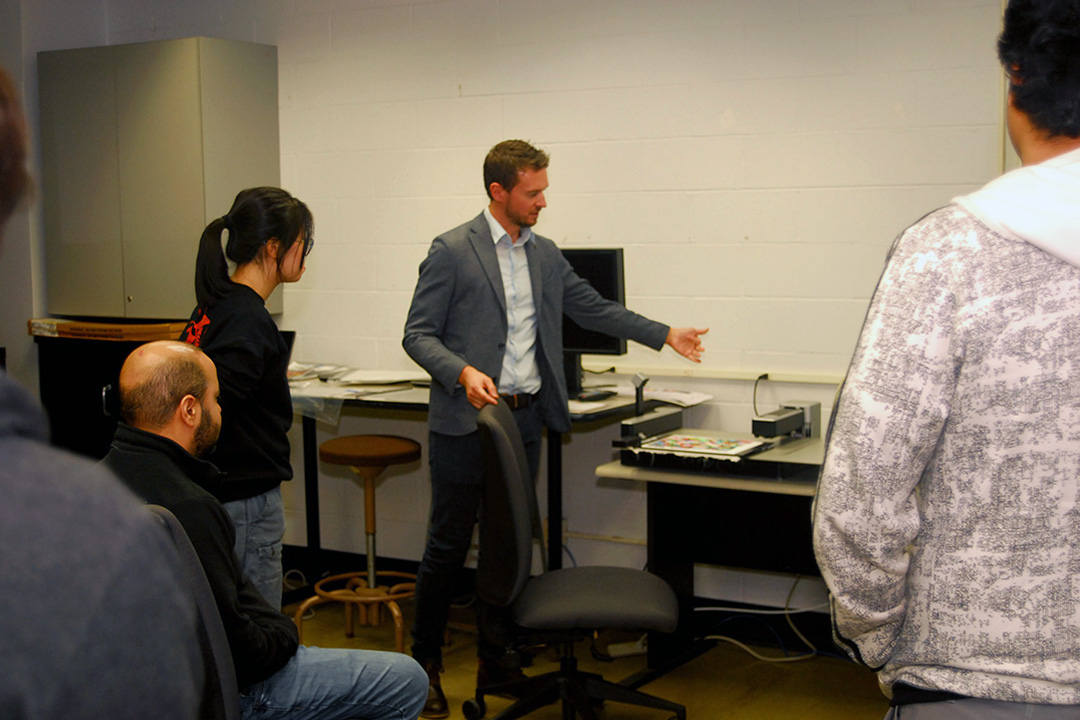 Digital printing technologies have revolutionized the types of printed products offered beyond standard paper substrates. Today's graphic media providers are embracing printing on transparent materials for backlit displays, direct-to-garment, and other textiles, and even "direct to almost anything," including ceramics and even stone. These unique substrates pose unique challenges for color management applications: these obstacles are met by the remarkable Barbieri LFP-qb Textile Edition automated spectrophotometer system.
Recognizing the need to educate the next generation of leaders in graphic media, Barbieri Electronics of Bressanone, Italy, generously donated an LFP-qb Textile Edition to the graphic media programs in the Department of Packaging and Graphic Media Science at Rochester Institute of Technology. Viktor Lazzeri of Barbieri recently visited RIT and spoke to students in Prof. Bruce Myers' Color Management and Tone and Color courses about the state of the industry and the unique capabilities of the LFP-qb Textile Edition.
BS Media Arts and Technology students and MS Print and Graphic Media Science program students utilize the Barbieri LFP-qb Textile Edition. It will serve as a platform for several forthcoming research projects. Dr. Myers, who teaches the Color Management and Tone and Color courses, states: "The students were very excited to learn about the automated capabilities of the LFP-qb Textile Edition for their coursework and research projects. Thanks to the generosity of Barbieri, they are at the leading edge of color measurement and process control capabilities." In response to his recent visit, Lazzeri stated, "We are honored to partner with the RIT and Dr. Myers and contribute to the institution's educational program with our color measurement technology. A special thanks to Prof. Myers, who established a forward-looking educational program that tackles current and future's challenges of digital printing."