Celebrating the 50th anniversary of Title IX
RIT Title IX Office will host April 21 event to mark the occasion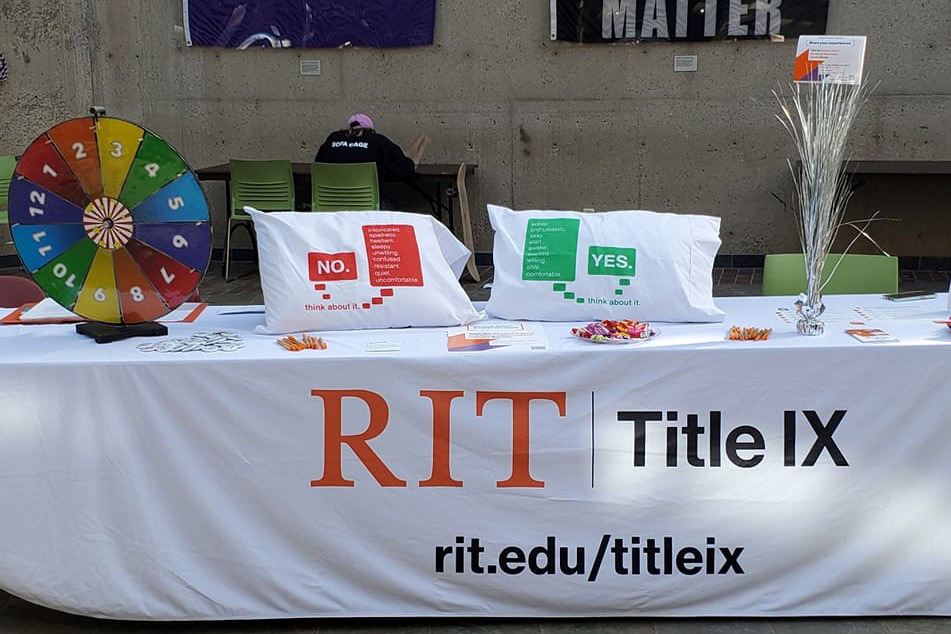 The 50th anniversary of the signing of Title IX into law will be commemorated in June, but the impact of the government's dedication to changing education remains a consistent and crucial part of the landscape for women everywhere.
At RIT, a celebration of the anniversary of Title IX, and promotion of gender equality, will be held from 11 am to 1 p.m. on April 21, in Fireside Lounge, and will include a keynote speaker, as well as tables with activities, giveaways, and refreshments.
Stacy DeRooy, director of Title IX and Clery Compliance, and RIT President David Munson will introduce Amy Reed as the featured speaker. Reed is the head coach for women's basketball and the co-director of the athletic diversity and inclusion team.
"We strive toward equity at RIT and recognize how important it is to celebrate this momentous occasion," DeRooy said.
Women at RIT
At RIT, we're cultivating a community of empowerment for women on campus. RIT women are more than students and faculty. They're scholars, athletes, researchers, leaders, passionate creatives, and so much more. Learn more.
The creation of Title IX was spearheaded by Bernice Sandler, who experienced discrimination as a female student and educator. Determined to change the unfair system, she partnered with the Department of Labor and the Women's Equity Action League to push for legislation protecting women in education. When Title IX passed into law in 1972, it brought sweeping changes, most visibly to athletics.
Another pivotal moment for Title IX occurred in 2011 when the Department of Education's Office for Civil Rights published a Dear Colleague letter. While it was later rescinded, the letter emphasized the responsibility for educational institutions to combat sexual assault and harassment. The letter also advised schools to hire a Title IX coordinator, which RIT did for the first time that year.
"When we say Title IX at RIT, it's really the big umbrella for all things sex and gender discrimination, and harassment," DeRooy said. "My office continues to ensure that we take a much more broad approach. It's what the university wants, and it's the right thing to do."
DeRooy hopes that the event will both celebrate the improvements made toward reducing sex discrimination and bring awareness to the work yet to be done.
"Keeping Title IX at the forefront of university conversation is really critical to making sure that we don't go backwards, and that we continue to move forward."
The event is sponsored by the Department of Women's, Gender, and Sexuality Studies, Fraternity and Sorority Life, RIT Athletics, the Office of the President, Women and Gender in Campus Life, Advance RIT, and RESTORE Sexual Assault Services. 
More about RIT's Title IX compliance policies can be found on the Title IX Office website.