Directions
Where we are in New York State
Imagine RIT occurs on the main RIT campus located in Rochester, New York. The third largest city in New York State, Rochester is on Lake Ontario, about midway between Niagara Falls and Syracuse and within easy driving distance to Toronto.
Rochester is served by Greyhound and Trailways bus lines and Amtrak as well as public bus and train lines. The Greater Rochester International Airport is served by most major airlines, including USAir, United, Delta, American, and others. RIT's main campus is five miles from both the airport and the New York State Thruway (Interstate 90), exit 46.
Taxis are available at the train and bus stations, as well as the airport. RIT is also a stop on Route 24 of the Regional Transit Service, the area's mass transit bus system.
Where we are in Rochester, NY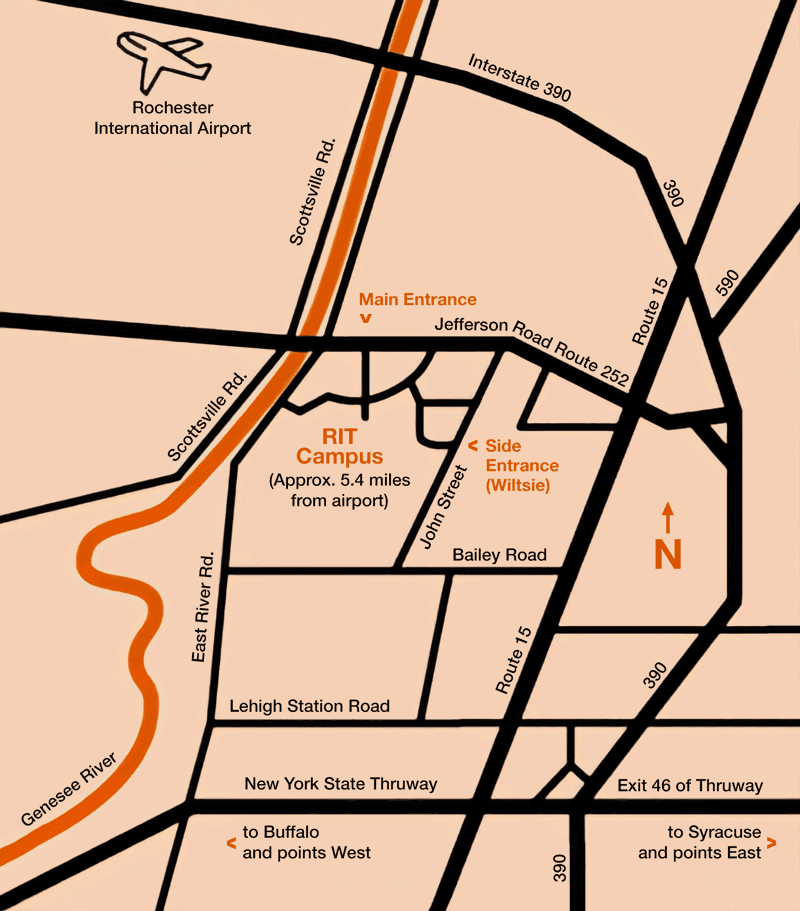 From the Airport: Turn right onto Brooks Avenue, then a quick right onto I-390 South. From 390, take the next exit (Scottsville Road) and turn right at the end of the ramp. Drive for approximately three miles, then turn left onto Jefferson Road (Route 252). Proceed east a short distance to campus, RIT's main entrance will be on your right.
From the NYS Thruway: Take exit 46 and proceed north on I-390 to exit 13 (Hylan Drive). Take a left onto Hylan Dr. and continue north to Jefferson Road (Route 252), and take a left at the light. Proceed west a short distance to the main campus.
Once entering campus at the main entrance (indicated with a VERY large sign: "Rochester Institute of Technology, Founded 1829"), follow the signs to the Information Booth. The Campus Safety officer will issue a parking pass and provide directions to your desired destination.