RIT and edX launch universal credit pathway to break down barriers to graduate education
RIT is first university to award credit for all MicroMasters programs toward a master's degree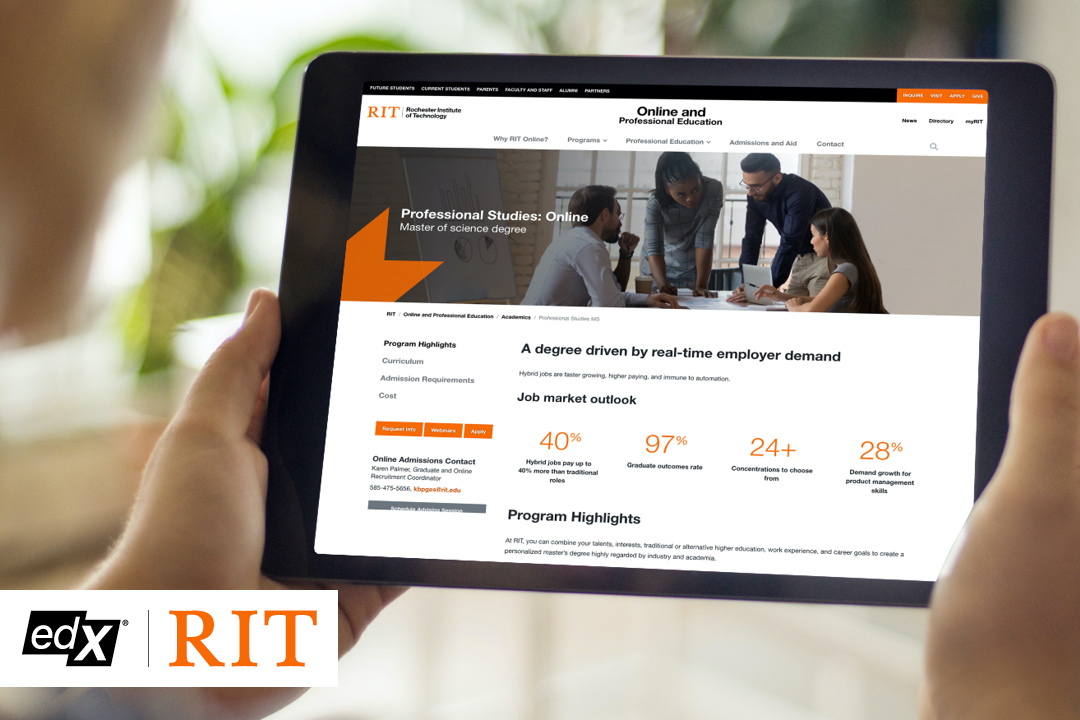 Rochester Institute of Technology is teaming up with the nonprofit online learning platform edX to create a universal pathway to credit, making it easier and less expensive for people to earn a master's degree.
With this new model, RIT is the first university to enable edX learners to apply any of the 63 MicroMasters programs toward a Master of Science—specifically, RIT's customizable professional studies master's degree program. The collaboration aims to make higher education more accessible and flexible for all, saving people time and money.
"At RIT, we believe accessible, affordable and high-quality education can change lives, shape the future and improve the world," said James Hall, dean of University Studies and executive director and professor in RIT's School of Individualized Study (SOIS). "We are thrilled to provide this pathway to a high-value graduate degree, making it readily available for all who seek and need it."
MicroMasters programs on edX provide ambitious learners with a flexible path to a master's degree and help them gain deep knowledge applicable to their careers along the way. They are usually offered at a lower cost than typical college courses and can be taken online at a flexible pace. For example, learners can explore programs in supply chain management from MIT, Internet of Things from Curtin University in Australia, and cybersecurity from RIT.
Learners who successfully complete a verified MicroMasters program certificate and are accepted to RIT will be awarded nine credits toward the MS in professional studies, resulting in a lower-cost and accelerated master's degree. Those nine credits make up nearly one third of the typically 30 credit hour master's program.
To date, RIT has accepted credit for select MicroMasters programs from universities, including MIT, University of California San Diego and University of California Berkeley. As part of this process, RIT reviews the curriculum and content of the edX MicroMasters program to ensure learning outcomes are aligned with the credit hours.
Professor Krishna Rajagopal, MIT's dean for Digital Learning, recalled that RIT was the first university to work with MIT on offering a pathway from a MIT MicroMasters program to a degree program at a different university.
"Our relationship has been one of mutual sharing of best practices and strategies to provide accessible and affordable education on the edX platform," said Rajagopal. "We work closely together to ensure learners have a smooth transition to RIT and empower them with the opportunity to use their MITx MicroMasters program certificates toward a master's degree in professional studies at RIT."
The professional studies MS degree is offered online and in-person through SOIS. It is designed for students who want to create an individualized plan of study tailored to their personal and professional goals. The degree offers students the opportunity to draw on more than 24 areas of study from RIT to create an interdisciplinary curriculum tailored to their goals.
"The master's in professional studies at RIT is unique in its ability to customize a plan of study and confer in-depth knowledge and skills in complementary and diverse disciplines," said Hall. "The World Economic Forum continues to report that workers who possess this type of interdisciplinary skill set will earn higher salaries and be eligible for more growth in their careers."
RIT began offering MicroMasters programs in 2016 and now has offerings in Project Management, Cybersecurity and Design Thinking. The university also offers four Professional Certificate programs through edX.
The RIT admissions team found that many learners who completed these MicroMasters programs were interested in applying it toward credit for the professional studies MS. This led RIT and edX to set up the formal universal credit pathway.
"When edX launched MicroMasters programs in 2016, we transformed the way that people think about earning an advanced degree by breaking the master's degree into modular pieces for the first time," said Anant Agarwal, edX CEO and founder. "Now, with RIT's collaboration, we are once again making it simpler and more accessible for learners to get a master's degree that combines a variety of skill sets and disciplines and positions them for success in the job market."
"This pathway also demonstrates the value of a MicroMasters program certificate to higher education institutions when evaluating degree candidates and signals that the learner is prepared to complete master's-level work," added Agarwal.
To be eligible for this route at RIT, learners must successfully complete the MicroMasters program and meet all RIT admissions criteria. Credit for the MicroMasters program will be granted after completing one course in the professional studies MS program.
Explore edX's 63 MicroMasters programs on their website and learn more on RIT's degree pathway website.
Topics