Karen Oates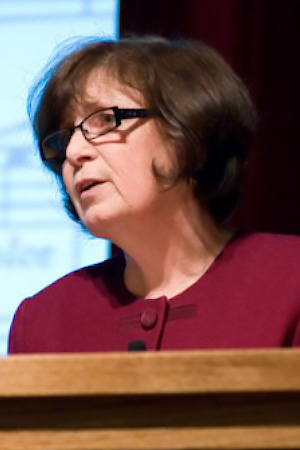 Dr. Oates AAS '71, BS '73 a nationally recognized academic leader, scientist, science educator, and entrepreneur, joined Worcester Polytechnic Institute (WPI) from the National Science Foundation (NSF). She served as deputy director of the Division of Undergraduate Education. At the NSF, Karen managed a budget of over $380 million to support innovative programs which strengthen undergraduate and graduate education and revitalize American entrepreneurship and competitiveness. From 2010 to 2017, Karen served as the Peterson Family Dean of Arts and Sciences at WPI, where she was responsible for seven departments (biology, chemistry, physics, math, computer science, social science and policy studies, and humanities and arts ), three major programs (robotics, data science, and science and technology studies) along with research centers in water resources and photonics. Her charge included alumni relations and participation on the academic policy committee of the Board of Trustees. Karen has broad experience in faculty development, community engagement practices, leading change and fostering collaborations, and catalyzing business-higher education partnerships. Karen continued her work at WPI at the same time, she formed a successful higher education consulting company – Success 4 Higher Education.
Karen's work has been recognized nationally with numerous awards, including the Bruce Albert's Award, for Excellence in Science Education Reform, presented by the American Society for Cell Biology, and the Distinguished Public Service Award, the highest civilian honor presented by the City of Harrisburg, Pennsylvania. In 2012, she was inducted as a fellow into the prestigious American Association for the Advancement of Science, and in 2016 she became a Sigma Xi distinguished lecturer. She successfully led WPI's efforts to become a National Academy of Engineers – Grand Challenge Scholar Program. She has received over $8 million in grant-funded research during her academic career.
Karen received her BS in biology and medical technology at RIT. After receiving her Ph.D. in biochemistry at George Washington University, she worked as a visiting scientist at the National Institutes of Health, National Cancer Institute's Oncology and Hematology Division. She began her academic career as an assistant professor at George Mason University. She later co-designed George Mason's "New American College" environment and was appointed associate dean of the newly established College of Integrated and Interdisciplinary Studies. She later served as the founding provost for the Harrisburg University of Science and Technology. She established the National Center for Science and Civic Engagement, which became the host organization for SENCER (Science Education for New Civic Engagement and Responsibilities). Karen was the original co-PI for SENCER, a STEM reform initiative that works to improve undergraduate STEM education by connecting learning to critical civic questions. Karen is a seasoned traveler embarking on collaborations across the globe.