American Indian Science and Engineering Society gives RIT professor its highest honor
Professor Emeritus Roger Dube receives Ely S. Parker Award from AISES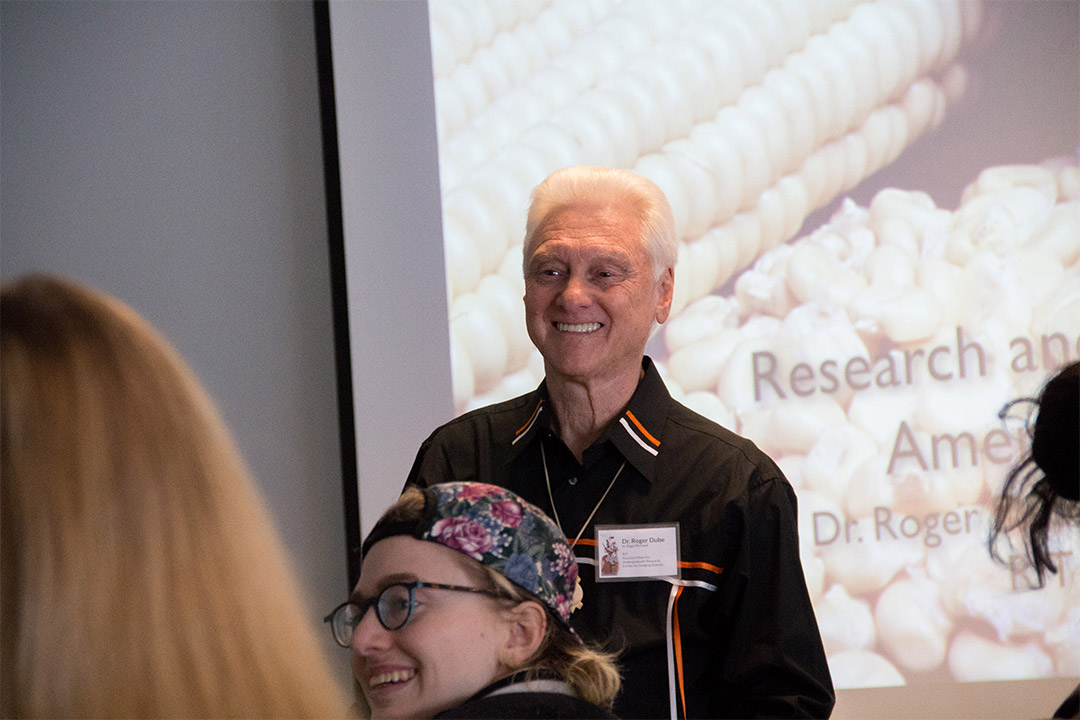 Devon Watters
The American Indian Science and Engineering Society (AISES) announced that Rochester Institute of Technology Professor Emeritus Roger Dube is the winner of its annual Ely S. Parker Award. The award recognizes engineers, scientists and educators who have provided exemplary service to the American Indian/Alaska Native community. The highest AISES honor, the award is named for a distinguished 19th-century Seneca leader whose remarkable career included roles as an attorney, engineer, tribal diplomat, Sachem of the Six Nations Confederacy, wartime secretary to Ulysses S. Grant and commissioner of Indian Affairs.
Dube is a professor emeritus and former assistant dean for Undergraduate Research and Interdisciplinary Programs at RIT. With 43 years of experience in teaching and educating others, Dube is an author, entrepreneur, mentor and researcher who holds 16 patents. He is currently extending his work on an international level at the University of Manitoba, where he will develop a program promoting First Nations participation in STEM disciplines.
"The Ely Parker award from AISES is a humbling honor from the premier society for American Indians in STEM," said Dube. "American Indians face serious hurdles in seeking to pursue careers in the STEM disciplines. Without extensive support and mentoring, those hurdles would reduce the number of Natives that succeed in their pursuit. This award is a wonderful recognition of my years of mentoring of Native students in their academic endeavors and serves as a recognition of the support provided by RIT during my years here. I am humbled and thankful for the recognition."
The Ely S. Parker Award will be presented on Saturday, Oct. 12, at the closing banquet of the 2019 AISES National Conference in Milwaukee.
AISES Board of Directors Chair Rick Stephens said, "I would like to congratulate Dr. Roger Dube as the 2019 AISES Ely S. Parker Award winner. His leadership, research, teaching and contributions to STEM as a Native American physicist are exceptional. Dr. Dube set the standard for excellence in STEM education throughout his entire career."
Dube received a BA in physics from Cornell University and MA and Ph.D. degrees in physics from Princeton University. He is the former president, co-founder and chief scientist of Digital Authentication Technologies. He has been a professor at the University of Michigan, the University of Arizona, Yale University (adjunct faculty) and RIT. He has served as an advisor on numerous master's and Ph.D. theses. His professional recognitions include research awards from the National Science Foundation, the Farash Foundation, the State of New York, the U.S. Navy, the U.S. Army and NASA.
He was the principal investigator of two three-year grants from the National Science Foundation Research Experiences for Undergraduates (REU), which focused on increasing Native participation in STEM research. He developed a combination of identification processes and focused on recruiting practices to engage promising Native American undergraduates in pioneering research in various aspects of imaging sciences, varying from remote sensing and crop monitoring to solar physics and even the detection of exoplanets. Under Dube, the REU program engaged 14 Native students in STEM over six years, a rate unequaled in any other REU physics program sponsored by the NSF. Of these 14 Native students, 13 have continued in careers in STEM, including multiple Ph.D.s and master's degrees.
Dube (Mohawk Turtle Clan) continues to work with Native communities in North America. The Iroquois White Corn Project is an example of his approach to problem solving, combining entrepreneurship, biodiversity preservation and health impacts in a local community. The project goal is to restore the farming, consumption and distribution of traditional Iroquois white corn to Native American communities and to offer products to the larger community. In collaboration with the Ganondagan State Historic Site in New York, once the location of the largest Seneca village, the project has resurrected an ancient farming practice to restore the gluten-free, non-GMO, low-glycemic corn as a staple of the Haudenosaunee (Iroquois) diet.
In 2011, Dube was named an AISES Sequoyah Fellow. He is a senior member of the Institute of Electrical and Electronics Engineers, as well as the director of research for the RIT Native American Future Stewards Program. He has run the College of Science "Fast Forward" program, where accepted freshmen work with faculty on a research project before their first semester in college. He has been a leader at RIT on many fronts, most notably in promoting undergraduate research and efforts focused on diversity, equity and inclusion.
For additional information about the Ely S. Parker award and to review past winners, go to https://www.aises.org/content/ely-s-parker-award.
Topics