Imaging Science Summer High School Intern Program
Program Details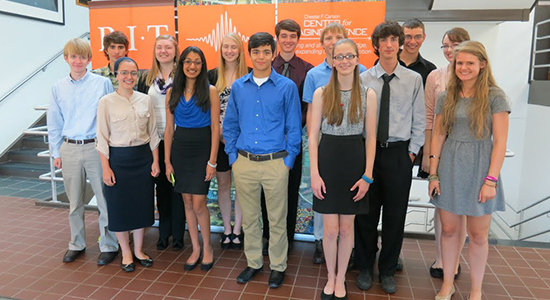 The summer of 2023 will mark the twenty-fourth year of the high school summer internship program at the Chester F. Carlson Center for Imaging Science. These internships give high school students in their junior year the chance to get valuable hands-on experience in a real laboratory setting as contributing members of a research team. The internship program also provides an opportunity for interaction with other interns who have similar interests and ambitions. Interns also benefit from professional development activities and team-building exercises. Participation in this program is free, and upon successful completion of their research project, students are provided a certificate of completion.
---
This 6-week program will run from Monday, July 17 to Friday, August 25.
---
Application closed for Summer 2023.
Application Process
There are two ways to apply for an Imaging Science Summer Internship:
1. Student meeting certain eligibility criteria for under-represented minorities may apply for an AEOP apprenticeship. These applications will receive first consideration. Apply Here. 

2. All students may apply using this form.
NOTE THE FOLLOWING:
1. Applications will only be considered from current high school juniors (students who will graduate in June 2024).
2. Students will be expected to be on campus at RIT for 40 hours/week during the entire duration of the internship. If you have a conflict with this, please let the selection committee know during the application process.
3. Zoom interviews will take place May 2-5, between 3:00-5:00 pm.
Sponsor
The High School Intern program at the Chester F. Carlson Center for Imaging Science offers a limited number of highly qualified juniors the opportunity to work side-by-side with world class scientists on a variety of imaging-related research projects. These internships give students the chance to get valuable hands-on experience in a real laboratory setting as contributing members of a research team. This coveted opportunity has jump started successful academic and professional careers for over 200 students in 21 years.
The benefits of the CIS intern program are four-fold: to students; to the community; to CIS and RIT; and to STEM (science, technology, education, and math) education in the United States as a whole. Participants benefit from research experience, exposure to a college environment, experientially exploring their academic interests, and learning the responsibilities of a full time job. The intern program is a community builder, as schools and students from across the area participate, and local companies and research centers are showcased through field trips. The program is also CIS's most successful recruitment initiative: ~50% of participants have applied to RIT for STEM-related disciplines, with 15% applying to Imaging Science and 12% ultimately enrolling as students in the Imaging Science program. Lastly, our internships encourage the further pursuit of STEM disciplines by up-and-coming young talent.
To celebrate the accomplishments of past interns, we have created a collection of Stories about Our Summer Interns. Please check back often to see what great things our interns have gone on to achieve.
Now there is an opportunity for everyone to get involved! CIS is looking for partners to help foster the continuance and growth of the internship program. We hope that you will consider supporting the future of our intern program through a personal donation or company sponsorship. Every little bit helps—even a donation of $25 can make a difference in providing these special opportunities. Donations can be arranged by e-mailing us. All sponsors will receive a small appreciation gift and will be listed on our interns website.
We sincerely thank all sponsors past, present, and future for your generous support of our high school intern program.
Past supporters:
UTC Aerospace Systems
The family of 2013 intern Calvin Salacain
Kodak
Pictometry International
BAE Systems
CIS Industrial Associates Program
Address and Phone
84 Lomb Memorial Drive
Rochester, New York 14623

585-475-5221