Submitted by

ISO Admin

on Thu, 03/02/2017 - 09:57
Wireless Networking Safety
Wireless networks are generally considered to be less secure than wired networks. However with proper configuration and encryption enabled, they can provide more than adequate security for most users.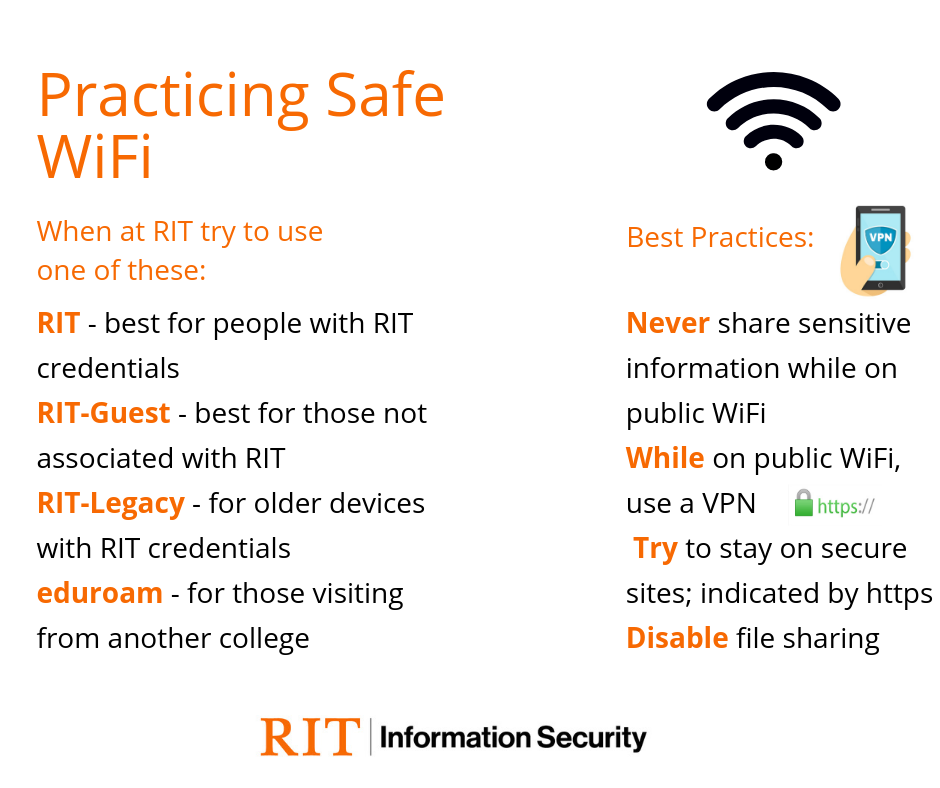 Wireless at RIT
RIT offers four different wireless networks across campus:
RIT - Encrypted WPA2 network and the preferred network for all devices. Devices using this network must be registered using RIT account credentials.
RIT-Guest - Open public network for campus visitors, authorized with a 10-digit phone number. Those not associated with RIT should use this network.
RIT-Legacy - Open WPA network for older devices that do not support WPA2. Individuals should only use this network if their device cannot connect to the RIT network. Devices on this network must be registered with RIT account credentials.
eduroam - Secure network for individuals not associated with RIT that are visiting from other participating eduroam institution.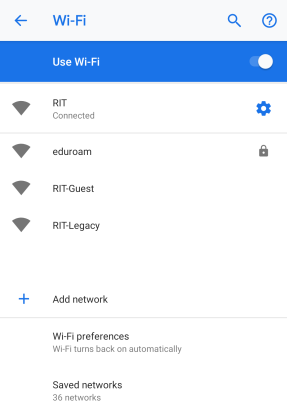 We strongly recommend using the RIT network at all times, as it provides much better quality and security for users. WPA2is the preferred protocol as it offers the best security.
More information on wireless network routers at RIT can be found at the ITS Wireless Computing at RIT page.
Residential networking
Please note that the use of wireless network routers is not permitted in the residential areas on campus. Use of wired routers is acceptable, however you should read and comply with Resnet's guide to using a router on the RIT Network prior to setup.
Wireless at home
Without a secure configuration, your wireless network is open to anyone within range of the access point. Anyone within range can "piggyback" on your connection and use your internet, which can lead to a number of problems such as service violations, bandwith shortages, abuse, activity monitoring, or direct attacks to your computer.
Best practices for wireless networks:
Avoid sending sensitive information (such as online banking, shopping, etc.) over an open wireless network.
Stay on secure websites, indicated by https or the lock icon.
Encrypt your traffic.
Connect using Virtual Private Networking (VPN).
Be aware of your surroundings.