New programs help students with autism gain confidence, employment
Career Ready Boot Camp and Neurodiverse Hiring Initiative has helped dozens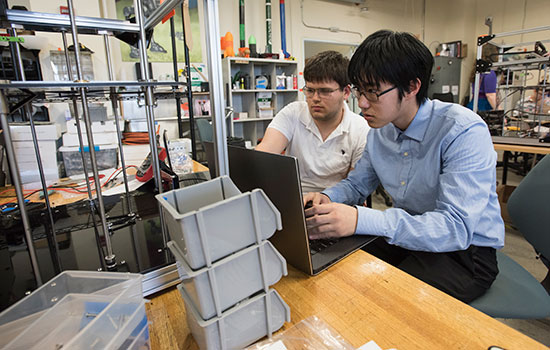 It's hard enough to prepare for a job interview, but when you have autism, which may include idiosyncrasies such as minimal eye contact during conversation, getting hired can be harder, even with excellent qualifications.
Two new programs at Rochester Institute of Technology are helping students with autism prepare for interviews and land jobs. Eight students recently completed a three-week Career Ready Boot Camp, and RIT's Neurodiverse Hiring Initiative has helped dozens of students network and find co-op work.
The parents of a current RIT student with autism made a significant donation to help start the two programs, which will impact the graduation and employment outcomes of many of the 180 RIT students enrolled in the Spectrum Support Program or identify on the autism spectrum, said Laurie Ackles, director of RIT's Spectrum Support Program. More fundraising will be needed to sustain the program at a high level, which may include stipends for living expenses during co-ops, coaching students in career readiness, building more opportunities for jobs through networking between students and employers, and increasing the number of students participating in the summer boot camp.
 "Most students are academically capable, some incredibly bright students," Ackles said. "That's what they have in common. But some have more trouble socially, understanding social expectations or presenting themselves as capable to employers because they lack eye contact or have trouble communicating their fit. That awkward presentation can also get in the way during interviews. Sometimes atypical body language can communicate a lack of confidence in the skills needed for the job."
In the pre-employment boot camp, students focused on soft skills, communication, teamwork, flexibility, time management, taking initiative, decision making, organization and presentation. They participated in mock job interviews and used their lessons by working in teams to build 3D printers.
Kendra Evans, who created the camp's curriculum and was one of its instructors, said each student determined what they could best use to help themselves improve their social skills.
"We teach them how better to portray themselves," she said. "These are brilliant young men and women, but what they need to do is communicate their skills and talents to their employers."
Evans said she witnessed "amazing growth" from the students almost immediately.
"They came in not knowing exactly what they will get out of this and gained a sense of awareness and strength about the skills important in the workplace," she said. "These skills are transferable in any job."
One attendee, Alaina Russell, an electrical engineering major from Boulder, Colo., had a 3.9 GPA as she completed her first year at RIT. She wanted to go to the camp because working with others was something that made her nervous, which might impact her ability to work with others in the future. She said the program helped improve her self-confidence.
"I wanted to expand my knowledge and improve on my teamwork skills and working together," she said. "I like the people that I've met. I really like the teachers here and I've gotten along well with other students," Russell said. "I feel like I've made some friends."
Kenny Kim, an undecided major from Deerfield, Ill., hoped the camp would be a good stepping stone to help him in a job interview, whether it was for a co-op or a permanent job.
Like any college student, he wanted to learn how to write a résumé and leave a good impression with a prospective employer. He also worked well with his partner as they were the first team to get their 3D printer running.
"I like learning about anything," he said.
Last fall, RIT's Neurodiverse Hiring Initiative began helping students with autism find co-op employment. More than 60 students participated in networking events just prior to the fall and spring career fairs, where they got to practice their elevator pitches and learn more about employment opportunities. One student was hired for a summer internship at Bank of America from the event. A bank representative said, "As soon as I met him and read his résumé, I knew I wanted to interview him. His skills stood out right away, and he got through the hiring process quickly. The fact that he is on the autism spectrum is an added bonus for us, but his skills are what really stood out to me."
Many of the local co-op opportunities are on the RIT campus, but some are with private employers.
Second Avenue Learning in downtown Rochester hired two RIT students from the program at the end of May to work as game developers. It is the first office job for Adam Ledet, from New Orleans, who will be entering his third year at RIT, and Chris Littlefield, of Greece, N.Y., who will be entering his fifth year at RIT. Both are game design and development majors.
"I love it here," Ledet said. "I feel I am a valuable member of the team, and I'm using materials I've learned directly in class."
"I really like it here," said Littlefield. "When I heard what they wanted me to do, I knew I was the right person for the job."
Tory Van Voorhis, Second Avenue's CEO, said Ledet and Littlefield are fitting in well with her 22 employees, most of whom are also RIT students or graduates. She said they have discussed environmental accommodations and best communication options, have open spaces to encourage collaboration, closed rooms if someone needs to work in a quiet area, daily group walks and standup reports to colleagues to say what they are working on.
"Our company has a strong commitment to have a diverse workforce," Van Voorhis said. "We're happy to be part of the Neurodiverse Hiring Initiative. These students are intelligent and incredibly talented. This program is a great way for us to identify good employees, and it gives the students a way to experience working in the real world."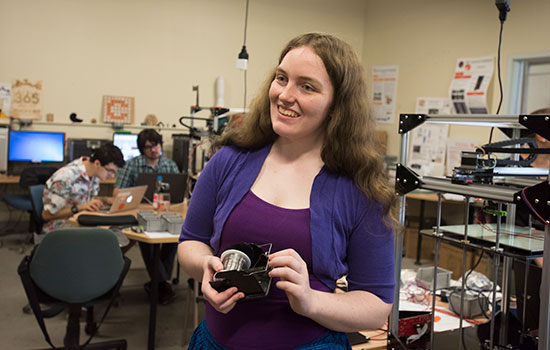 A. Sue Weisler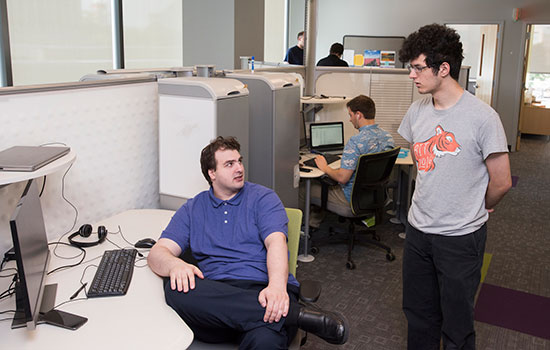 A. Sue Weisler
Topics