April 6, 2017
by Lauren Peace
Student speaks to importance of autism awareness
Student Spotlight: Rachael Bosley, fourth-year applied arts and sciences major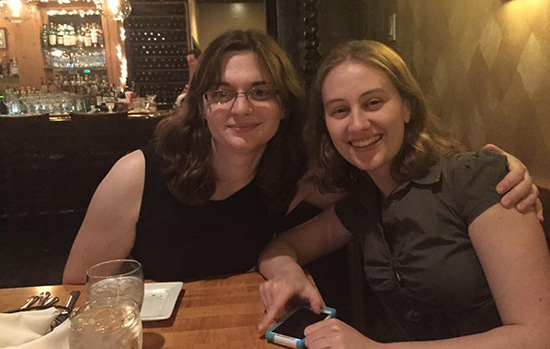 Rachael Bosley, a fourth-year student in the applied arts and sciences program at RIT, is one of many students at RIT who falls on the autism spectrum. Bosley, from Charlottesville, Va., has concentrations in software engineering and industrial engineering and competes in e-sports on campus. In her time away from the classroom, Bosley enjoys gaming, taking care of her cat and working as a volunteer for FIRST Robotics.
Autism Spectrum Disorder is the name for a group of developmental disorders. ASD includes a wide range, "a spectrum," of symptoms, skills and levels of ability. According to the Centers for Disease Control and Prevention, 1 in 68 children has been identified to have some form of ASD.
The RIT Spectrum Support Program caters to all students with Autism Spectrum Disorders who are pursuing undergraduate degrees. For more information, go to the RIT Spectrum Support Program webpage or contact Laurie Ackles at laaldc@rit.edu.
Question: What brought you to RIT?
Answer: I really like the type of people at RIT and how accepting they are. RIT had multiple options for me for majors, so I knew I could change my mind about what I wanted to pursue, which I have done a lot. I really wanted to be at a school that was focused on academics and where I could find like-minded people, and RIT is that place.
Q: What has been the best thing about your experience at RIT?
A: I've most enjoyed being able to play in competitive e-sports for RIT. I've competed with the Starcraft II team and on a Heroes of the Storm team. I never thought I would be able to game competitively in college. It's a great way to make new friends and hang out with friends who are on co-op.
Q: Outside of the classroom, in what ways are you involved on campus?
A: I've helped to add e-sports to the RIT Intramurals program. I've participated on e-sports teams for RIT.
Q: It's Autism Awareness Month. Why is it important to work to increase awareness of the autism spectrum, and what do you think people need to know?
A: I think it is important to increase awareness of the autism spectrum because the more people learn that autistic individuals can interact with everyone else and how to ensure they feel included and comfortable, the easier it is for autistic individuals to be happy and contribute to society. I was fairly sure I was autistic when I entered RIT, but I didn't actually have an official diagnosis until my third year. I really benefitted from researching autism because I could figure out ways to handle certain situations. There is a saying that "once you have met one autistic person, you have met one autistic person." All autistic people are different. Researching ways to approach autistic individuals and understanding that despite our disabilities we can be capable and strong human beings can help both autistic people and society.
Q: How has the Spectrum Support Program bettered your time at RIT?
A: The SSP has been very helpful for me. It's helped me to figure out how to prioritize everything in my life. I've benefitted from being able to talk about things that are bothering me without feeling like I am going to be judged for it. Things that I may consider to be a big deal aren't necessarily what others would, so it helps to get an outside look on any problems I might have and really analyze my feelings and thoughts. I only started working with the SSP in my third year, but my mom had been in contact with the SSP about issues I was having from my freshman year. The SSP staff has always been kind and supportive of me and what I want to do, and I've valued their help throughout the time I have been a part of the program.
Q: What are your plans following your graduation from RIT?
A: I'm currently deciding between going to graduate school at RIT in the industrial engineering program or if I might want to get a job instead.
Lauren Peace compiles "Student Spotlight" for University News. Contact her at lmp1579@g.rit.edu with suggestions.
Topics