New acoustic rooms at RIT enhance student experience in performing arts
Sound isolation rooms can record and simulate being in a small or large venue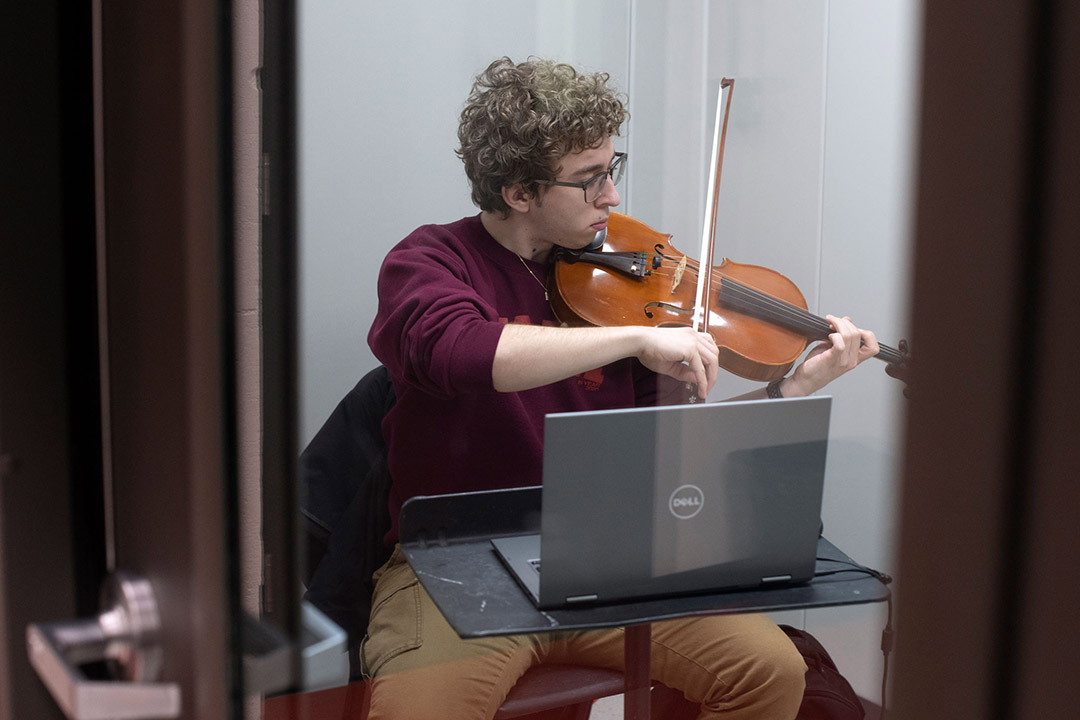 A. Sue Weisler
New state-of-the-art sound isolation rehearsal rooms which can simulate being in a small room, large arena, or even a cathedral are available to Rochester Institute of Technology students involved in performing arts.
Three of the acoustic rooms were installed last month in the basement of the Student Alumni Union. Students began using them at the start of spring semester. A fourth room will be installed in March.
The technology, within the walls of the rooms, can provide real-time digital processing, reverb and delay and is controlled by a touch pad. Microphones and speakers broadcast back to them with a variety of sounds that can be changed to mimic being in a small space, cathedral, or arena.
In addition, accompaniments may be uploaded or downloaded, so practices can be done with an entire choir or band in the small practice rooms.
Dean Davis, director of RIT's Concert Band, had members of the RIT Brass Quintet demonstrate the room technology at a state music conference in December 2019.
"It is very valuable for our students," Davis said. "It provides an enhanced experience for our students to be in a space that brings what they're playing alive, and hopefully motivates them to practice more and get better. It's an important technology."
Ethan Snell, a third-year imaging science student from Penfield, N.Y., recently used a room to practice his viola, which he plays in the RIT Orchestra. Before his online lesson began with Visiting Assistant Professor David Hult, he tested the sounds available and was eager to learn how to use the various functions.

"I think the recording feature will be more helpful for me once I look into it and figure out how to use it because it is helpful to listen back to myself," Snell said.
The rooms replace storage areas and other rehearsal spaces without sound barriers, so scheduling them at the same time previously wasn't always possible.
The three rooms currently open are limited to one occupant at a time due to COVID-19 restrictions. But it is expected a trio or quartet may practice in the rooms in the future.
Davis said it is possible the technology could also be incorporated into larger, existing rehearsal spaces and performance halls on campus.
"That, to me, would be exciting as well. That potential is very exciting," he said.
Topics