Campus celebrates men's lacrosse second NCAA national championship
Tigers raise championship trophy on campus to celebrate win over long-time rival Union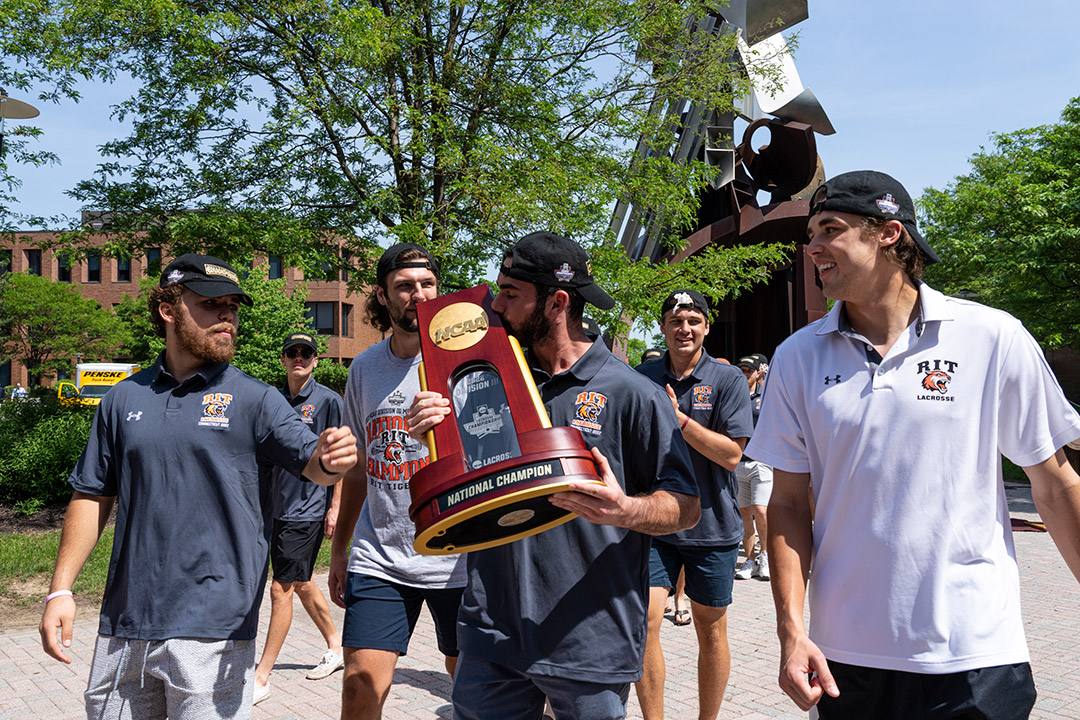 Travis LaCoss
The RIT men's lacrosse team raised the NCAA trophy as Division III National Champions for the second time in as many years on May 29. On Tuesday the team was welcomed back to campus to celebrate Sunday's exciting game and 12-10 victory over Union College.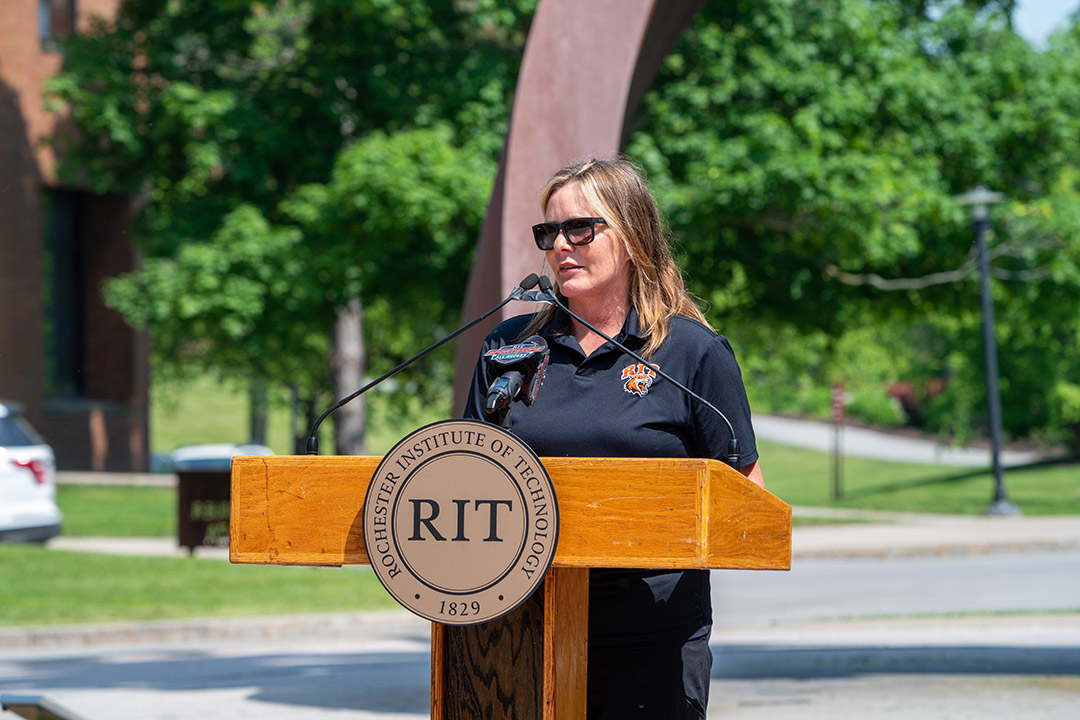 Travis LaCoss
"The community has been changed by the work that you do both on the field and off the field. To have one of you be in the Elite 90 is unbelievable…but quite honestly, believable, because of the passion and the work that you put into this to make it possible," said Sandra Johnson, RIT senior vice president of Student Affairs. She referred to the honor given to Dylan Bruno, which was presented to the student-athlete with the highest cumulative grade point average participating in the finals for each of the NCAA's championships. Bruno, a junior from Wilmette, Ill., is majoring in microelectronic engineering.
During Sunday's game, RIT's Ryan Barnable and John Mozrall combined for scores in the latter part of the second period to close a 7-4 deficit, and once Quinn Commandant tied the score in the third period, RIT never looked back.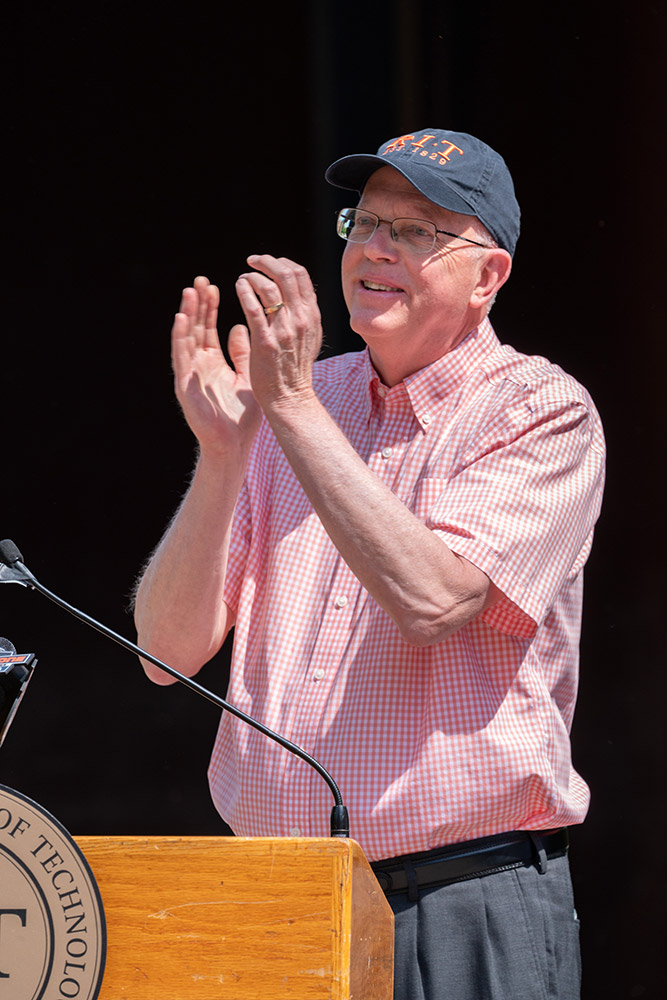 Travis LaCoss
"I watched the team get better and better, if that were possible," said RIT President David Munson, who spoke to Union President Samuel Oliver prior to the game. "He is a good friend of mine, and I said may the best team win, fully knowing that the best team is right here. They gave us a run for our money in the first half, but we knew the game wasn't over, especially with this crew. Your play this season has been remarkable. We are thrilled to be along for the ride."
During the game, commentators called the RIT Tigers fast, tough to defend against, and able to weather the storms of facing past national champs on their way to the championship game. "Nothing beats winning," said play-by-play man Anish Shroff. "The only thing better than winning one championship is winning two."
It would be the 12th straight NCAA Tournament appearance for RIT and its coach Jake Coon.
"Working with these gentlemen is a pleasure," Coon told the community members who gathered outside RIT's Student Alumni Union. "Not everyone sees what these guys go through on a daily basis—practicing out in the freezing cold, early mornings, committing to the books and athletics. It takes a ton of resilience, and the game, it really showed a ton of heart and a ton of hard work—toughness, like a true Tiger should."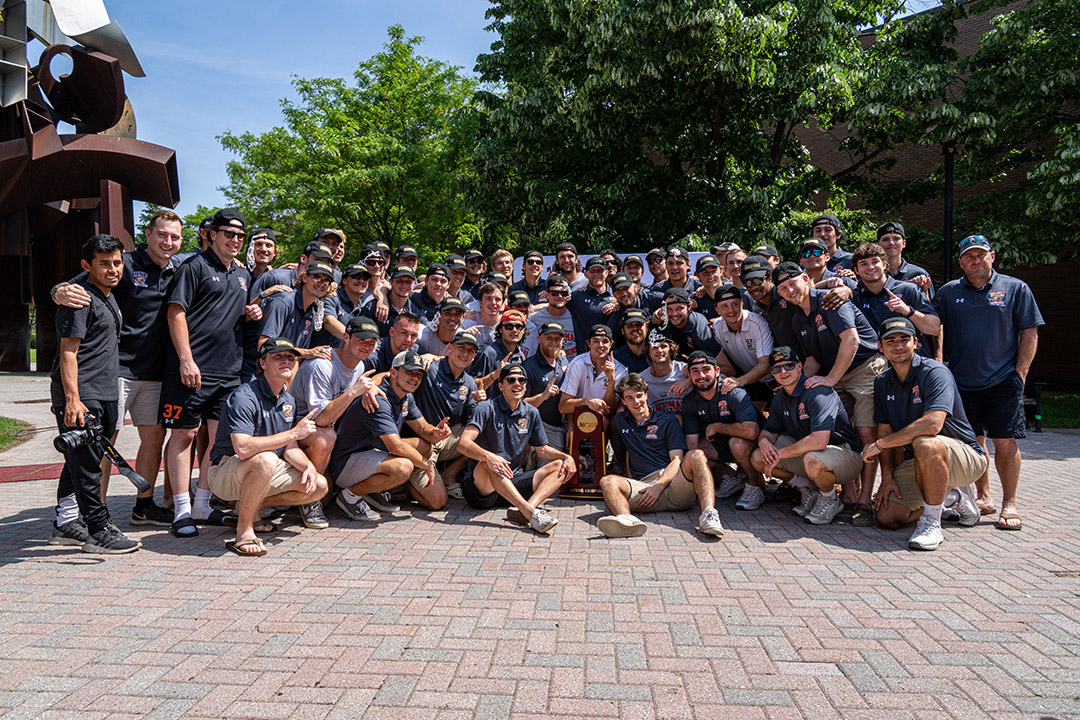 Travis LaCoss
Topics