Twice is nice for RIT men's lacrosse champions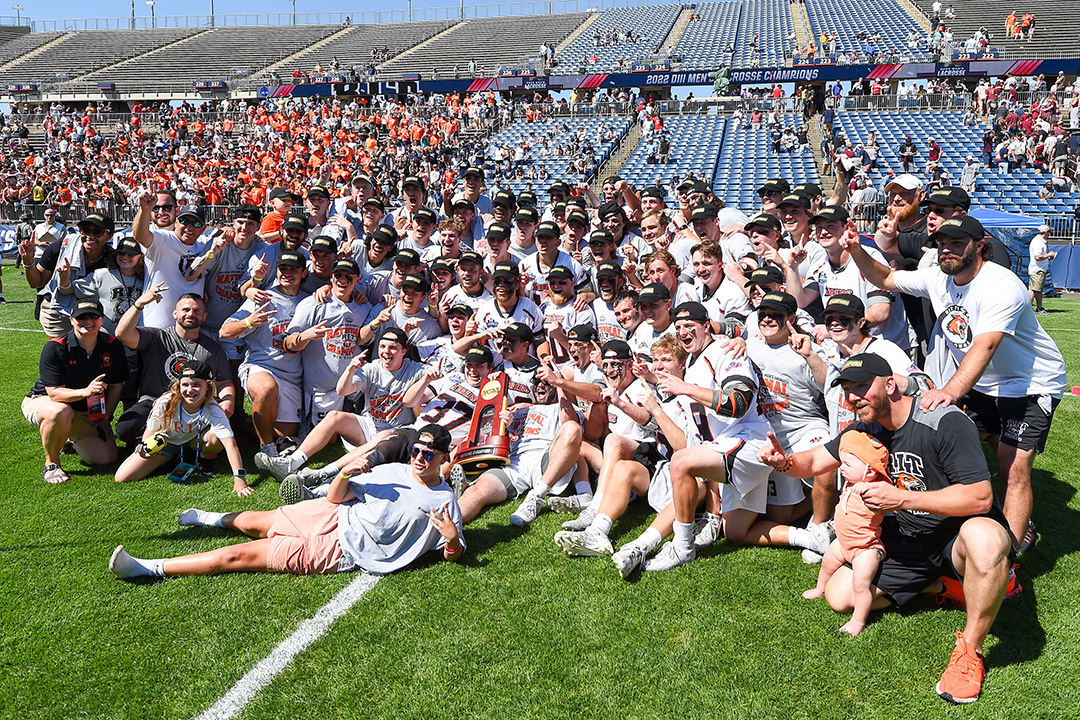 The RIT men's lacrosse team has done it again. The team won its second-straight NCAA Division III national title on May 29, beating Union College 12-10.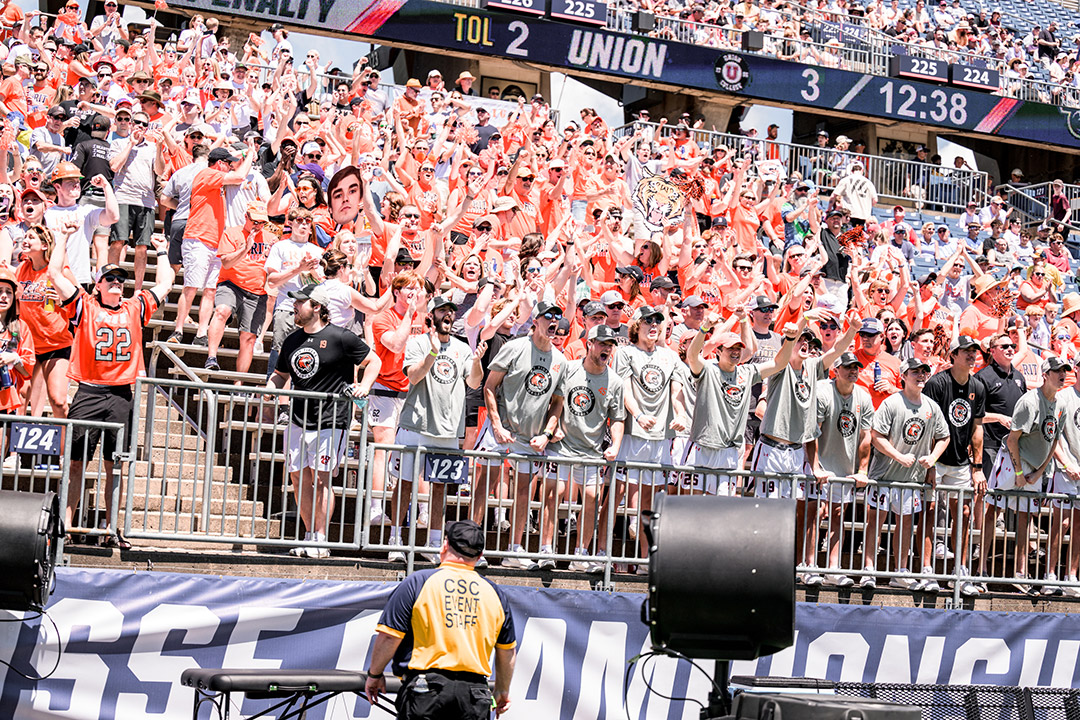 Josh Boland
"There are only six programs that have ever won back-to-back championships, so it is a really special moment for this team, for our program, and the university," said Head Coach Jake Coon. "It was a great year. We love playing for RIT. It's a special place."
This was the lacrosse team's fourth national championship appearance, advancing to the final game in 2013, 2017, and 2021. Last year, RIT beat Salisbury in a double overtime thriller to clinch the university's first-ever national title in lacrosse.
This year, the game in East Hartford, Conn., was a different story. Union, which made its first appearance in a championship game, jumped out to an early 7-2 lead, but the Tigers cut the lead to three at the half. RIT continued the rally in the third quarter, took the lead, and kept it until the end.
"To be honest, it is hard to put into words," said Team Captain Quinn Commandant '22 (finance) about the championship. "It was hard to put into words last year; it is just as hard this year. It feels incredible. It is unbelievable."
Joe Loffredo, RIT associate vice president for Academic Affairs and registrar, said the crowd in Connecticut rallied with the team. Tiger fans were subdued in the first half but picked up enthusiasm as RIT tied it up in the third quarter.
"It is fantastic to see RIT win a second championship," said Loffredo, adding that there were high fives with every goal. "I was not able to go last year, so this is extra special to be here."
Celebrate the team
RIT will celebrate the champions at 11 a.m. on Tuesday, May 31, outside the Student Alumni Union. The campus community is invited.
Adam Platzer, assistant vice president for College Advancement, also was in the stands. Platzer, who played lacrosse from 1997 to 2000, said it was great to see the number of alumni who came out to support the team.
"RIT was already considered to be a great program, but two championships show they are the best," Platzer said. "Coaches Jake Coon and Shawn Wilkins built this."
Jackie Nicholson, RIT Executive Director of Athletics, congratulated the team and its coaches on their victory.
"We are so proud of our men's lacrosse team for winning back-to-back national championships," she said. "Given the challenges over the last two years, this is truly a monumental moment for these young men and our coaching staff."
Nicholson said she wants to thank the many supporters of lacrosse and the alumni who laid the foundation for success. "These student-athletes—past and present—represent athletics and our university in the very best way."
Men's lacrosse isn't the only RIT sport to have won a national championship. The men's hockey team won a Division II national championship in 1983 and a Division III crown in 1985. The women's hockey team won a Division III national championship in 2012.
Topics