RIT men's lacrosse pumped to head back to NCAA national championship game
Tigers play for second Division III lacrosse championship in a row on May 29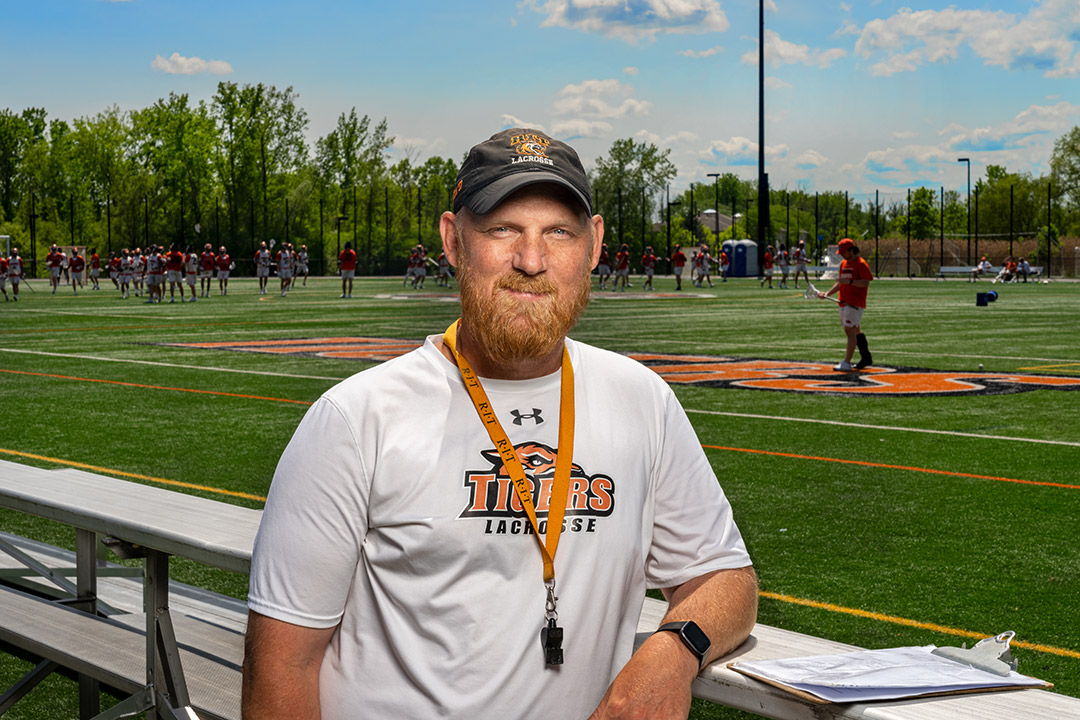 Students on the RIT men's lacrosse team are looking to "pump up the jam" at the NCAA national championship game on May 29. After each win this season, the team celebrates by jamming to the hit 1989 song from Technotronic.
Livestream available
Watch the championship game for free at NCAA.com.
However, singing jock jams is just one of the things that has brought this group together. Many members of the team were here last year, when RIT's undefeated season culminated in the university's first Division III lacrosse national championship.
Now, the team has a chance to go back-to-back, when it faces off against Union College in the 2022 championship game at 1 p.m. on Sunday. The game will take place in East Hartford, Conn. and can be livestreamed for free on NCAA.com.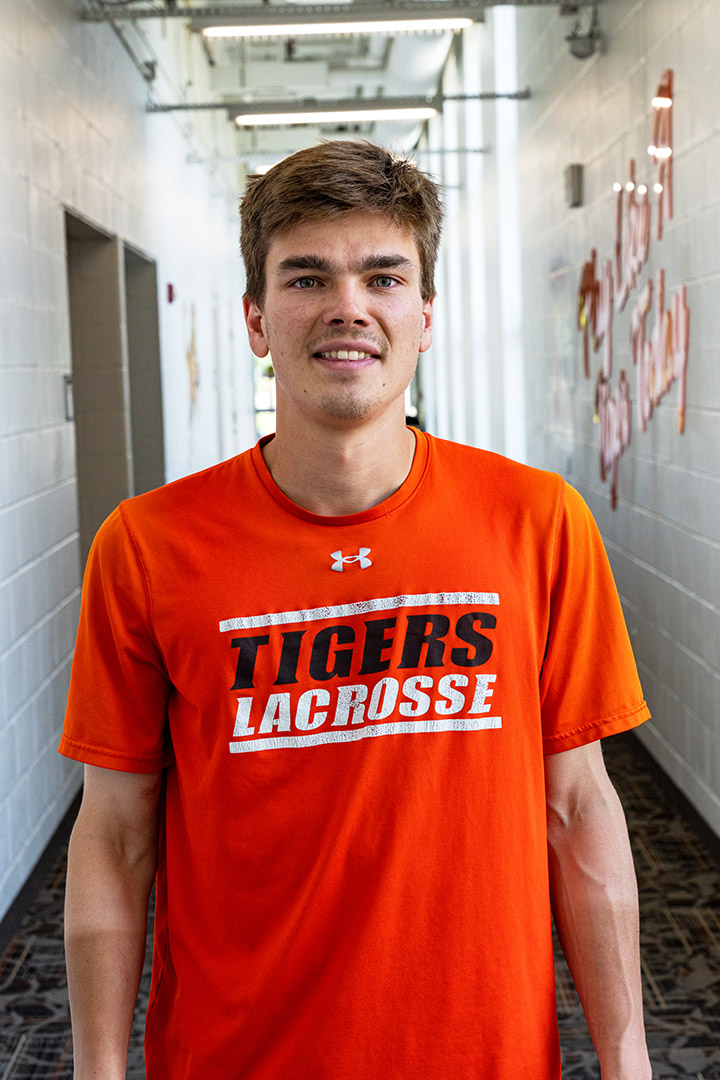 Travis LaCoss
Quinn Commandant '22 (finance), a captain for the team, said that he is very superstitious and he'll be following his regular routine on game day. 
"I eat the same food and I pick up a Monster energy drink—I found that's what works for me," said Commandant, who is from Rockwood, Ontario, Canada. After the season wraps up, he will be moving to Chicago to start a coaching job with a lacrosse club.
"In my five years here, the recipe to our whole team's success hasn't changed and we're keeping that same status quo. We listen to the same songs after every win—"Pump Up the Jam" being one of them—and that makes every one of those hard-earned wins memorable and worth celebrating."
Leading up to the final matchup this year, RIT beat Albion College, MIT, Bowdoin College, and Tufts University in the NCAA tournament.
For head coach Jake Coon, a big part of the week leading up to a national championship game is dealing with the extra things to coordinate and helping everyone stay mentally in tune.
"We are really blessed to get an overwhelming amount of support from our RIT community, plus there are a lot of extra things to coordinate and manage," said Coon. "So, I'm trying to get some distractions in there this week. Last year, we went to Dave and Buster's before the game. We'll find something to do this weekend too."
Coon said that his keys to the game on Sunday are, "respecting our opponent, executing our game plan, out working our opponent, and making sure we support each other no matter what." He also noted that the Tigers may have a little bit of extra comfort playing for a national championship in front of thousands of fans at this stadium, since they did it in the exact same venue last year.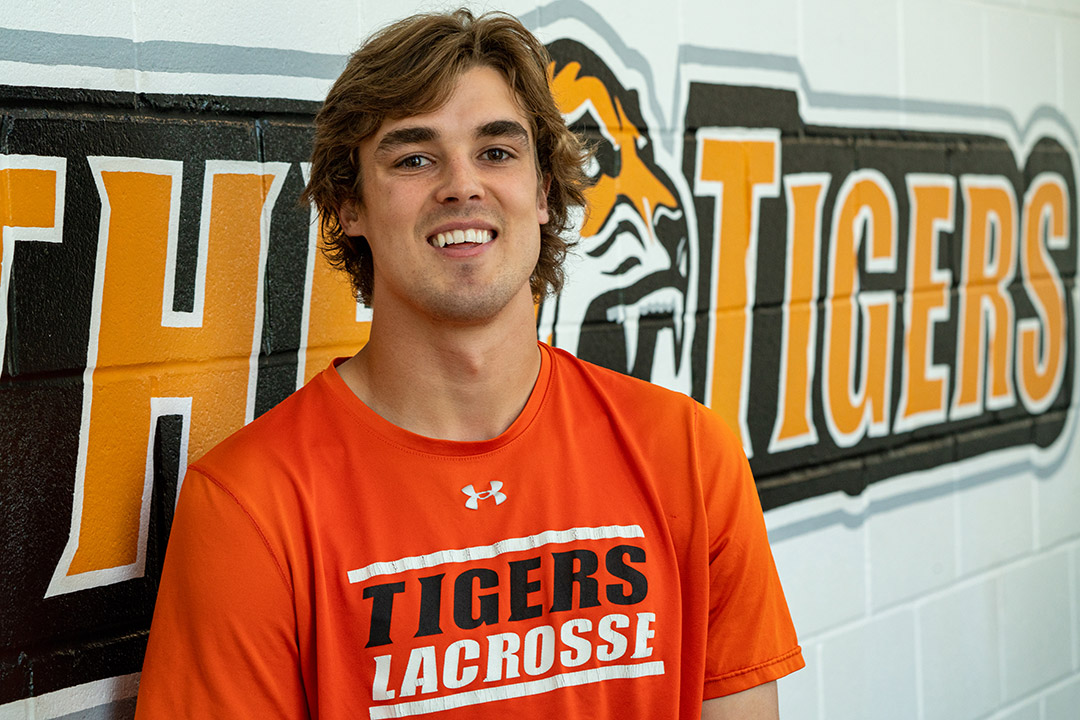 Travis LaCoss
Andrew Powlin '22 (mechanical engineering), a captain on the team, said that it can be hard coming off of a championship season, because people might want to focus on the past year's successes.
"It's great what we did last year, but now that's in the past," said Powlin, who is from Penfield, N.Y. "We want to move forward as a new unit, following a path towards the same goal."
Before each game, Powlin tells his teammates that they have to really believe in each other. He said that they focus on playing the game in 15-second increments. "If you can take care of the little things, the big things will take care of themselves," he said.
At graduation earlier this month, many of the lacrosse seniors wore their caps and gowns to take pictures on the RIT turf field where they spent many hours practicing and playing. They also all made sure to show off their 2021 championship rings.
"It's been like a dream getting to play high-level collegiate lacrosse and win a national championship," said Powlin, who is working to get a job in Colorado after the season ends. "But, the sport is actually secondary to all the memories and relationships I've made with my friends throughout the years."
For information about attending the game in person, go to the Rentschler Field website.
Topics