RIT/NTID partners with Garth Fagan Dance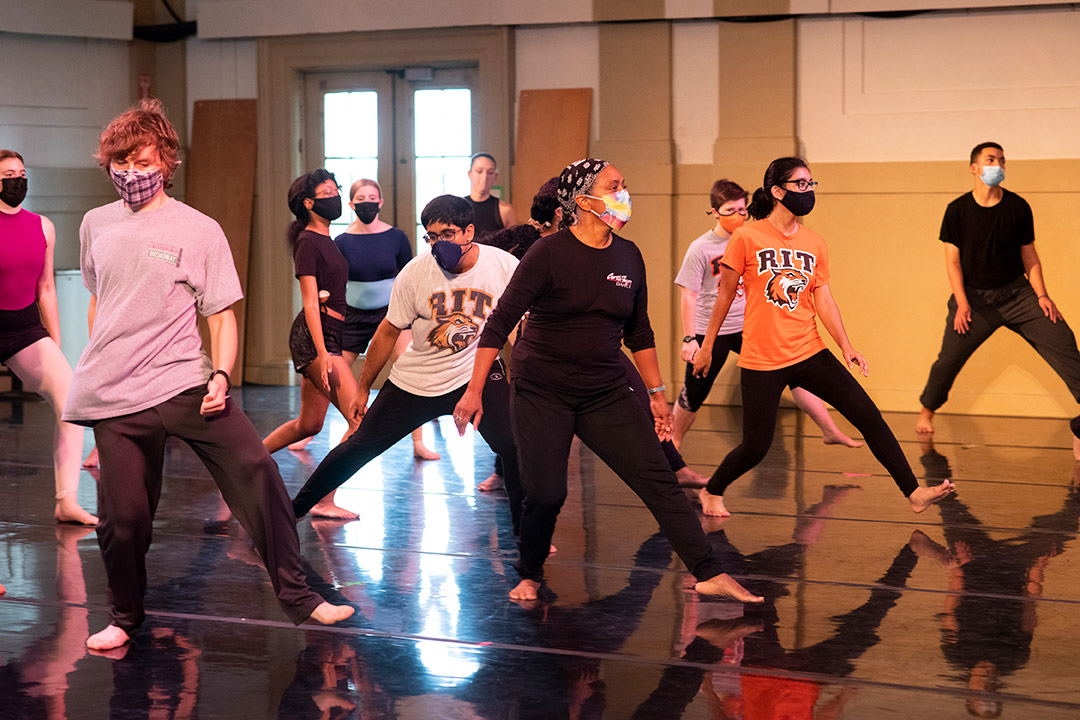 Rochester Institute of Technology students are already benefitting from a new partnership with Garth Fagan Dance, with RIT Performing Arts Scholarship students taking master classes downtown and students working on a semester-long arts management capstone project to deliver suggestions for the internationally known dance company to potentially implement.
RIT and its National Technical Institute for the Deaf announced in February 2021 the partnership with Garth Fagan Dance for a "cooperative-creative-connection" to begin in August.
Also in February, members of the dance troupe performed on campus during a state-sponsored NY Pops-Up event to promote artists, many who have been struggling during the COVID-19 pandemic.
Since then, more than 30 RIT students began taking master classes with members of Garth Fagan Dance in their downtown Rochester studio.
"The students are wonderful. One or two could one day be pros," said Natalie Rogers-Cropper, director of the Garth Fagan Dance School. "They seem to really enjoy it and they work really hard. I am loving them."
In addition, five students with diverse backgrounds are now taking a semester-long executive MBA capstone course in RIT's Saunders College of Business, learning arts management and the business side to running such an endeavor.
One of the students, George Rodriguez, of Dallas, said his team didn't know what they would be working on when they started the course, but were allowed to select their project.
"Each member of my team felt that helping a nonprofit dance organization would be challenging, yet the most rewarding," Rodriguez said. "We felt that by helping Garth Fagan Dance, we would be giving back to the community. After digging into the details of Garth Fagan Dance and eventually their relationship to RIT, we knew we made the right decision to help a performing arts studio achieve their goals of teaching the community a style of dance that should be preserved and shared with the world."
This spring will see RIT students engaged in co-ops at Garth Fagan Dance, helping with its business and computing needs. A new special topics course, Garth Fagan Dance Technique Perspectives, will be offered through the RIT Dance Program.
Founded in 1970, Garth Fagan Dance is an internationally acclaimed contemporary American dance company based in downtown Rochester. Its founder, Garth Fagan, may be best known for his Tony and Olivier award-winning choreography for Disney's Broadway Production of The Lion King.
"We're extremely excited about the Garth Fagan Dance-RIT/NTID Cooperative-Creative-Connection, an innovative, interactive academic and artistic partnership to enhance and expand the educational experience through the intersections of technology, science, design, and performing arts," said Thomas Warfield, RIT's director of dance.
William J. Ferguson II, acting executive director for Garth Fagan Dance, said working with RIT provides an opportunity "to traverse the nexus of technology and the arts and will help demonstrate how the creativity that has produced 50 years of world class dance can affect dance and technology for years to come."
Some online or in-person courses may be taught by members of Garth Fagan Dance, and resources such as rehearsal space, mentoring, and expertise may be shared.
The partnership will allow collaboration for mutual projects, which may include:
Social justice outreach: Exploring the use of dance and the performing arts as tools in examining issues surrounding social justice.
Community outreach: Increasing access to dance and the performing arts for students in the Rochester City School District.
Gaming/film animation: Exploring opportunities to integrate dance and technology, such as 3D animation, virtual reality, and video game design, among others.
Innovative dance curriculum: To be jointly developed and implemented at NTID.
Music programming collaboration: Involving Garth Fagan Dance and RIT's College of Liberal Arts with a focus on African drumming, jazz ensemble, and steel drum band.
Multi-disciplinary design: Exploring opportunities to integrate Garth Fagan Dance into other areas of RIT curricula, especially those that combine technology, the arts, and design.
Student co-op opportunities: Employing RIT students in the area of arts business and arts management at Garth Fagan Dance.
Warfield said NTID is specifically identified in the partnership because NTID is where RIT's dance program and lab were founded and is based.
He said more than 500 RIT students are currently involved in dance classes and clubs, and that number is likely to grow with the partnership and RIT's performing arts scholarships, which already has 72 dance scholars.
Topics