New media design graduate taking talents to Amazon Web Services
Stephanie Liu turned successful virtual internship into UX designer role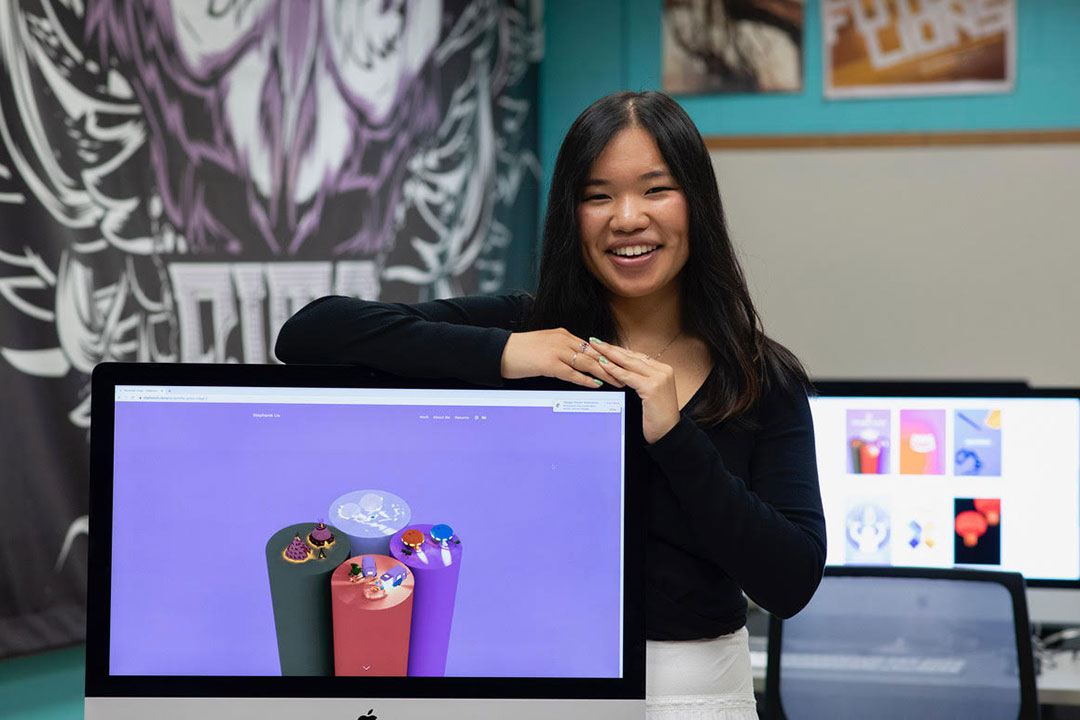 A. Sue Weisler
While she'll look back on the pandemic as a most challenging time, graduating new media design student Stephanie Liu also takes pride in knowing how well she rose to the occasion.
"I became part of the first class of virtual interns at Amazon due to COVID-19," said Liu, who—after a highly competitive selection process—earned the coveted spot at Amazon Web Services (AWS), where she focused on assisting developers with software design.
"I felt that I had to work harder to make connections with my teammates, navigate a unique situation of life-work balance, and deal with overall feelings of unproductiveness and imposter syndrome," added Liu, who crosses the stage May 14 with School of Design graduates in RIT's College of Art and Design.
Her hard work and resilience paid off. At the culmination of her internship, the Chicago native was offered a full-time position as a user experience (UX) designer, starting in July. She'll be working on the same team with which she interned—only this time in person at Amazon's headquarters in Seattle, Wash.
Liu's designer role will include working with Amazon product managers and engineering teams to help move ideas from brainstorming to development. She'll also be responsible for conducting market research and user testing with both internal and external customers, including "pitching" the product to various key stakeholders.
Liu is confident to start her new role, not only because of her successful internship, but after two years of working collaboratively with new media design assistant professors Hye-Jin Nae and Miguel Cardona on research projects at RIT. As a sophomore, she served as a research assistant/designer on a cross-disciplinary team of students, faculty, and staff for Ex-Out. 
A government-funded mobile app/website, Ex-Out focuses on helping non-designers create powerful social campaigns to eliminate violent extremism and hate speech. "It was not only my first time working on a real-world project with a budget, but it was my first time working on a design team," Liu recalled.
After assisting on Ex-Out, she continued to work another year on a MAGIC Center-sponsored research project in collaboration with Cortera, a Florida-based software company.
"I owe my most meaningful design experience in school to working on talented student teams, spending hours outside of class with my new media faculty, and getting to work with older and more experienced student designers," she said. "I am so grateful to my faculty for repeatedly seeing the growing potential in me."
For Liu, it was just how she designed her success—the pandemic notwithstanding.
"My decision to attend RIT was based solely on the new media design program," recalled Liu, winner of the Irene Pfizenmaier Award for Academic Excellence in Graphic Expression, given annually to one graduating undergraduate student in the College of Art and Design.
"I chose to launch myself into a new take on design that greatly emphasized the power of technology and motion," she concluded. "I'm so glad that I did."
Topics