Global Cybersecurity Institute

Global Cybersecurity
Institute
Global Cybersecurity Institute at RIT
The Global Cybersecurity Institute will drive real societal and economic impact. It will become a nexus for cybersecurity knowledge, AI impact, and leadership. By design, it will be agile, collaborative, and human-centric, bringing together education and research leaders from a range of disciplines spanning technology and social sciences.
With the launch of the Institute, and because cybersecurity is RIT's fastest growing area, cybersecurity's infrastructure needs are at a critical level. Creating expanded and state-of-the-art space for learning, practice, and research activities that are the heart of a nationally recognized institute is the first and most important step to ensure success.
Cybercrime may be the greatest threat facing business, government, and individuals today.
Companies experience more than 130 breaches each year.
It takes more than 100 days, on average, for a company to identify that a breach has happened.
More than 143 million U.S. citizens were affected by cybercrime in 2017.
Data breached in 2017 were estimated to cost $3.62 million, and it's rising.
Data breaches are predicted to cost the global economy as much as $2 trillion by 2019.
Cybersecurity threats now present common criminal concerns and preventing or recovering from them is a focus for virtually every company or organization in the country. The global demand for computing security employees is overwhelming, with shortages predicted to be as high as 1.8 million positions unfilled by 2020. Further, the technologies and intelligence needed to address tomorrow's threats demands research in computing security, including advanced artificial intelligence (AI) initiatives, today.
To meet the overwhelming demand for computing security and AI professionals, and develop the future technologies, protocols, and human understanding needed to address the global cybersecurity crisis, RIT has launched the Global Cybersecurity Institute. The Institute will:
Educate and train cybersecurity professionals.
Develop new cybersecurity and AI-based knowledge for industry, academia and government.
Perform systems and network security testing and conduct tabletop exercises for a wide range of partners.
Conduct research to build secure systems, software, devices, and technologies of the future.
Commercialize methods, algorithms, software, devices, and designs in cybersecurity to launch scalable entrepreneurial ventures.
The Facility
Concept Renderings January 2019
Cybersecurity Learning Experience Center – It is a place to showcase demonstrations and student research projects. Seasonal displays will provide in-depth learning experience for visitors with a wide range of knowledge about cybersecurity's past, present and future. Some exhibitions are designed to illustrate fundamental security principles with hands-on activities that will enhance learning for all ages while others will highlight current student projects in the field of cybersecurity.
Simulation Lab – A state-of-the art simulation space for students to hone their assessment and response skills, the sim lab will also provide vital support to research and standards development efforts as a test bed for technology and best practices.
The heart of the lab will be the simulated Security Operations Center – where displays of network and/or physical infrastructure simulation schematics will facilitate security operations management training.
The Simulation Lab will provide realistic situational training in cybersecurity awareness, breach response, forensics, and safe practices. Modeled after the IBM X-Force Command Center, the space will simulate network cyber-attacks and problem-solving scenarios for students and security professionals to learn real-world skills. This facility will be a key asset for the training and workforce development mission of the Institute.
Computing Security Academic Department Suite – Home to the key academic leaders in cybersecurity, including department chair, graduate and undergraduate program directors, and academic student advisors, the suite is the center of all computing security academic programs.
Student Club Space – RIT's student clubs are both avenues for award winning competitors and important opportunities for computing students to build community. This meeting and project space will be the hub of club activity.
Conference Center – Able to host a large group of up to 200 people, or up to three smaller groups, this flexible meeting space can be used for department meetings, student meetings, auxiliary teaching space, community and industry workshops, and more.
Cybersecurity Board Room – A general use meeting room that can comfortably accommodate 30 people. The conference room will be equipped with smart audio-visual equipment and flexible configuration furnishings.
Student Lounges (3) – Comfortable spaces for individual work and student gatherings, the student lounges will enable students to meet informally in groups or with faculty members, and also host community programming.
Security Instructional Labs – These two labs are primarily for instructional purpose. Equipped with high performance workstations with virtual environment installed, students will be able to experiment with various types and versions of computer operating systems and applications to conduct lab assignments.
Security Lab Equipment Cage – Efficient and readily accessible secure storage for equipment shared between multiple labs.
AirGap Lab and Server Room – The new Air Gap Lab will feature a network of computers that will be cut off from access to both the RIT network and the Internet to facilitate a wide range of security exercises without risking harm to the broader community. In the server room, multiple sets of network devices and servers are installed for students to conduct blue, red, and white team exercises. The server room is adjacent to, but separated from the Air Gap so as to provide a quiet lab environment for instruction.
Network Security Lab – This lab is used to teach network security related courses including wireless security. It will be equipped with high performance state of art network devices such as routers and switches, and wireless communication devices.
CyberCorps "Scholarship for Service" Student Space:  A dedicated meeting and study space for students who are awarded this prestigious scholarship.
Graduate Study Space (MS) – This area offers a space specific to the work of master's level students, creating both an effective work space and a community space that enables graduate students to interact more closely with each other.
Center for Cybersecurity Office Suite (with reception area) – A welcoming space for visitors to the center including visiting researchers, industry leaders, and prospective students and faculty members. The office suite includes the Director's Office and the Operations Office, home to key personnel of the Institute.
Eaton Cybersecurity SAFE Lab – The Eaton Security Assessment and Forensic Examination Lab will provide students with a living laboratory environment to gain experience in solving real-world problems for partner companies. RIT students will have access to paid, cooperative work experiences to apply the knowledge that they have acquired from coursework in penetration testing and forensics. The new facility will enable RIT to expand its capacity to work with corporate partners and provide more students with related experiential learning opportunities. The SAFE Lab is generously underwritten by the financial support of Eaton Corporation.
Specialty Research Labs – Designed to further knowledge and practices in specific areas of computing security, each lab will include space for 12 Ph.D. students.
Internet of Things (IoT) Security Lab
Security and Artificial Intelligence Lab (SAIL)
Software Mining and Integrity Lab Environment (SMILE)
Humans and Cybersecurity Lab (HAC Lab)
Networking and Emerging Technologies Security Lab (NETS Lab)
Third Floor Conference Rooms (2)
History
RIT has been at the forefront of cybersecurity education for more than a decade. With the launch of the B. Thomas Golisano College of Computing and Information Sciences in 2003, securing cyberspace was identified as a critical component of academic programming and research efforts. Since then, computing security has grown to become one of the Golisano College's flagship programs, and today, is recognized as one of the nation's top universities for cybersecurity.
RIT's leadership in cybersecurity can be traced over a timeline that began at the inception of the field:
2005
Launched the master's degree in cybersecurity
2006
Designated one of the first National Centers of Academic Excellence in Cybersecurity Education by the National Security Administration and the Department of Homeland Security
2007
Launched the bachelor's degree in cybersecurity
2008/2009
Hosted the first two Northeast Collegiate Cyber Defense Competitions
2012
Created the first Department of Computing Security in the U.S.
2013
RIT student team won the title at the National Collegiate Cyber Defense Competition
2014
Awarded the National Science Foundation CyberCorps Scholarship for Service; $4 million over five years
2015
RIT designed and implemented the Collegiate Penetration Testing Competition, which has quickly become an annual national event for the top offensive testing cybersecurity teams
2016
RIT designated Cybersecurity as one of signature research areas
2017
Designated by National Security Agency and Department of Homeland Security as a Center of Academic Excellence in Cybersecurity Education/Research
Leading-Edge Research with a Human Touch
RIT's Global Cybersecurity Institute research initiatives bring together a range of expertise from across the university to understand and address real-world challenges in cybersecurity and to prepare the next generation of cybersecurity experts. The research programs are highly interdisciplinary and human centered to ensure that the security knowledge is driven by the computing users.
Identified areas of strength include:
Cryptography
Cybersecurity Education
Deployment of Security Technology
Security and Privacy in Distributed Systems
Usable Security
Cyber Analytics
Our research initiatives bring together students and faculty from a variety of disciplines to drive real societal and economic impact. In addition, our commitment to undergraduate research means that these initiatives help to educate the next generation of cybersecurity professionals while they design and develop the technologies and systems needed to secure our future.
The Institute's research agenda is powered by nearly two dozen faculty across multiple colleges at RIT informing perspectives from engineering, psychology, public policy and more as they related to the field of cybersecurity.
Programs
Preserve information assets, identify computer security vulnerabilities, and understand the forensics needed to prove an attack occurred, from identifying its origin and assessing the extent of the damage to designing strategies that ensure data recovery.
Learn More

about Computing Security BS
Develop a solid foundation in cyber security as you understand how integrated systems are designed and developed, and the leadership skills that are paramount for guiding an industry that's still exploring its role and impact in society.
Learn More

about Computing Security MS
With the prevalence of mobile computing, the advantages of cloud computing, the ubiquity of computing in general, and the issues of securing big data caused by the world-wide explosion of eBusiness and eCommerce today, secure computing environments and appropriate information management have become critical issues to all sizes and types of organizations. Therefore, there is a vital and growing need for all computing professionals to have a foundation in the issues critical to information security and how they apply to their specific disciplines. The minor consists of two required courses and three electives chosen by the student from the computing security advanced course clusters. There are many elective course choices to provide flexibility. Therefore, the minor provides any computing major outside of the computing security degree program with basic knowledge of the issues and technologies associated with computing security and allows students the opportunity to select a set of security electives that are complementary to their majors. Before beginning the minor in students must possess prerequisite knowledge that can be obtained from various programming sequences and courses in calculus and discrete math.
Learn More

about Computing Security Minor
With the prevalence of data breaches and cyber-attacks, securing intellectual properties and customer's personally identifiable information has become increasingly challenging in business, government, and academia. It is commonly recognized that a key factor for having a cyber-secured environment and operations is well-trained employees with good cyber hygiene. A small human error may lead to a disastrous cyber incident. The cybersecurity risk management minor is designed for students in non-computing majors who are interested in learning about cybersecurity and developing the knowledge and skills to support organizations in their efforts to protect their computing and informational resources. Students learn the basics of computing and cybersecurity and then gain knowledge and practice in cybersecurity policy and law, risk management, and business continuity plans in the event of a cybersecurity attack.
Learn More

about Cybersecurity Risk Management Minor
Gain the essential knowledge and expertise in network security and forensics needed for cybersecurity in enterprise environments.
Industry partnerships
Focus on industry needs is a long-standing hallmark of RIT's academic and research programs.In computing security, relationships with top corporations and government partners provides outstanding career opportunities for students, and real-world problems to be solved through research and student projects.
Industry partners find RIT's customer-centric approach particularly appealing. Engaging with RIT's computing security faculty and students helps to advance our corporate partners' missions, and elevates their brand as cybersecurity leaders. The return on investment of time, equipment and funding is significant. Both students and researchers in the Global CybersecurityInstitute will be exposed to hardware and software in use during classwork and research. In addition, corporate partners can interact with student teams in cybersecurity, often creating an efficient path for their future workforce.
RIT has rich and multi-faceted partnerships with government organizations and companies from a wide range of industries: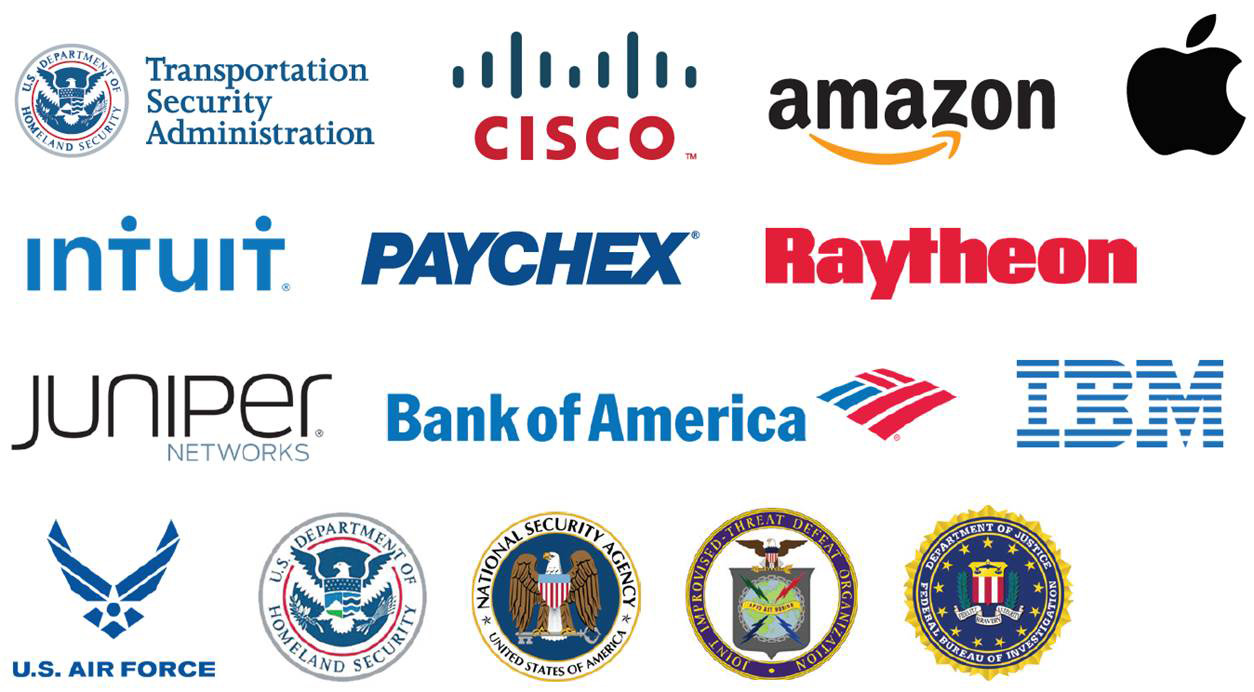 News
August 6, 2019

Global Cybersecurity Institute to open in 2020

Cybercrime is costing the world trillions of dollars, and analysts say that there aren't enough qualified professionals to prevent those attacks. To address this problem, RIT is creating the Global Cybersecurity Institute (GCI), aimed at meeting the demand for computing security and artificial intelligence professionals, while developing future technologies, protocols and human understanding needed to address the global cybersecurity crisis.

August 5, 2019

#BeNicer: Girls spend summer at RIT combating cyberbullying

WHEC-TV reports on the AT&T Girls Coding Camp at RIT as part of its #BeNicer campaign to stop cyberbullying.

July 23, 2019

NSA sponsors cyber-security camp at RIT

WROC-TV reports on the RIT GenCyber for Girls camp, which aims to increase interest in careers and diversity in the cybersecurity workforce.