2022-23 Accomplishments from Saunders Students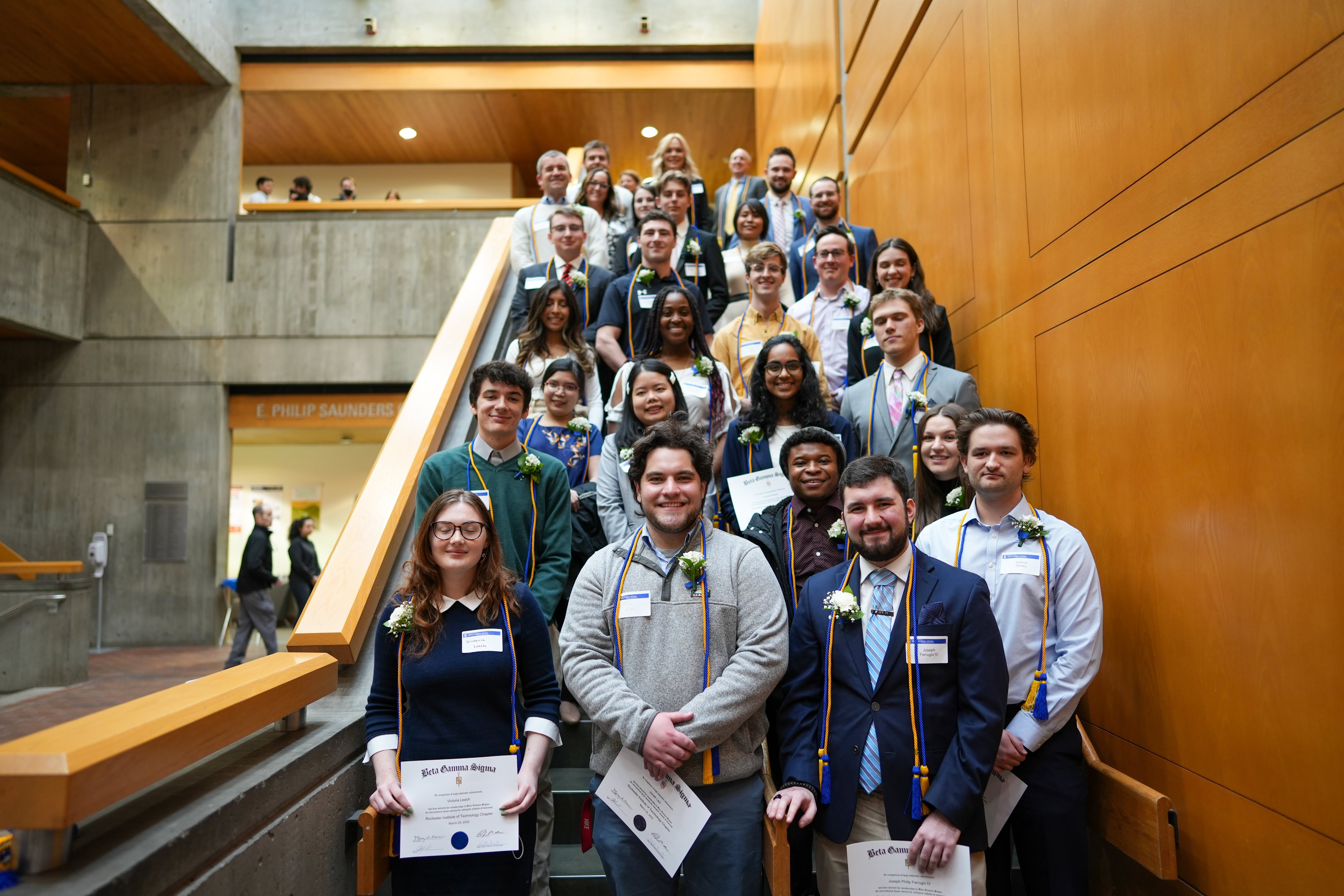 At Saunders College of Business, students are always on to something amazing, even before graduating! If you are a student at Saunders College and have exciting news to share, email communications@saunders.rit.edu.
February 2023
Maggie Dempsey '22 (MIS), '24 (MBA), and Alena Pischuk '23 (MBA) have been selected as the undergraduate and graduate delegates to represent Saunders' students at this year's convocation and commencement ceremonies.
January 2023
Steven Simmons '25 (international business) has been recognized as a finalist in Ovation: RIT Performing Arts Showcase, RIT's premier performing arts showcase during FreezeFest.
A group of students went on the international hospitality and service innovation department's annual trip to New York City from Nov. 13-14 to experience the NYC hospitality industry. Students attended HX: The Hotel Experience show, went on several hotel tours, met with alumni, and ate at Marta, a restaurant managed by an RIT alum. 
November 2022
Lili MCCluskey '22 (hospitality), Manee Souphavanh '23 (hospitality), and Carter Benedict '24 (hospitality) volunteered at the HITECH conference hosted in Orlando from June 27-30. See our blog post for pictures and locations of previous conferences.
Students in the Saunders Cyber: Risk and Resilience course have released a new edition of "The Sketchy Cybersecurity Newsletter" in collaboration with Leigh Rubin focusing on man-in-the-middle (MITM) attacks.
Scott Franco '24 (marketing) was part of a team that won the 2022 PRSSA Pitch Competition hosted by Dixon Schwabl + Company. The competition required teams to create extensive media plans for a local Rochester client, The Levine Center to End Hate, in only a few hours and pitch it to them + judges.
Danny Le '23 (finance) will return to Capital One as a Management Rotation Program Associate upon graduation this spring.
Sedrick Thomas '24 (MIS) has accepted a co-op offer to work at Microsoft during the summer of 2023 as a software engineering intern.
October 2022
Rachel Romaine '23 (MBA) has been recognized as a 2022 Otsuka Graduate Scholar by The Executive Leadership Council (ELC). The ELC promotes Black corporate talent by supporting the academic successes of Black undergraduate and graduate students. She will represent RIT at the 2022 ELC Honors Symposium in Washington, D.C.!
Shreya Patil '23 (business analytics) is transitioning from a full-time professional to a full-time student by pursuing a master's at Saunders. RIT provided her with a scholarship equivalent to 30% of her tuition to continue her education.
Samantha Smith-Pisker '06 (imaging science) received a Women in Leadership scholarship and her employer, Raytheon Intelligence and Space, is providing assistance to further her education. She is returning to RIT to participate in the Executive MBA program at Saunders.
Sedrick Thomas '23 (software engineering), vice president of RIT's artificial intelligence (AI) club, presented a poster at the AI@RIT Summit titled "Binary Classification with Spotify Songs: Inside Look at How Spotify Recommends Songs."
Students in the Saunders Cyber: Risk and Resilience course created a monthly newsletter in collaboration with chief RIT cartoonist Leigh Rubin titled "The Sketchy Cybersecurity Newsletter" to celebrate Cybersecurity Awareness month.
September 2022
Alena Pishchuk '23 (MBA) attended the Concordia Annual Summit held in New York City with world's most influential business leaders, government officials, and nonprofit organizers to discuss and collectively pave a path toward a more equitable, sustainable future.
Olivia McDonald '25 (accounting) and Ryan Steubing, '12 (HSPS), '23 (MBA) have won selective CMA Exam Scholarships, which allows them to take an exam to become certified management accountants for free!
Matt Stasik '24 (accounting and finance) presented a project titled "Do Critical Audit Matters Matter?" at the Undergraduate Research Symposium this summer.

Danny Le '23 (finance) has completed an internship at Capital One as part of their Management Internship Program. As he's entering his final year at Saunders, he joins The Leadership Academy @ Saunders as the chief academy officer.
Manee Souphavanh '23 (hospitality) won the 2022-2023 Statler Foundation Scholarship of Excellence, worth $25,000. This prestigious scholarship is awarded to students who excel in hospitality management programs and demonstrate exceptional leadership. Saunders College of Business has one of the only hospitality and tourism programs in the United States that are invited to nominate students for the scholarship!
July 2022
Alex Feliu '22 (finance) presented "NFTS and Their Correlation to Cryptocurrencies" at the undergraduate research symposium with Archana Jain, Ph.D., interim department chair of finance and accounting.
Kavitha Rajkumar '23 (accounting) has been selected as a recipient of the 2022-23 AICPA Legacy Scholarship. The AICPA Legacy Scholars program helps students become CPAs by assisting with the cost of their college education.

View students' accomplishments from previous years here!
Topics