RIT residence hall renamed to honor Frederick Douglass's granddaughter
Fredericka Douglass Sprague Perry attended RIT's predecessor in 1906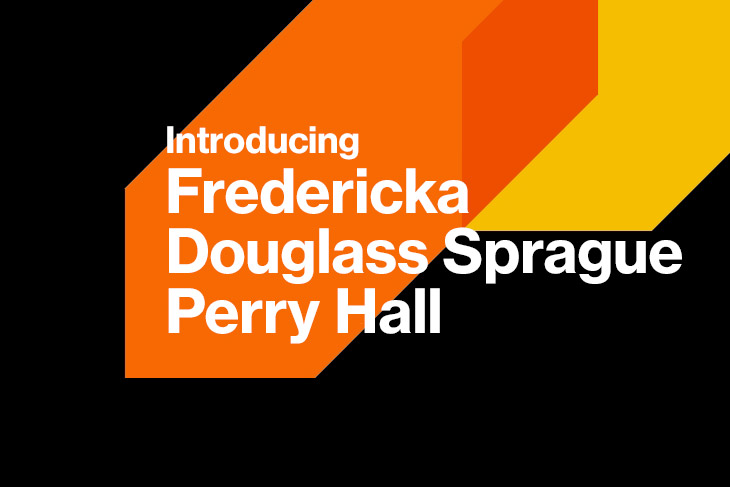 Rochester Institute of Technology is renaming Nathaniel Rochester Hall after Fredericka Douglass Sprague Perry, granddaughter of Frederick Douglass and a former student of the Rochester Athenaeum and Mechanics Institute, which later became RIT.
The change follows the spirit of RIT's Action Plan for Race and Ethnicity. In recent years, historians have brought to light that Nathaniel Rochester, the businessman who was one of Rochester, N.Y.'s founders, made a significant portion of his fortune buying and selling enslaved persons. Rochester moved to the Genesee Valley from Hagerstown, Md., in 1810, with family members, neighbors, and 10 slaves. He was said to have moved north "to escape the influence of slavery, to set his slaves free, and to rear his family in a free state.'"
In a memo circulated to the RIT community, RIT President David Munson and Vice President and Associate Provost for Diversity and Inclusion Keith Jenkins said diversity and inclusion are fundamental aspects of RIT's identity as a university.
"Our campus comprises people who live, study, and work here — a collective that must thrive in an empathetic and inclusive environment where all feel valued, inspired, and challenged to build a better world," they said.
The eight-story residence hall will be renamed Fredericka Douglass Sprague Perry Hall, effective immediately. It will be the first building on the RIT campus to be named after a person of color.
A commemoration for Fredericka Douglass Sprague Perry is scheduled for Aug. 31, when members of the Douglass and Sprague families are expected to attend. The event is in conjunction with RIT's annual Lighting The Way program, which welcomes new students identifying as women or non-binary, and members of the RIT community.
Keira Carrington, a fifth-year cybersecurity major from Swiftwater, Pa., attended a meeting with RIT administrators last fall to discuss the name change. She was invited because of her involvement with several student organizations, including the National Society of Black Engineers, the ALANA Collegiate Association, Unity House, Black Awareness Coordinating Committee, and The Black Thought Collective.
"Prior to the meeting, I never really looked into the history of Nathanial Rochester, or thought too deeply about what he did in his time," Carrington said. "But in the meeting, I learned more about his background and I thought, 'Oh, this namesake isn't as great as we thought he was.'"
Carrington then learned that Fredericka Douglass Sprague Perry was believed to be the first woman of color to enroll in the Rochester Athenaeum and Mechanics Institute. "I thought that would be a great woman to have a building named after. Not only would it be great for women but also for women of color."
Carrington said she is looking forward to the name change.
"This is a big and symbolic step to show students of color and women on campus that they matter to the school," she said. "It shows we do belong here and we deserve to be represented here."
In addition to the building's name, the name will also be changed on campus maps, the computer lab, and the post office located in the building.
About Fredericka Douglass Sprague Perry
Fredericka Douglass Sprague Perry (1872-1943) was an American philanthropist and activist, and was a granddaughter of Frederick Douglass.
She was born in Rochester, the fifth oldest child of the seven children of Rosetta Douglass Sprague and Nathan Sprague. She attended public school in Washington, D.C., and eventually took classes at the Rochester Athenaeum and Mechanics Institute, the forerunner of RIT, in 1906.
She relocated to Missouri in 1906. In 1912, she married Dr. James E. Perry, founder of the Wheatley-Provident Hospital, the first private hospital for Black people in Kansas City. They sought to provide better health care to African American children. One philanthropic effort led to more than the equivalent of $430,000 today, being raised to support the hospital.
Douglass Sprague Perry's chief concerns centered on the lack of foster care homes for African American children over 12 years of age. She is credited with forming the Missouri State Association of Colored Girls in 1923, founding in 1934, with the help of the Kansas City Federation of Colored Women's Club, the Colored Big Sister Home for Girls, and serving as the chairperson of the National Association of Colored Girls. She also served as a trustee of the Frederick Douglass Memorial and Historical Association. She is buried in Highland Cemetery in Kansas City, Mo.
About Frederick Douglass
Frederick Douglass was an American social reformer, abolitionist, publisher, and statesman. Douglass, a freed slave, created and published the North Star antislavery newspaper in Rochester. His relationship with the Rochester Athenaeum, and thus RIT, dates back to the 1850s when he delivered a series of powerful antislavery speeches at Corinthian Hall in Rochester. His most famous speech, "What to the Slave is the Fourth of July," was given from the stage of Corinthian Hall in the summer of 1852. Though early Rochester was known for supporting many reform causes, Douglass challenged his fellow residents to redouble their efforts to end slavery and racial injustice in America. He is buried in Mount Hope Cemetery in Rochester.
About Nathaniel Rochester
Colonel Nathaniel Rochester was an American Revolutionary War officer and land speculator who founded the settlement which would become Rochester, N.Y. Rochester made money as a slave trader before his migration to New York and brought his own slaves north when he moved to the region from Maryland. In 1829, Rochester and other community leaders established the Rochester Athenaeum, an association "for the purpose of cultivating and promoting literature, science, and the arts." He is buried in Mount Hope Cemetery.
Topics