DDI Students on the Move | December 2019
Newsletter December 2019
DDI Students on the Move
Six RIT Students Return after Successful West Coast Conference
Five CSTEP students attended the 2019 Biomedical Research Conference for Minority Students (ABRCMS) in Anaheim, California last month.
They are Jessica Asante, Daihlia Beckford, Shi (Susan) Cheng along with Janice Fung and Autumn Grimins who presented at the conference. Biomedical Professor Dr. Bolaji Thomas accompanied the fourth-year students. (THERE IS A PHOTO)
Niaya Jackson, third- year Biochemistry major and RIT McNair/ LSAMP Scholar also presented at the ABRCMS conference. She is shown here with her 2019 Presentation Award. (THERE IS A PHOTO)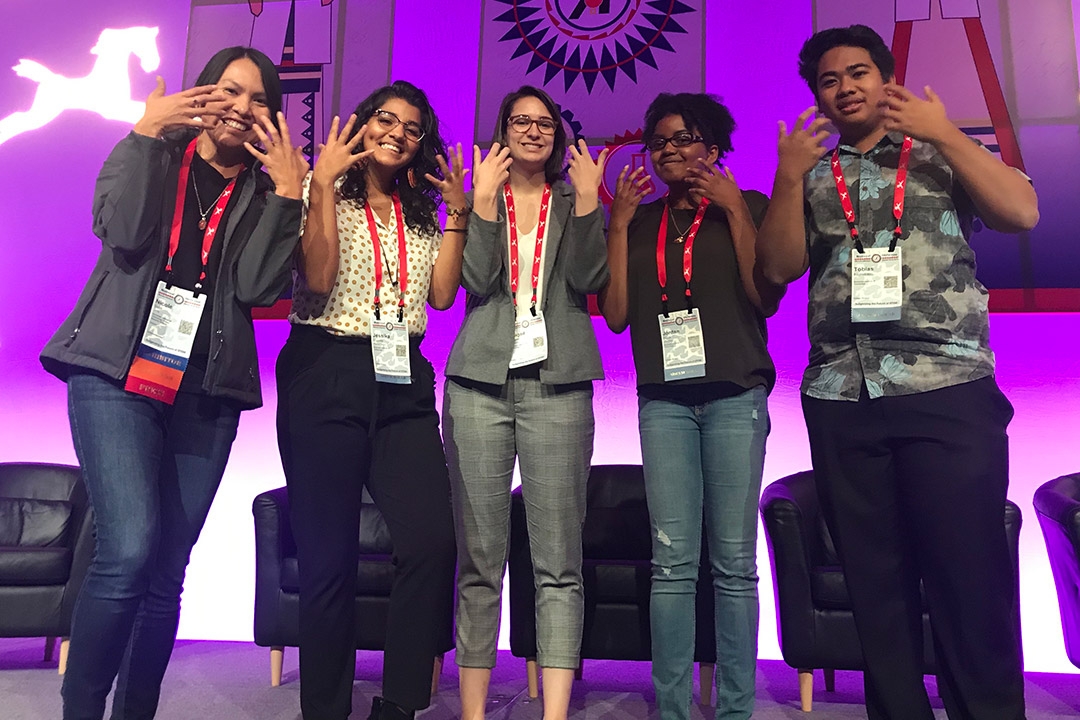 Representing RIT Among Indigenous STEM Professionals and Students
Abigail Reigner (Comanche), of RIT's Native American Future Stewards Program, was elected the Region 6 representative for the American Indian Science and Engineering Society (AISES). She is a Mechanical Engineering major. (Pictured center)
DDI in Dubai
Some RIT students are packing their bags—and their books --and will head to Dubai to study abroad.
A total of 11 DDI students will attend Dubai during the week of spring break in March 2020.
They are: Nana Aikins, Fatoumata Barry, Ephraim Bostic, Erika Fernandez, Niaya Jackson, Loryn Johnson, Charles Parker V, Jude Seunarine, Nasheet Usman, Maria Morcos, and Olivia Williams. Seven of them are McNair/LSAMP students.
All of them will take a research methods course during the spring semester and use that information to look at all sorts of things—from culture and religious beliefs to questions about social class while in Dubai.  RIT faculty members Dr. Makini Beck and Dr. Phillippa Thiuri will accompany them.
This is the first study abroad program created specifically for DDI students.