RIT acquires equipment from Vanguard Automation to advance photonics packaging research and development
New 3D lithography system increases capabilities in integrating photonic chips for applications in traditional and quantum technologies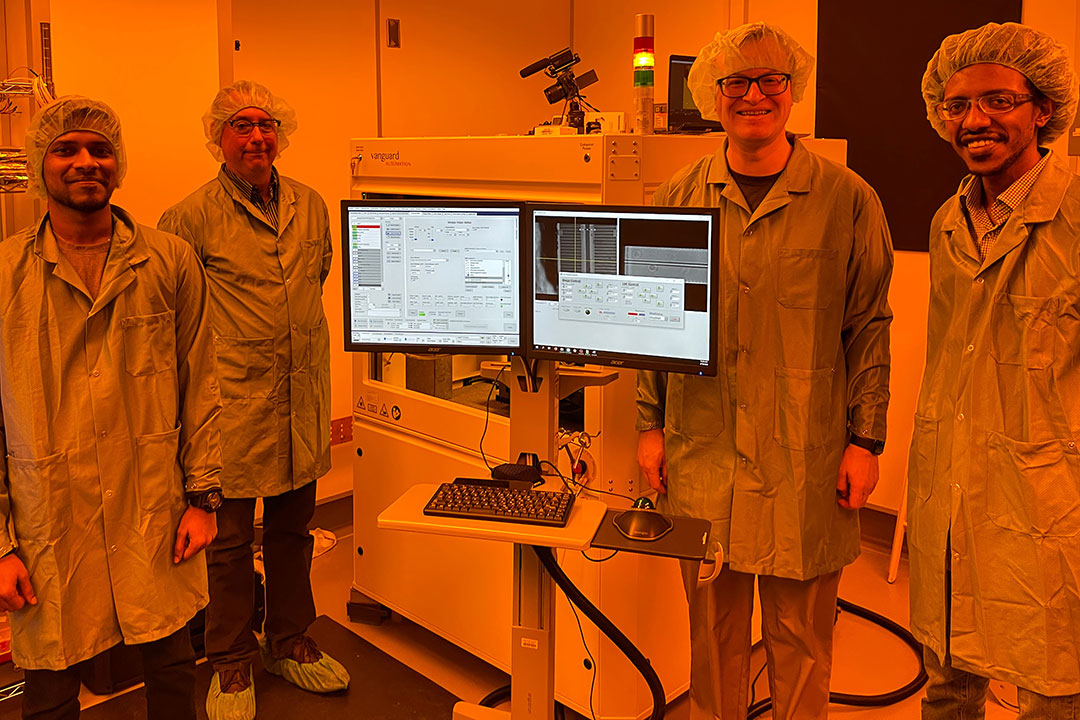 Rochester Institute of Technology recently acquired Vanguard Automation's SONATA 1000 3D-nanoprinter, a next-generation technology for advanced photonic packaging and integration. The new equipment will advance how the university is solving the challenges of building and using photonic integrated circuit chips, lasers, and optical fibers—technologies necessary for improving computer processing power and emerging applications such as biotechnology, artificial intelligence, and LiDAR.
"We are excited to bring this technology to our labs at RIT," said Stefan Preble, director of the microsystems engineering Ph.D. program and professor of electrical and microelectronic engineering in RIT's Kate Gleason College of Engineering. "The Vanguard Automation system will accelerate research and development in integrated photonics by enabling researchers to rapidly and flexibly integrate a wide range of photonic chip components with a high level of predictability."
Preble is an expert in the field of photonics—the science and study of how light and energy can be used in developing technology devices—and his research focuses on several key areas in next-generation high-performance computing, communication, and sensing systems. Collaborative work underway in his lab is in the areas of quantum photonics, new materials for semiconductor devices, and advances in optical processing systems.
The new equipment from Vanguard Automation enables photonic wire bonding and 3D printing of micro-optics—new approaches for precisely aligning components of integrated photonic systems. It will be a key tool used for workforce training in advanced photonic packaging, as part of degree coursework, and in workshops focused on training students, engineering professionals, and faculty-researchers on state-of-the-art techniques for photonic integration.
Recently installed in RIT's IT Collaboratory and Semiconductor and Microsystems Fabrication Laboratory, the new system enables researchers to predictably fabricate multi-chip photonic subassemblies in various high-performance computing uses such as classical, neuromorphic, and quantum computing.
"The installation of our SONATA 1000 system at an integrated photonics stronghold like RIT marks a significant milestone for our company," said Thorsten Mayer, chief executive officer of Vanguard Automation. "Dr. Preble has been instrumental in developing Rochester as a leading photonics center in the eastern part of North America, and we are excited to have the opportunity to contribute to his efforts."
RIT has been a longtime partner and leader in the national organization, AIM Photonics, one of the Manufacturing Innovation Institutes managed and established by the United States Department of Defense. Funding for the new equipment was supported by AIM Photonics toward furthering research, education, and workforce development of new integrated photonic manufacturing solutions.
Topics