Student Spotlight: Exploring engineering through Hot Wheelz team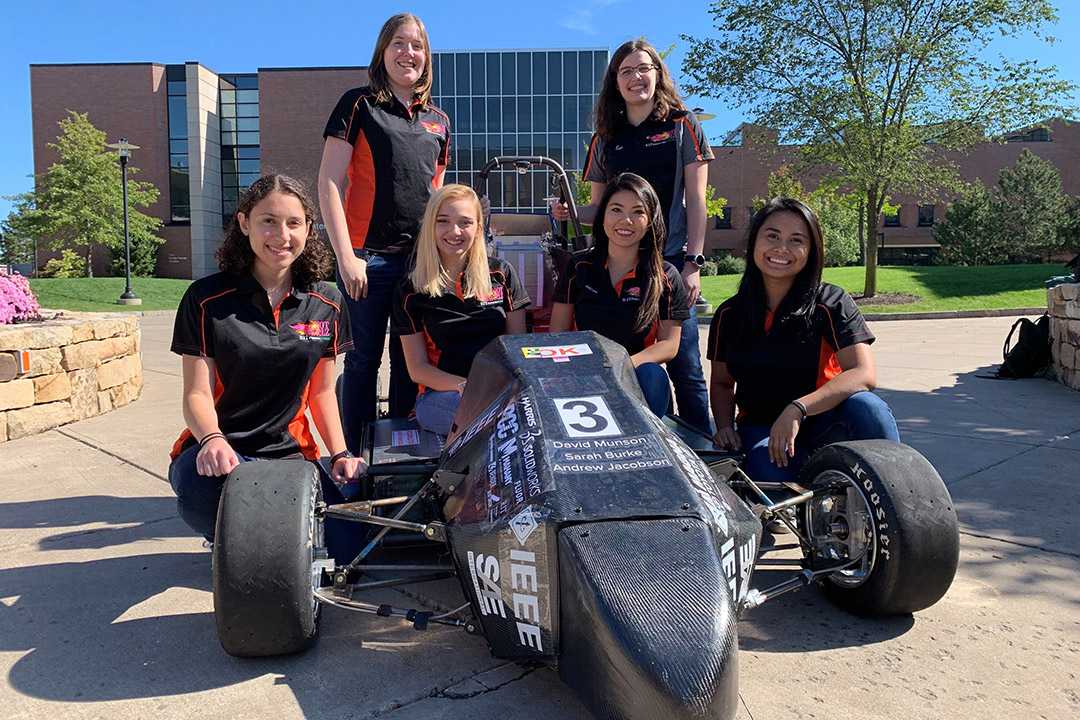 RIT Hot Wheelz is a student-run Formula SAE Hybrid racing team that offers hands-on experience for female-identifying students interested in learning more about racing vehicles. Hannah Sones, a second-year industrial engineering major from Medina, N.Y., joined the team during her first semester at the university.
This year, she is working as a driver interface lead and helps coordinate, design and analyze all aspects of the car that the driver directly touches and interacts with, from the steering system to the seat she sits on. This semester is "design season," so Sones and her teammates are focused on designing the car by the end of December. In the spring, the team will begin constructing the car based on the designs they've created.
Sones's dream job is to work in a project management role for the automobile industry, which made Hot Wheelz particularly attractive for her. Aside from Hot Wheelz, she also works as an orientation leader, a RIT 365 peer facilitator and is the secretary for the Asian Cultural Society.
To learn more about RIT Hot Wheelz, go to https://www.rithotwheelz.com/.
Why did you decide to come to RIT?
I already applied and got into RIT because I knew it was an engineering school and that is what I wanted to study, but I was looking at a few other schools as well. A week before I had to make a decision on what school I would go to, I came here and I found out that they had a lot of cool opportunities, like co-ops, that I could take advantage of. As I was walking on campus, I saw people throwing Frisbees around and everyone seemed like they were part of a nice community environment, and I really liked that too. Finally, when I was walking through the engineering building and seeing where I would work, it felt like I was supposed to be there. That's why I chose RIT because I realized during my visit that this was where I belonged.
How did you end up joining the Hot Wheelz team?
I went to the club open house at the beginning of the year and as I was walking around, I saw their booth and thought it seemed pretty cool. I didn't actually talk to them there because there were a lot of people waiting to talk with them, so I decided to look into it on my own. I heard from someone when their first meeting was and I got one of my friends in my major to come with me so I didn't have to go by myself. The first time I went with my friend, they did a round robin type thing where you talked to every single subgroup and learned what they were. At the end, they asked you to rank which group you liked the best. I thought it was really cool because I got to see this wide scope of everything. I ended up really liking the options, so that's why I joined.
What is your specific job for the team?
I'm the system lead for driver interface, so our subgroup is in charge of basically anything the driver touches. Our job is to make the driver legal and safe while sitting in the car. Our car is unique because we're one of the only all-female teams in the nation, but, because we're a Formula team, we have to fit a 95th percentile male in our car, which is a 6-foot-2 male. Our shortest driver is 4-foot-11. So, my job is also to design and make it so, within our small car, it can fit someone from 4-foot-11 to 6 foot while having everyone who falls within that range comfortably touching the pedals. As a system lead, I have designers under me, so I delegate tasks and put people on projects that interest them, but also things that just need to get done.
How do you think being on the team has increased your confidence as an engineer?
I think it's helped increase my confidence greatly as an engineer. Whenever I do things, even if I know I do them right, I always second guess myself. Starting young with Hot Wheelz, everyone was so supportive and it's a great fostered environment. Even if you do something and you do it wrong, everyone is so approachable. So, if I wasn't sure about something, I started feeling comfortable saying, 'hey I don't know what I'm doing, help me.' Now, I'm more confident in what I'm doing and, when I know I'm on the wrong track, I know to talk to people so I don't get so far off that it's not able to be fixed. It also helps me be more confident in myself and my ability to approach problems with an attitude of, 'even if I don't know this now, I'll be able to learn it and it's not impossible.'
As a younger member, how has working on the team helped shape your outlook on the field of engineering?
Last year I actually had a huge identity crisis with my major. I was asking myself, 'is this where I'm supposed to be, is it what I want to do?' I liked industrial engineering because I thought it was vast and I could do a ton of things with it, but everyone I had talked to at that point just worked in assembly lines and I was scared because I don't want to do that. There was someone on Hot Wheelz, her name is Anika and she was a fifth-year industrial engineer, and she explained to me that she did co-ops with Indeed and so many other cool and unique companies. She told me that I could do anything with industrial engineering, I just had to be confident in the skills that I learned and just transfer it to something that I want to do. After talking to her, I realized that I am where I'm supposed to be. Now, I have the confidence to take what I want and go to someone and say, 'hey, this is why you need my skills.'
Do you think you'll continue to work on the team through graduation?
Yeah, 100 percent. The cool thing about Hot Wheelz is that every single year you can learn so much more. Hot Wheelz encourages people to move around and experience different systems, so, if I wanted to, next year I could move to a different subgroup and learn how the electrical elements of the car work, how we do our brakes and why they work or any number of things I'm interested in. There are so many avenues to explore, so I won't ever be stuck and I can always continue learning. Being on the team brings so many opportunities, I wouldn't want to leave. When I'm older and further along in my studies, I can help younger team members like other team members helped me when I was starting out. I'm definitely going to stay in it because I want to help complete the cycle of helping a new set of emerging female engineers.