Mahany Welding Supply donates equipment to College of Engineering Technology
Equipment will support an updated degree program in robotics automation and provide students with hands-on skills in robotics manufacturing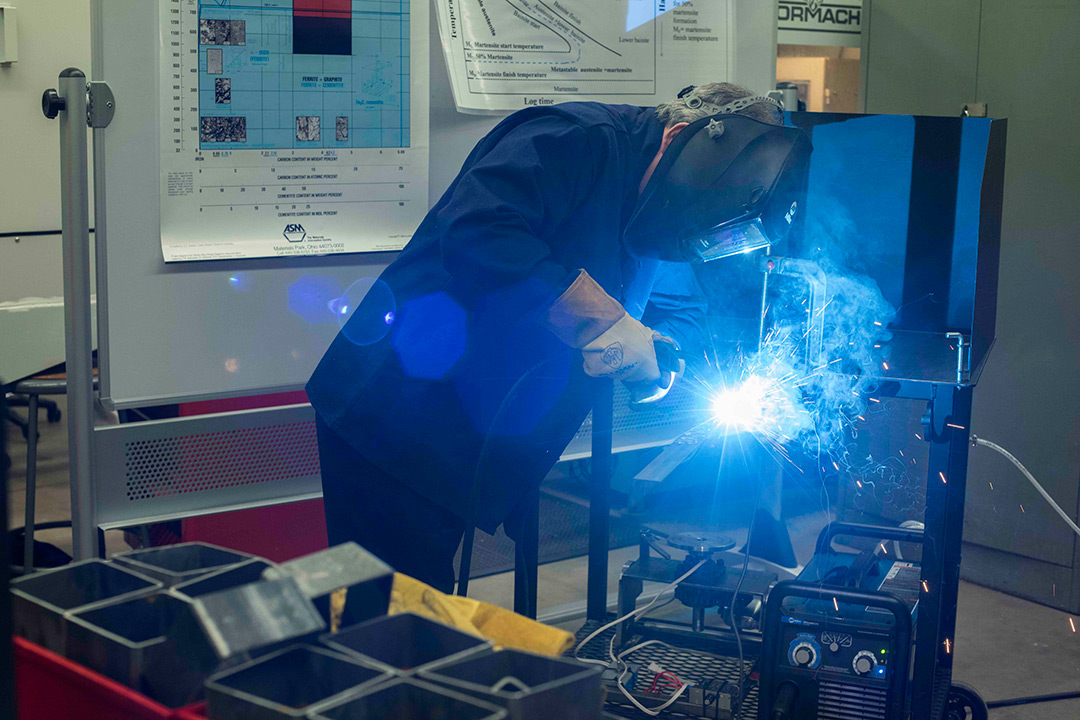 A. Sue Weisler
Sparks were flying as Rochester Institute of Technology and longtime corporate partner Mahany Welding Supply dedicated new welding equipment at a ceremony at the university. The equipment, two gas metal arc welding cells and two gas tungsten arc welding cells, will be used within an advanced manufacturing degree program in RIT's College of Engineering Technology to provide needed workforce skills.
"We have a great partnership with Mahany Welding and with its leader, Mike Krupnicki, for many years. He has opened his shop to our students, and over the past 16 years, he has trained more than 1,000 of them on welding techniques and applications," said S. Manian Ramkumar, interim dean of RIT's College of Engineering Technology. The welding cells will be located in the Mechanical and Materials Laboratory and used by students and faculty in the manufacturing and mechanical engineering technology (MMET) program. "Mike has shown a lot of commitment to our students through classes, and he has been an ardent supporter of our student clubs, Baja, Hot Wheelz and Formula race teams, offering welding space and classes. His commitment to our students goes well beyond CET, and he has impacted students across campus. We are grateful to Mike for these extraordinary contributions."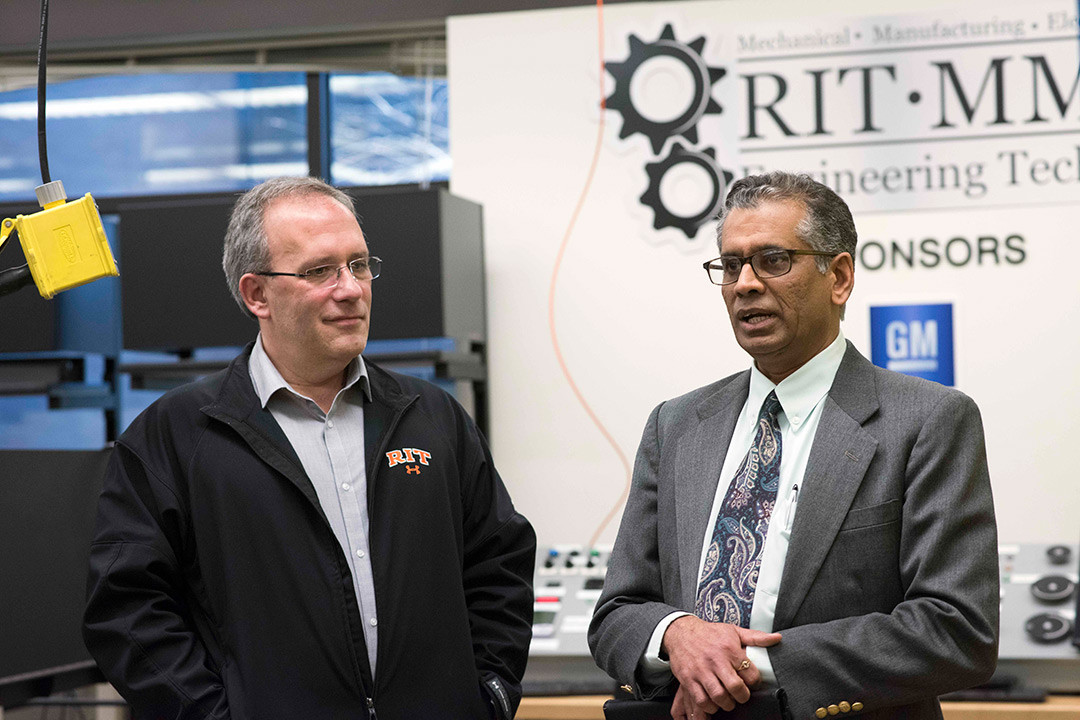 A. Sue Weisler
A resurgence in manufacturing is taking place in the U.S., and welding remains an important component of the overall manufacturing process, said Krupnicki '99 (executive MBA), president of Mahany Welding Supply in Rochester, N.Y. Robotic welding is fast becoming a growth industry with the increase in automation and the need for a skilled workforce that can build, operate and manage the technology.
"Years ago, we felt strongly that if students had the opportunity to learn about welding in a hands-on environment, they would be better engineers when they got into the workforce. I thought if I can help them, I'd be doing the industry a service, so that's why we started offering the credit-bearing classes at my business," he said. "This donation of equipment is so that the students have a place back on campus where they can practice, build projects and that the different clubs can share."
Krupnicki supports several of the university's performance race teams, and he will continue to provide onsite workshops for the teams and MMET degree program students.
Much of the use of robotic welding is in high production applications such as aerospace, automotive, defense and consumer packaged goods. Skills needed are an understanding of the overall manufacturing and new product development processes as well as computing and electronics expertise to ensure top performance of robotics systems.
RIT's Manufacturing and Mechanical Engineering Technology curriculum has been updated to include more robotics technology and will feature several minors and concentrations that focus on industrial productivity and advanced manufacturing technologies, including robotics, computer-aided design, computer numerical control, microprocessor controls, computer-aided manufacturing, flexible manufacturing systems, assembly automation and electronics manufacturing. Robotics and manufacturing engineers are needed faster than students can complete degree programs, resulting in a variety of employment opportunities for today's graduates.
Topics