Looking for inspiration? Try visiting the Vignelli Center for Design Studies Archives
The Vignelli Center Archives is a free resource available to students and the community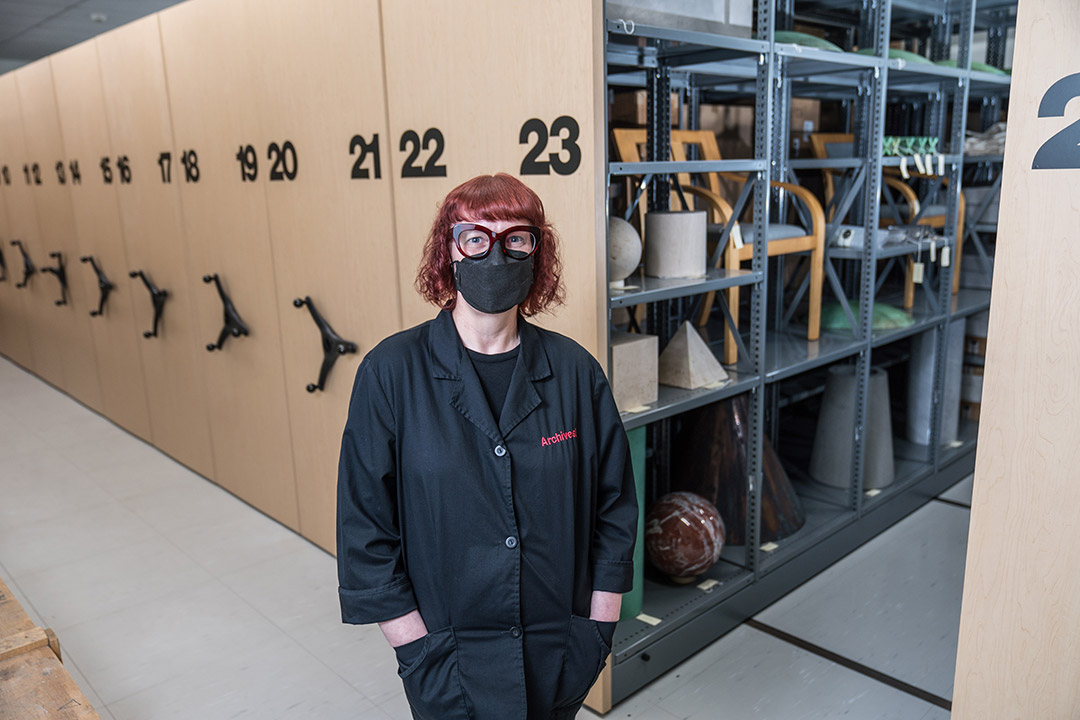 Have you ever felt stuck while working on a class project? Or struggled to find inspiration for research, artwork, or writing assignments? Jennifer Whitlock, the archivist at RIT's Vignelli Center for Design Studies, says a peek into the archives vault can help students and researchers find that spark of inspiration.
"Our biggest audience is design students, but we've had engineering students come to study something that was made out of innovative materials, and even communication students who are interested in how the Vignellis branded companies or packaging they created," said Whitlock. "I think of the archives as sort of raw material that can be interpreted in a lot of different ways."
Photo gallery
Click through the main photo to see more images from the Vignelli Center Archives.
The Vignelli Archives, located next to RIT's University Gallery, houses over 500,000 artifacts that capture the design catalog of LeIla and Massimo Vignelli. The archives include examples of industrial and product design, graphics and publication design, corporate identity programs, architectural graphics, exhibitions, interiors, clothing, and furniture design created by the Vignellis.
Some easily recognized Vignelli designs include the New York City subway maps and signage and their stackable dinnerware designs. These designs are currently used by the public or influence product designers to this day.
"I often joke that we have every material known to the universe in the archives. It's not primarily paper, as most people think," said Whitlock. "A lot of their designs are very iconic and they're part of our cultural fabric. These aren't just the artifacts of a time long ago, but are designs and concepts that we still use and that visitors will find familiar."
Whitlock shares that the Vignellis didn't view design as a limited field and, instead, believed that design is everywhere in our day-to-day lives. From the cutlery used to make breakfast, to the shopping bag used at the store, to the highways people drive on—all of these are products of design.
The strategies, thought processes, and methods of creating a good design can guide and inspire anyone regardless of their particular background or field of interest. This is why, as part of her work, Whitlock aims to make the archives' contents as accessible as possible to the RIT community and beyond.
"You don't have to have any kind of big research topic to visit the archives. If you really just want to come and look at cool stuff, I'm totally game to use what I know about the collection to try to find the things that would be of interest to you," said Whitlock.
The Vignelli Center gallery exhibits, which showcase artifacts from the archive, are free and open to the public. The exhibits are accessible through the RIT University Gallery and follow the University Gallery's hours of operation. To visit the archives, visitors can email Whitlock at jlwfad@rit.edu to schedule a visit.
For more examples of the treasures that wait behind the archives' vault doors, you can go to the archives' Google Arts and Culture Page or the archives' Instagram. The archives is also hosting an open house event from 10 a.m. to 4 p.m. on Sept. 20 and 21 for those interested in an informal visit.
Topics