Saunders College of Business nears completion of massive building project
Multi-million dollar renovation and expansion bring state-of-the-art facilities, innovative learning spaces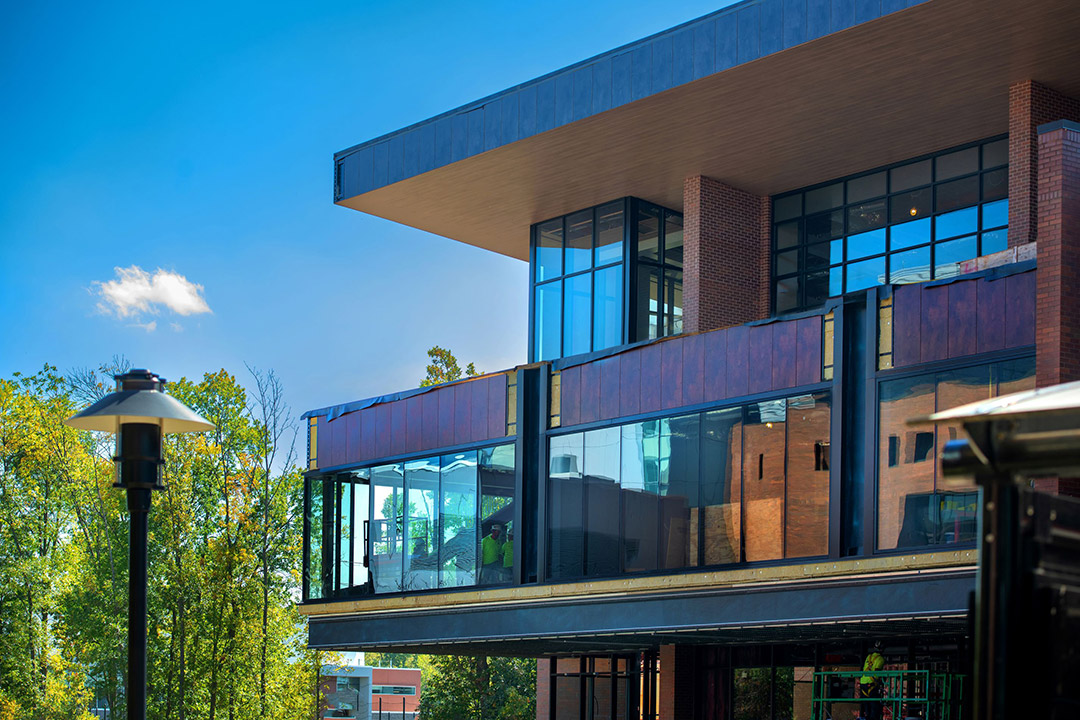 RIT business students and faculty have experienced a number of major enhancements to Max Lowenthal Hall since the start of the fall semester, as the home of Saunders College of Business nears completion of a multi-million dollar expansion and renovation project.
Once finished, the new building will feature student team rooms, applied research and case analysis labs, an event space and reception hall, state-of-the-art auditorium, a café, an executive MBA and executive education suite, a wine room in support of hospitality and service innovation programs, and outdoor spaces with expansive views of campus.
"We are currently about 15 months into construction, with three months to go," said Michael Dellefave, senior project manager, Facilities Management Services. "The building addition is progressing as scheduled and will be substantially complete at the end of November."
The renovation of existing classrooms was completed last summer and expansion of the business college to nearly double its size—including additional innovative learning spaces—will be finished for the spring semester. In all, the project is helping to drive creativity and innovation among the next generation of business leaders, according to Dean Jacqueline Mozrall.
"It's been truly gratifying to see how our faculty and students have embraced the exciting changes since the start of the semester," Mozrall said. "The expansion and renovation have brought us to a whole new level, significantly enriching the learning and research opportunities and further enhancing interdisciplinary and entrepreneurial collaborations across the college."
Sorim Chung, associate professor of marketing, is using one of the new classrooms to teach an introductory marketing course. "I think the new design helps students to feel more relaxed in the classroom," Chung said. "Students seem more engaged. I also see more student-to-student interactions."
Carter Benedict, a hospitality and tourism management major from Akwesasne, N.Y., said the new learning spaces provide him and his peers "the perfect place to work on team projects and any other activities that require student collaboration."
"I am very excited to get the opportunity to use the new spaces coming for my final semester at RIT this spring," said Benedict, who plans to earn his master's degree in real estate development before pursuing a career in hotel real estate.
The project would not have been possible without transformational gifts from Saunders College alumni and friends, including serial entrepreneur, philanthropist, and college namesake E. Philip Saunders; Chance Wright '18 (advertising photography), '19 (MBA);  Susan Holliday '85 (MBA); the late Klaus Gueldenpfennig '74 MS (electrical engineering), '77 (MBA); Brigitte Gueldenpfennig '81 (MBA); and Dinah Gueldenpfennig Weisberg '97 MS (software development and management), '03 (EMBA), who collectively committed nearly $12 million toward the project.
Additionally, Saunders College was awarded a grant from New York state as part of the Higher Education Capital Matching Grant Program.
Wright's $1.8 million gift to the business college helped fund renovations to existing spaces. In addition to added technology accessibility in the classrooms, his donation supported the addition of a south-facing outdoor balcony on the top floor of the building expansion, with scenic views of campus. The feature will add additional outdoor space to the expansion plans.
With two RIT degrees, Wright understands the student experience and wants to build upon what made RIT transformative for him, so that the undergraduate and graduate students—at the business college and throughout the university—continue to receive the ever-evolving experience that he did.
"I want the facilities to do the same thing for students today that they did for me when I visited campus years ago," Wright concluded.
Topics