March 17, 2021
by Shelly Meyer
Saunders College of Business awarded $4.7M state grant to support building renovation, expansion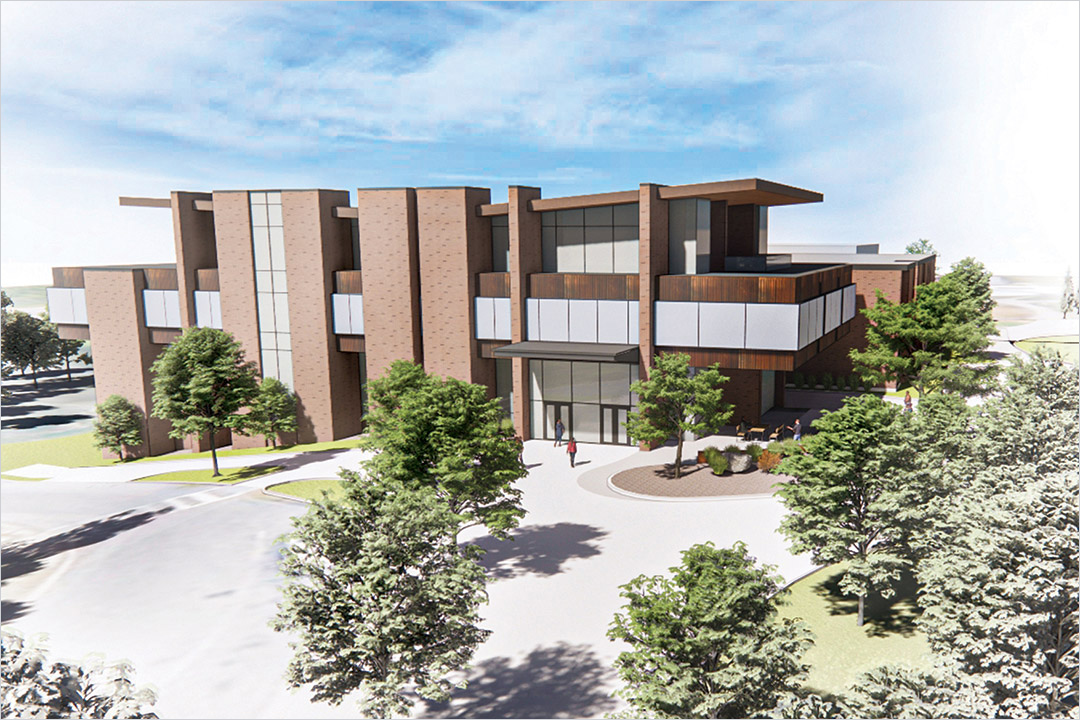 RIT's Saunders College of Business was awarded a $4.7 million grant from New York state as part of the Higher Education Capital Matching Grant Program.
The grant will support the planned major renovation and expansion to Max Lowenthal Hall, home of RIT's Saunders College of Business, made possible by a transformational gift from serial entrepreneur and philanthropist E. Philip Saunders.
"This grant, in combination with generous gifts from E. Phillip Saunders and other RIT friends and alumni, will allow Saunders College to support our students, alumni, faculty, and staff in a fully transformed environment," said Dean Jacqueline Mozrall. "This expansion will allow for interdisciplinary collaborations among our RIT students and faculty, elevated applied research and experiential education opportunities, and expanded community engagement and outreach—all of which allows us to drive creativity and innovation among the next generation of business leaders."
The grant is awarded by the New York State Higher Education Capital Investment Review Board, which provides matching grants to private, not-for-profit colleges and universities to stimulate economic growth in communities across New York.
Since the program's inception, HECap grants have created more than $1 billion in infrastructure spending across New York and more than 14,000 jobs, including 7,000 construction jobs that paid prevailing wage.
New York's private, not-for-profit colleges and universities generate nearly $8.8 billion in economic impact annually and support more than 415,000 jobs statewide, according to the Commission on Independent Colleges and Universities. RIT is a major economic driver in the region, both as an employer and as a magnet to attract new businesses to the region that want to take advantage of the university's talent and research capabilities.
"RIT thanks Gov. Cuomo, the HECap board, and our state Senate and Assembly members for recognizing the importance of these capital grants to higher education and positive economic impact to the larger Rochester community," said Vanessa J. Herman, vice president for Government and Community Relations. "This grant will fund the expansion of a nationally ranked business school, ensuring a quality, technology-driven education for our RIT business students in Rochester."
The Saunders College renovation and expansion, designed by architecture firm LaBella Associates, will add more than 35,000 square feet to the building, featuring:
Student team rooms to provide spaces for small group interdisciplinary collaborations and project work;
A behavioral research lab to support behavioral research that investigates interesting and complex hypotheses regarding human behavior and decision-making;
An integrated business technology systems lab to support applied research aimed at the exploration, testing, and refinement of "smart" technologies and applications that impact the future of business;
Applied case analysis labs to support the engagement of students and teams in the comprehensive analysis and presentation of applied business cases and projects;
An auditorium for distinguished speakers, conferences, workshops, and classes;
A conference center and event space to serve as a venue for business and entrepreneurship conferences, executive education, and events for RIT and the regional Finger Lakes community.
The $4.7 million grant from New York state, combined with other designated funding, will support this $18.8 million capital project.
This New York State grant is another contribution to Transforming RIT: The Campaign for Greatness, a $1 billion university fundraising effort, the largest in university history. This blended campaign seeks support from a variety of investors, including alumni and friends, government and corporate partners, and research foundations and agencies.
Topics