Saunders College renovation, expansion to begin soon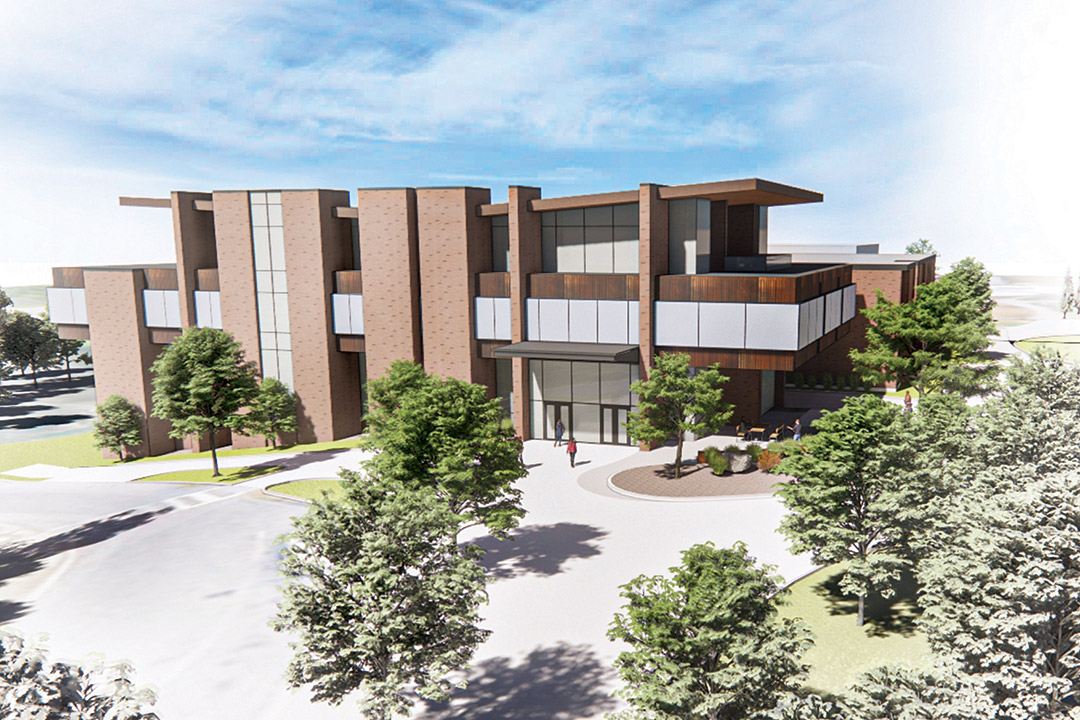 A transformational gift from serial entrepreneur and philanthropist E. Philip Saunders will help fund a major renovation and expansion to Max Lowenthal Hall, home of RIT's Saunders College of Business. The $18 million project, which is being designed by architecture firm LaBella Associates, will add more than 35,000 square feet of space to the building.
This expansion will transform the learning environment for students, with the addition of collaborative student spaces, flexible case analysis rooms, and applied research labs—all in support of experiential-based, interdisciplinary learning and research.
The project will also include space for the hospitality and service innovation programs, as well as event spaces that will accommodate distinguished speakers, conferences, receptions, and lectures.
Construction plans for the four-story expansion will increase the existing building by about 80 percent and include outdoor patios with expansive views of campus, an auditorium and adjacent reception areas, a food venue, and a large, multi-functional event space with a catering kitchen.
New administrative offices, including the dean's office, will be centralized, allowing for the creation of an Executive MBA and Executive Education suite in the existing facility.
A behavioral research lab, integrated business technology lab, graduate student space, conference rooms, and additional offices will be added.
Informal gathering spaces and student meeting rooms will be placed throughout the building.
"All of us at Saunders College are excited to transform the learning experiences and applied research environment for our students, faculty, and staff," said Dean Jacqueline Mozrall. "The expansion and renovations will further enhance student and faculty collaborations and expand our ability to engage with the Rochester community and beyond."
The gift from Saunders is part of Transforming RIT: The Campaign for Greatness, which is RIT's $1 billion fundraising effort, the largest in university history. This blended campaign seeks support from a variety of investors, including alumni and friends, government and corporate partners, and research foundations and agencies. The campaign has raised $754 million to date.
Topics