RIT Venture Creations incubator graduates five start-up companies dedicated to innovation
Heart monitoring toilet seat and 360-degree imaging camera among products launched by start-up companies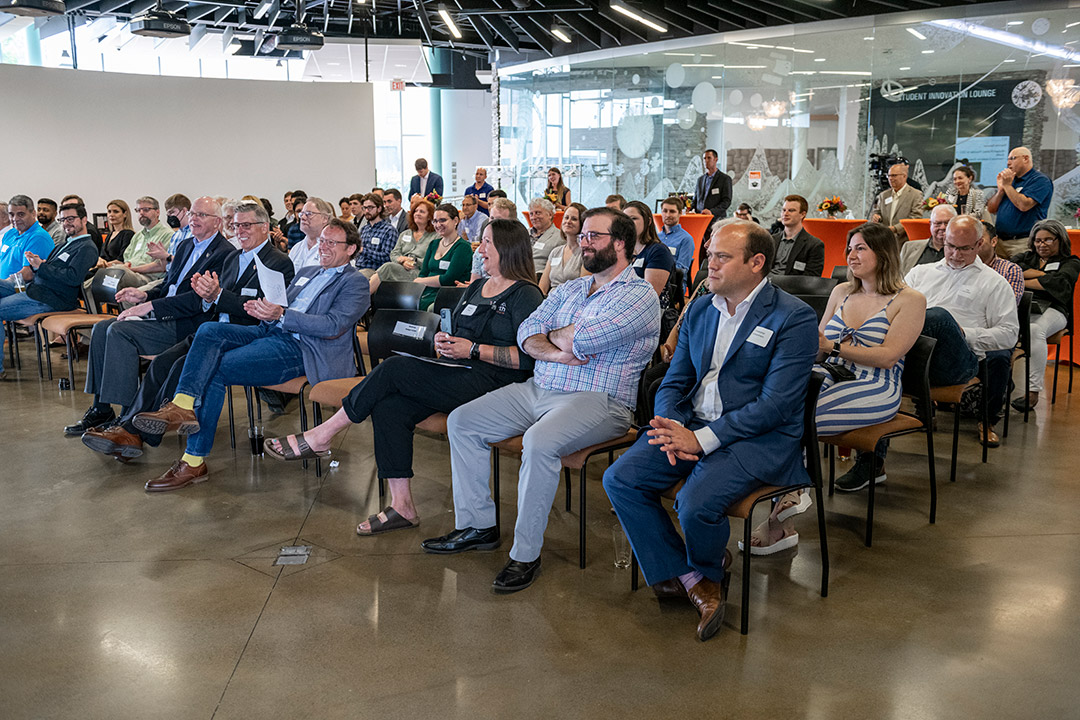 Cellec Technologies employee James Donnelly has been part of the start-up company's development since his days as a co-op student. He has witnessed immense corporate growth; the company has grown from four employees to 26 employees in only four years. That growth, along with the company's dedication to improving the efficiency, safety, and performance of lithium-ion storage, are the reasons why Donnelly, a 2022 graduate of Rochester Institute of Technology's chemical engineering program, is excited for Cellec's future in the battery industry.
On June 16, Cellec joined four other business technology start-up companies that graduated from RIT's Venture Creations incubator with a commitment to continuing to engage local and regional suppliers, expand labor forces locally and nationally, and impact the regional economy.
Venture Creations, which was created in 2003, helps start-ups commercialize products and raise outside risk capital by providing companies with coaching, connections to industry professionals, custom programming, and access to countless other resources.
"Venture Creations is a critical piece of RIT's innovation and entrepreneurship ecosystem," said Ryne Raffaelle, RIT vice president for research and associate provost. "As we continue to provide more guidance and instruction in entrepreneurship, it's critical that we have an end-to-end capability for start-ups, and the Venture Creations incubator provides the 'last mile' in the business creation journey."
The 2022 graduating companies are:
Cellec Technologies: Founded in 2016, Cellec supports the aerospace and defense sector and has a patented approach to achieving 0-Volt stability in lithium-ion cells. The company has also leveraged several state and federal programs that are working toward creating clean and sustainable energy solutions.
Casana: Raising more than $46 million in total capital, Casana is a healthcare technology firm that is reinventing in-home health monitoring with The Heart Seat, a cuffless blood pressure monitor built into a toilet seat. Casana, which is pursuing FDA clearance for The Heart Seat, is also investing in several studies to investigate the potential value of the product for health systems. Leading the charge is Casana CEO Austin McChord '09, founder of Datto Inc., and Nicholas Conn, founder and chief scientific officer, who earned three degrees from RIT—a bachelor's degree and a master's degree in electrical engineering in 2011 and 2013, respectively, and a doctoral degree in microsystems engineering in 2016.
Ecolectro: Ecolectro, a clean-energy incubator company that operates out of Ithaca, N.Y., uses chemistry to decarbonize the energy, manufacturing, and transportation industries. It works to replace old toxic technology, such as perfluorosulfonic acid polymers, in all applications including fuel cells, hydrogen generation, and water technologies among other high- performance applications.
inverSOL: Led by RIT graduate David Rodriguez '92 (MBA), inverSol has developed a lower-cost, no maintenance solar generator designed to power basic home appliances. The company was formed in March 2018 and, six months later, inverSOL opened a manufacturing and retail facility in Puerto Rico. InverSOL units are focused on providing power to refrigerators, LED lights, charging stations, laptops, fans, televisions, and radios via solar energy. InverSOL's solar generator relies on technology that enables the unit to run silently, without gas or oil, and be weatherproof and portable.
Owl Autonomous Imaging (OWL AI): OWL, which was founded in 2018 and joined Venture Creations in July 2020, has developed a patented 3D Thermal Ranging camera, the world's only solid-state camera delivering HD thermal video with high-precision ranging for safe autonomous vehicle operation. OWL AI's 3D thermal ranging solutions enable the identification of pedestrians, animals, and cyclists far sooner than any other system currently on the road, day or night, and in foul weather. The system is based on specialty high-definition thermal imaging and innovative computer-vision algorithms. Operating in the thermal spectrum, these algorithms exploit angular, temporal, and intensity data to produce ultra-dense point clouds and highly refined object classification. The company also recently secured $15 million in funding.
RIT President David Munson recognized the importance of Venture Creations thriving in the heart of Rochester's Downtown Innovation Zone.
"Nearly two years ago, we made the decision to relocate the incubator to 40 Franklin St., in a move that would allow client companies to work in spaces designed for positive member 'collisions,' resulting in close and fruitful collaboration. In addition, this move further advanced the university's mission to have a significant presence in downtown Rochester. The location is the perfect place to take advantage of the extraordinary abundance of assets that we have locally, including the intellectual talent and strong university partners that startup companies require, as well as an exceptional quality of life that results from an impressive grouping of cultural organizations, unparalleled natural resources, and a resilient and welcoming community."
Delivering the keynote address was Robert Putney, co-founder and CEO of Impact Earth, a zero-waste lifestyles company that graduated from Venture Creations in 2017. Putney discussed his entrepreneurial experiences and how he learned to communicate, change behaviors, and create long-lasting relationships with customers. "Don't be afraid to take risks, and don't forget 'the grind.' Just work hard every single day. Owning a company is super rewarding, but you will need help along the way. Stay grounded and humble and always be prepared for the unexpected. Be proud of what you've accomplished. You've earned it."
Venture Creations Director Johan Klarin noted many of the incubator's accomplishments, citing that the incubator has graduated 47 companies with 11 of those companies being acquired. In addition, 81 percent of the non-acquired companies are still operating, with 39 companies maintaining a regional presence. More than $350 million in capital has been raised.
"Participating in RIT's Venture Creations program was instrumental in OWL AI's transition from a seed-stage company to a high-growth Series A company," said Gene Petilli, founder of OWL AI. "The team at Venture Creations worked with us across numerous aspects of our business so that OWL AI was able to successfully articulate and demonstrate our unique safety value proposition to both the market and investors. We are growing our team, we are expanding our market, we are commercializing our unique 3D monocular thermal ranging solutions, we are strengthening our strategic partner relationships, and we are engaging with more customers every day. It is an exciting time. And, we very much would like to thank Venture Creations for the guidance, insights, encouragement, and support."
Added Donnelly: "It's great to be among the many RIT graduates that work for Cellec. It's been so cool to watch this start-up grow exponentially. I just can't wait to see what's next."