RIT faculty look ahead to classroom instruction this fall
Safety protocols, enhancements to learning spaces will help mitigate spread of COVID-19 during in-person instruction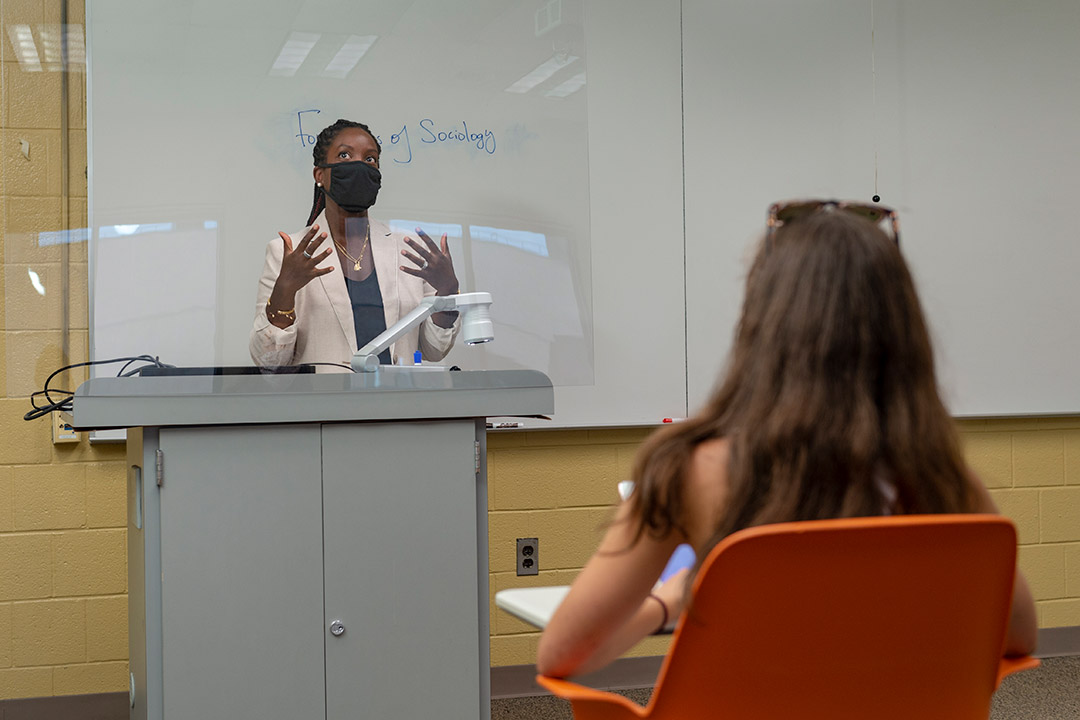 RIT Associate Professor Sean Hansen is looking forward to the start of fall semester when he's scheduled to teach two sections of Information Systems and Technology to first-year students. And while COVID-19 has challenged the university to consider an even more creative academic portfolio with blended, online, split A/B, and flex class options, Hansen is among the many faculty members yearning to return to in-person instruction.
"I believe a lot of us have really missed the kind of open discussion and exchange that an in-person class fosters, and I am thrilled that we are able to give our students a truly interactive class experience in their first semester at RIT," said Hansen, department chair of management information systems, marketing and digital business in Saunders College of Business. "For many of us, that kind of rich teaching and learning environment is the very reason we sought a career in higher education."
To prepare for classes that are scheduled to be held fully in-person or that have an in-person instructional component, RIT has upgraded academic buildings and classrooms to help prevent the spread of coronavirus. Enhancements include the installation of bipolar ionization systems from manufacturer Plasma Air to help neutralize viruses, bacteria, allergens, mold, and other airborne contaminants, including those that spread COVID-19. RIT is also reprogramming its air handling units to provide the freshest air possible to learning spaces to provide dilution, as recommended by the CDC.
In addition, academic buildings and classrooms will be deep cleaned daily and equipped with spray bottles filled with EPA-compliant disinfectant to allow students and faculty to disinfect their areas before and after each class. Teaching spaces have transparent barriers installed at the front of the classroom to serve as a barrier between instructors and students to help block the direct transmission of large respiratory droplets.
Physical distancing and face coverings, required of faculty and students in classrooms, together provide some of the greatest protection against the spread of COVID-19, according to the CDC and university health experts.
Students, faculty, and staff are encouraged to report conflicts to RIT's COVID-19 protocols and community expectations. Follow-ups will be conducted by the Division of Student Affairs for issues related to students, the Department of Human Resources for issues related to employees, and Environmental Health and Safety for facility concerns. Coming soon are communications strategies for faculty and staff to use in managing "in-the-moment issues" throughout campus and guidance on when to contact RIT Public Safety.
RIT has already begun daily monitoring of the campus that will be communicated through alert levels, providing a reliable gauge on how successfully the university community is controlling the spread of the virus.
"Although it won't be easy, I want to make myself available to deliver the type of course instruction that the students desire," said Jill Burress, an adjunct faculty member at RIT's National Technical Institute for the Deaf, who is scheduled to teach three interpreting classes in person this fall. "Our profession may be a bit unique in the sense that we are learning a skill that is best learned through face-to-face interaction. As a whole, the Deaf community tends to value close relationships and learning from each other through interacting with the language."
Burress believes that if faculty and students are not able to come together, it will be more challenging for students to master the language and gain the skills and confidence necessary to become skilled interpreters.
"Many faculty, such as myself, realize that RIT has gone above and beyond to create a campus that is safe for student and faculty return. This is our time as professors to show our students that we are willing to go above and beyond to make this a rewarding and memorable educational experience despite these uncertain times."
Elizabeth Kronfield, a professor and graduate director of fine arts studio in RIT's College of Art and Design, will be teaching sculpture courses in person this fall. She is excited about returning to campus and believes that RIT is taking many steps to try to create a productive atmosphere.
"The energy required to learn and produce sculpture and artworks is much greater when in a community of creative makers," she said. "The idea generation, along with divergent thinking that happens in groups trying to improve their techniques while also fine-tuning their concepts, is an exciting time in the studios and the education process."
Hansen believes in RIT's approach, especially as he compares notes with colleagues at other universities.
"Coming into the semester, I thought there was no way I would be able to teach the class in-person. But, I have been very impressed by the university's efforts to safeguard our environment and create policies and procedures that will maximize personal safety while still maintaining an in-person teaching element," he added. "I think the university's leadership and Fall Planning Task Force have developed a plan that effectively balances the health concerns of the entire community with the educational needs of our students."
For more information, go to the RIT Ready website.