July 14, 2020
by Luke Auburn
RIT strategically upgrades campus to prevent the spread of coronavirus
University is enhancing infrastructure and using in-house experts to identify the right measures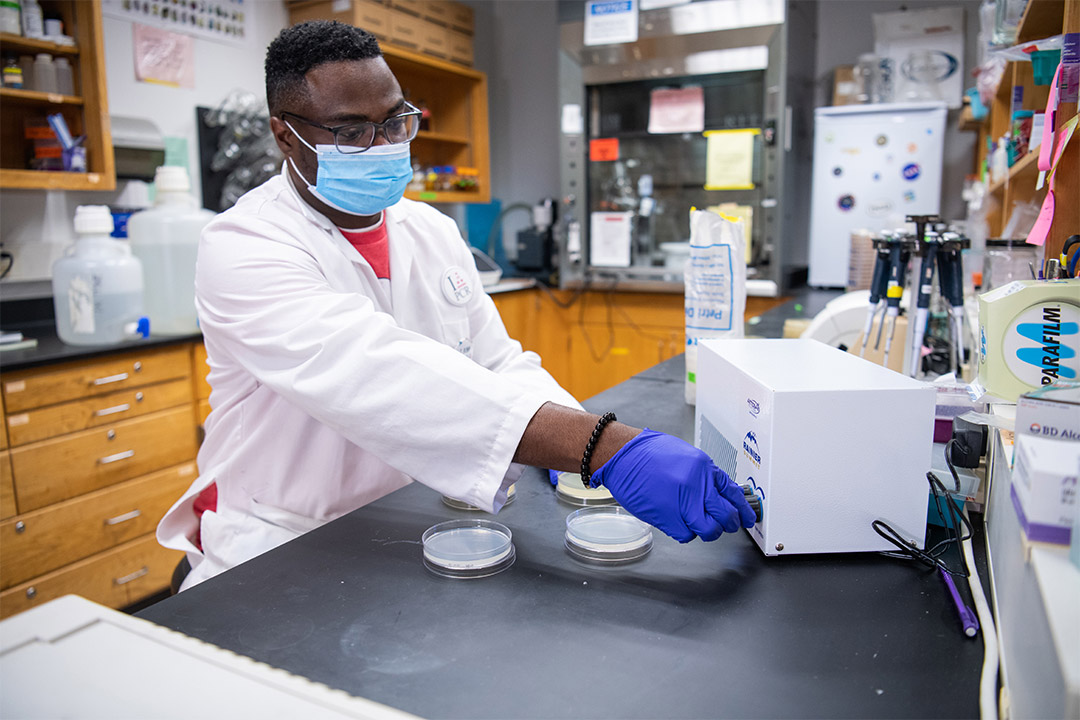 In a biology lab in Gosnell Hall, Professor André Hudson has been spending hours this summer testing products to see whether they are effective at killing and filtering microorganisms such as viruses, bacteria, and fungi. The head of the Thomas H. Gosnell School of Life Sciences has been testing these products—ranging from air ionization devices to titanium dioxide surface treatments—on behalf of RIT's Infrastructure and Health Technologies task force to see if they will help make the campus safer for classes this fall.
"This is to confirm the published claims made by manufacturers," said Hudson. "Companies of course are going to report that their products are very effective at killing the coronavirus and other microbes, so before the university spends a lot of money purchasing them, we want to make sure it's independently confirmed. So, I'm doing some tried-and-true microbiological tests on these products to see how effective they are. I report the data to the task force and discuss the findings with respect to efficacy and they make the decision whether or not to move forward."
The task force, led by RIT Finance and Administration, is putting changes in place to make RIT's campus as safe and clean as possible so that students, faculty, and staff can study and work confidently and comfortably in the fall. They are implementing a variety of changes to RIT's academic settings, housing, and dining. And they have been utilizing in-house expertise from RIT's health engineering professionals and scientists like Hudson to inform their decisions.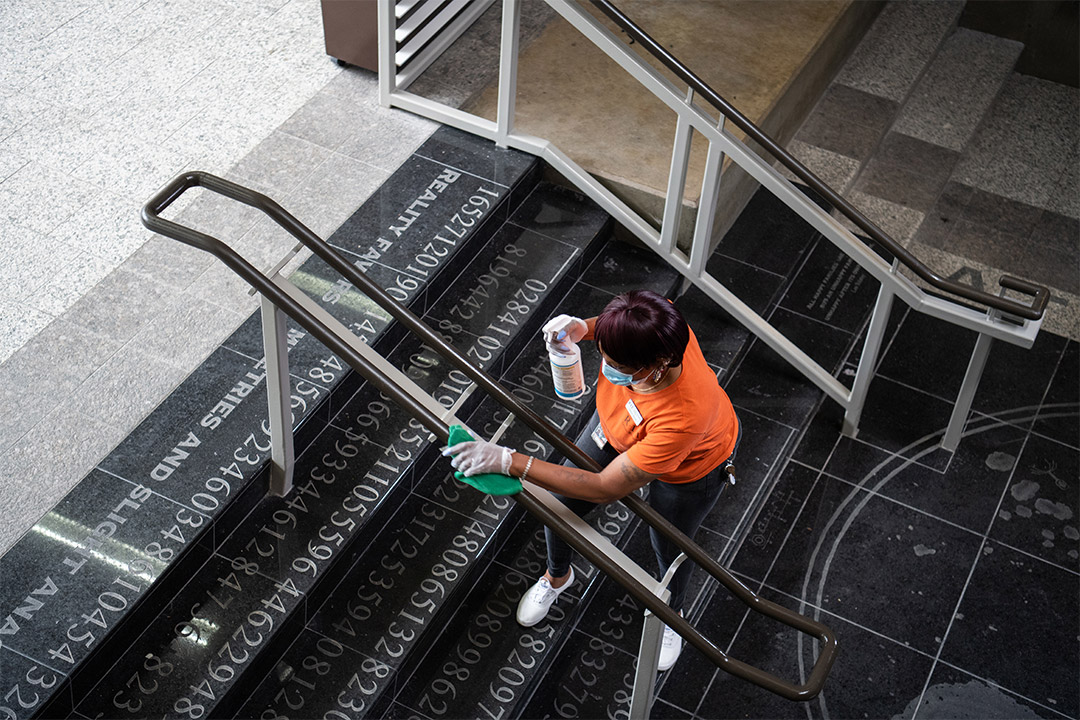 Gabrielle Plucknette-DeVito
Hudson's analysis helped RIT determine that bipolar ionization systems would be effective at helping to neutralize viruses, bacteria, allergens, mold, and other airborne contaminants, so they are being installed in residence halls, apartments, and academic buildings. Unlike many air purification systems on a standard air filter, the ions interact with biological contaminants to make them inert.
Another expert being consulted is Jennifer Schneider, the Eugene H. Fram Chair of Applied Critical Thinking and a professor in the Department of Civil Engineering Technology, Environmental Management and Safety. She is a certified industrial hygienist whose background is in disaster science and HAZMAT and has been advising the task force on putting the right mix of controls in place—engineered systems, behavioral expectations, and personal protective equipment.
"It all has to be done in a coordinated fashion and in concert with one another," said Schneider. "Behavior is so key in this instance because there is no perfect engineering control that we can use, they all have their limitations. Everyone would like a silver bullet, but it just simply doesn't exist, so RIT is investing resources in a way that will provide the best protection we can. Ultimately, so much of this is going to be driven by individual and collective behavior."
While the immediate concern is the fall, the task force has also been thinking long term. John Moore, associate vice president of facilities management and a co-chair of the Infrastructure and Health Technologies task force, said many of the changes RIT is implementing will benefit the university even after the coronavirus pandemic has passed.
"We're being strategic about what we put in place, and many of these changes will continue to benefit the university for years to come," said Moore. "For example, the air ionization systems will continue to provide fresher, cleaner air for years, and things like mobile food ordering are introducing new, convenient options for our customers. We have put a lot of thought and care into the changes we're making."
Those changes are now well underway. For example, air ionizers are currently being installed in residence halls, Grace Watson Hall, and apartments. Installation for the units in the academic buildings will begin in August.
For more information about changes RIT is implementing to prepare for the fall semester, visit the RIT Ready website.