March 15, 2019
by Luke Auburn
Data science community to gather at RIT for regional DataFest hackathon March 29-31
Students from Rochester-area colleges and universities competing to mine complex datasets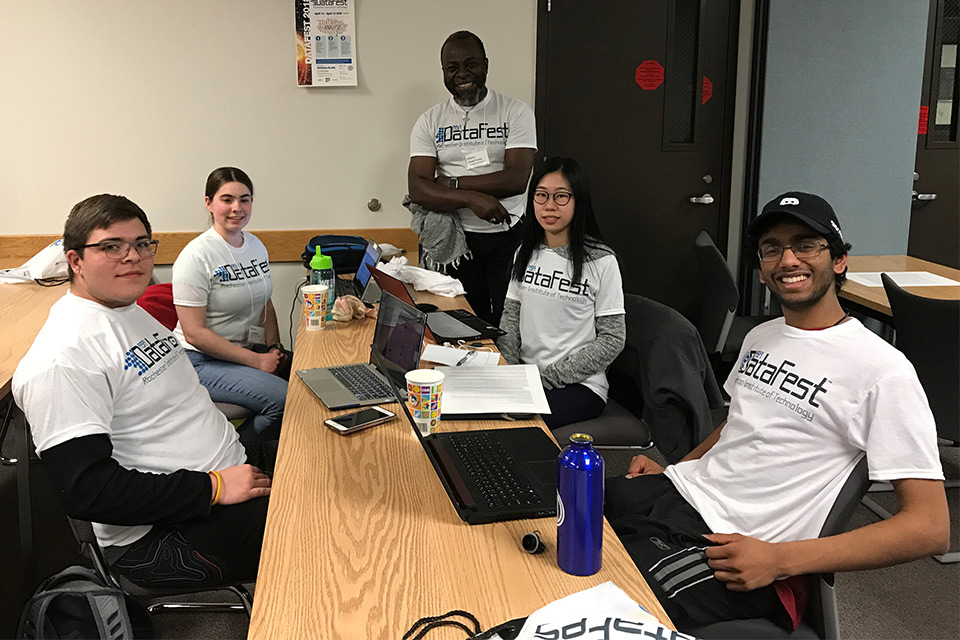 College students from across the Rochester area will face off in a data analysis competition during Rochester Institute of Technology's third annual DataFest hackathon. The event, sponsored by the American Statistical Association, takes place March 29-31 in the Xerox Auditorium in James Gleason Hall.
Teams of three to five students will have 48 hours to mine a complex data set pertaining to a real-world problem. Teams will test their statistical analytic and data science skills to find the best solution. On Sunday, the students will present their findings and judges will award prizes for Best in Show, Best Visualization and Best Use of External Data. The competition is expected to draw more than 200 students from a wide variety of majors, a testament to the interdisciplinary nature and broad scope of data science.
"Data science is an extremely hot topic because for the first time in the history of mankind, people have the computer tools and interconnectedness to truly harness the power of data," said Ernest Fokoué, an associate professor in RIT's School of Mathematical Sciences and the event's organizer. "Data science is present in every field, and almost every human activity generates data that can be used to make life better. Data science has been around since the dawn of time, but it is just now being formalized."
DataFest was founded at UCLA in 2011, when 30 students gathered for 48 intense hours to analyze five years of arrest records provided by the Los Angeles Police Department. ASA DataFest is now sponsored by the American Statistical Association and hosted by several of the most prestigious colleges and universities in the country. More than 2,000 students take part in regional DataFests at schools such as RIT, UCLA, Duke, Princeton and the University of Massachusetts.
For more details, go to www.rit.edu/science/datafest or contact Ernest Fokoué at epfeqa@rit.edu.