Drones are coming soon to a farm near you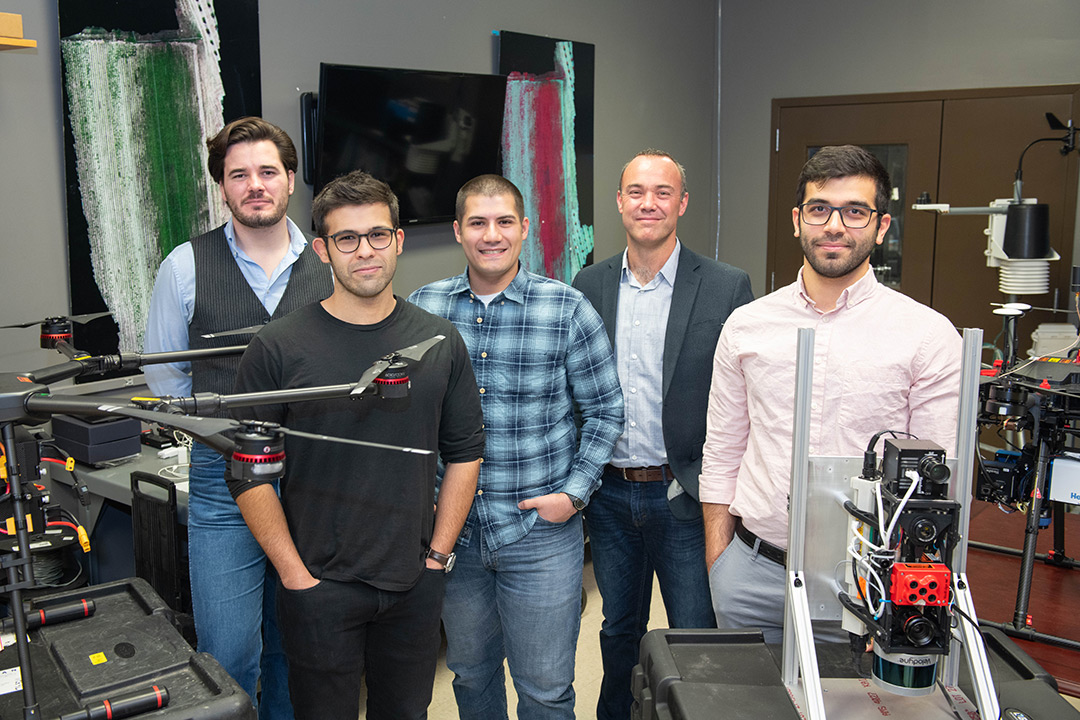 Drones are adding a new level of precision to agriculture, giving farmers digital tools for cultivating better and more profitable crops.
"The machinery that large farms use—big combines and sprayers—they can take input from GPS and it automates the application process of fertilizer, for example," said Carl Salvaggio, RIT professor of imaging science. "This technology can also spatially tell you where to harvest to get the best crop product."
Salvaggio and Professor Jan van Aardt are developing imaging systems at RIT that could make drones commonplace on farms in western and central New York, enhancing the Finger Lakes region's focus as a food hub, while creating the supporting technology and software companies.
Salvaggio, who leads RIT's signature research program in unmanned aerial systems (UAS) imaging, offers some ideas on how drones can help farmers.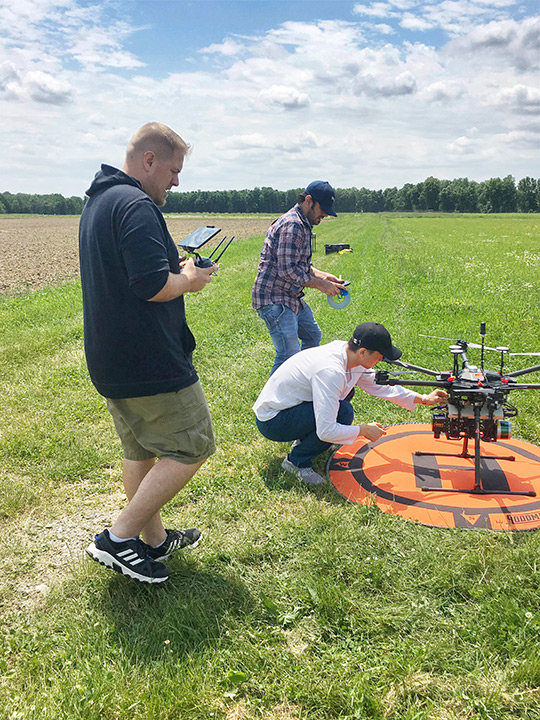 Nina Raqueno
For instance, accurate measurements of soil nutrients and moisture level, disease risk, and plant maturity could take the guess work out of predicting harvesting and processing schedules. Information captured by specialized imaging technology could also reduce the need for chemical controls, by indicating where, when, and how much to apply.
RIT's remote sensing expertise could also establish technical standards that ensure the scientific integrity of the fledgling industry.
Salvaggio, who primarily conducts research for the defense industry, is taking the lead in atmospheric compensation, calibration of imagery, and radiometric processing to ensure continuity in imagery collected over time.
It's a point of pride for the RIT researcher; if the imagery isn't adjusted for atmospheric differences between scenes, dramatic changes in illumination between a sunny morning and an overcast afternoon will skew the data and lead to misinformed decisions at the farm level.
"A lot of people are flying without calibrating their data, and they're providing data that, to them, looks right," Salvaggio said. "There is so much promise in these systems, but if you lose the faith of the farmer, you're never going to get it back, and that could make an industry flourish or totally bankrupt it."
A regional collaboration of strategic partners, called the FARMS (Fostering Agricultural ReMote Sensing) Alliance, is developing both the unmanned aerial systems technology and the best practices for using it.
Van Aardt is leading this National Science Foundation-funded project focused on remote-sensing applications in snap bean production.
The crop is economically important to New York as one of the biggest producers of processed and fresh market snap beans, following Wisconsin and Florida. The U.S. Department of Agriculture, in 2015, ranked snap beans as the fifth largest vegetable crop, in terms of acreage, with a $416 million market value.
The availability of a commercialized imaging product for managing white mold, predicting crop ripeness, and estimating the snap bean yield could have a big impact on farmers.
That is welcome news to Jeff Johnson, agricultural manager at the Seneca Foods Corp. location in Geneva, N.Y., who has been talking to van Aardt for years about the need for a better way of managing crops with imaging technology. Johnson is responsible for growing 10,000 acres of snap beans for one of the nation's largest vegetable processors and relies on crop scouts to monitor the ripening pods and look for signs of white mold.
"When we send people out to the field, they are walking a path," Johnson said. "We send a drone over the field, it can see the whole field. In theory, we can have a better picture of that whole field than our person does by just walking through it, and labor is becoming more expensive and harder to find."
The crops are staggered because the processing plant can handle only so many tons per day, and the tight operating schedule isn't negotiable.
"In our world, there's a 24- to 72-hour window when the beans are ripe," Johnson said. "It's critical from our planning standpoint knowing when those fields will be ready to harvest."
The challenge of predicting plant maturity is pushing the limits of remote sensing. Van Aardt is combining hyper­spectral imaging to capture light signatures and LiDAR (light detection and ranging) sensors to build a spatial, three-dimensional or topographic picture. "We're trying to fly a drone, look at a snap bean plant—not even the pods—and see if there is a signal in the plant that tells us the pods are mature or ripe," he said.
And when it comes to white mold, van Aardt and imaging science MS student Ethan Hughes are identifying the spectral and structural indicators that influence pesticide timing and disease risk. "We want to see—even before the mold occurs—if we can predict where disease incidence will be the highest, so farmers can spray only in those areas," van Aardt said.
"Remote sensing techniques in agriculture hold the promise of standardizing crop assessments with a scientific accuracy not possible from manual observations," said Sarah Pethybridge, assistant professor of plant pathology at Cornell University.
A white-mold expert, Pethybridge, along with Julie Kikkert at Cornell's Cooperative Extension, are already developing risk models for snap beans with Salvaggio and van Aardt for an ongoing U.S. Department of Agriculture study. Pethybridge's project inspired van Aardt to form the FARMS Alliance.
"From the exploratory research done with RIT, we have good spectral signatures to detect flowers, which is an important step in identifying optimal timing of pesticides for white-mold control," Pethybridge said.
The goal for Salvaggio and van Aardt is to get the information products into the farmers' hands.
"We use expensive sensors with hundreds of spectral or color channels, but we actually only want to identify five or fewer channels that are useful for specific applications," van Aardt said. "Then we can transition those five channels into a more affordable sensor that a farmer or a service provider could use operationally."
Other agricultural projects
Drone data collection
RIT is leading the FARMS (Fostering Agricultural ReMote Sensing) Alliance to develop and commercialize drone data collection and analytics for the agricultural industry. The project is supported with a $750,000 National Science Foundation grant and brings together strategic partners in the Finger Lakes region. The core research and technology transfer team includes RIT's Chester F. Carlson Center for Imaging Science, Saunders College of Business, Venture Creations technology business incubator, Cornell University and Cooperative Extension; the FARMS Advisory Council and Commercial Partners consists of Harris Corp., Agrinetix LLC, Headwall Photonics, Seneca Foods, Love Beets, and Farm Fresh LLC.
Risk models for white mold
RIT researchers are collaborating on two agricultural studies led by Cornell University—one focused on developing risk models for white mold on snap beans for the U.S. Department of Agriculture's Critical Agriculture Research and Extension Program, and the other to evaluate the table beet production for improved profit and sustainability for Love Beets.
Solving world hunger
Improved safety of unmanned aerial systems (UAS) and drone control software has paved the way for the Federal Aviation Administration to relax restrictions on commercial drone flight. The integration of drones into the national airspace will position the United States to take a stronger role in the global $32.4 billion UAS agriculture market, according to an independent analysis from PrecisionHawk Inc. The technology and data analytics provider collaborates with RIT researchers and has provided the use of its drone platforms.
Agricultural drone imaging has emerged as the dominant focus of RIT's unmanned aerial systems imaging program, a signature research area. Digital agriculture techniques could help feed the world's growing population, which the United Nations predicts, by 2050, will reach 9.8 billion and will demand a 70-percent increase in food production from 2006.
Solving global problems with precision agriculture resonates with students in the Chester F. Carlson Center for Imaging Science, said Carl Salvaggio, who leads the signature research initiative. The potential benefits in the agriculture drone industry have sparked interest among students who see a way to make a humanitarian difference.
"We have a lot of students who want to contribute to solving this global food production need," he said. "It's exciting that we can attract a new kind of student to imaging science."
Topics