Student Spotlight: Pursuing research opportunities in Germany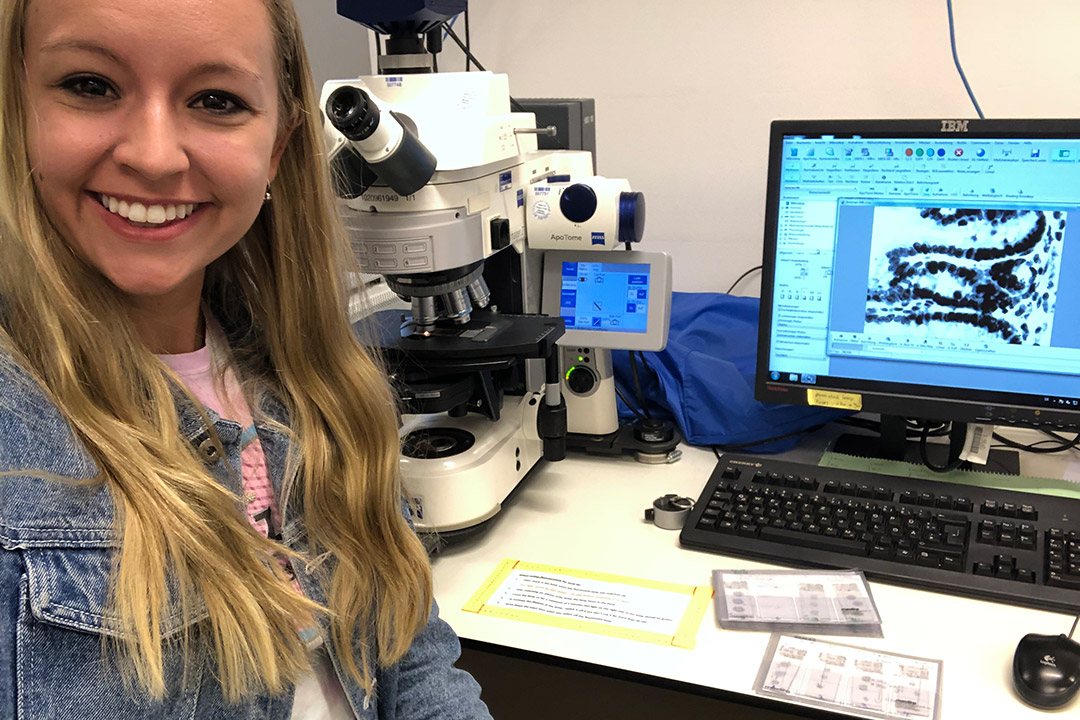 Alexandria Shumway was selected to do research abroad over the summer through the Deutscher Akademischer Austauschdienst (DAAD) RISE program, or German Academic Exchange Service. Through this program, the fifth-year bioinformatics and computational biology (BS) and bioinformatics (MS) student from Delray Beach, Fla., traveled to Kiel, Germany, to complete her research at the Christian-Albrecht University of Kiel. Shumway stayed in Kiel from May to August 2019 conducting research on intestinal inflammation with a particular focus on ulcerative colitis, Crohn's disease and other chronic disorders. While there, she was advised by and worked with Berith Messner, a Ph.D. student from the University of Kiel.
The DAAD RISE program is the largest funding organization in the world that supports the international exchange of students and scholars. RISE Germany, the program Shumway participated in, offers summer research internships in Germany for undergraduate students from North America, Great Britain and Ireland. Students from any science or engineering major can apply as long as there is a research opportunity that meets their needs and interests.
For more information about potential research opportunities through the DAAD RISE program, go to https://www.daad.de/rise/en/.
Why were you interested in doing research abroad in Germany?
It was a big risk for me because I don't know any German. I was going outside of the country to a completely foreign place and I had to find new housing and meet all new people, but it sounded like a great opportunity. Once I saw the types of research that they offered, I was very interested in a good portion of them, so I ended up just pouring through them one day. I remember sitting on the floor of my grandma's house during Thanksgiving and looking up all these locations in Germany. I started to fall in love with one of them, which is the one I ended up being selected to do, and I decided that I had to go for it.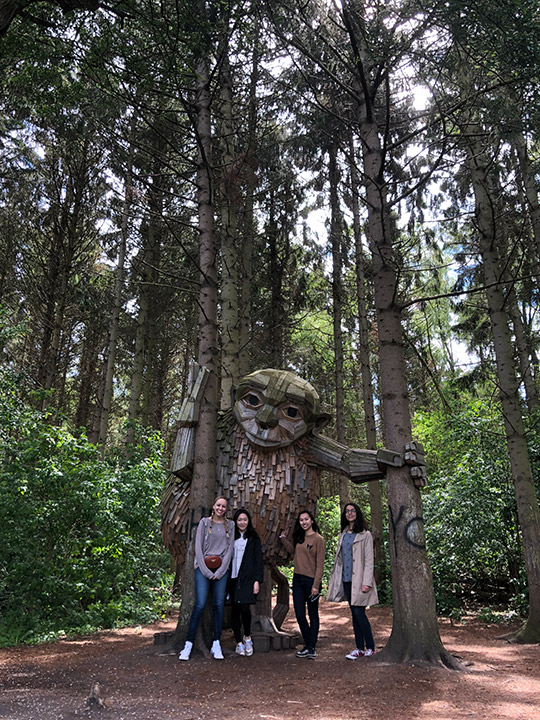 What was your reaction when you learned you were accepted into the program?
I had to do the interview very early in the morning because of the time change. So, I'm sitting there in a nice formal shirt in my bed video-chatting with Berith, my future research adviser. She was kind of just asking me general questions about the lab and what I do, and we ended up getting along really well. I got off the phone with her and I was like, 'OK, I'm going back to bed.' I fell asleep for about an hour or so, and when I got up, I checked my email. Right after we got off the phone, she sent me an email, that I slept through, saying, 'you're definitely my top choice, I hope everything works out.' I ran out of my room screaming about how I got it. I called my mom freaking out like, 'OK, it's not official because they have to technically match us, but from what I know I think it's going to happen.' It was a huge relief and I was so excited when I finally got the official email. I feel like I still have such an energy high just thinking about it.
What did you do in the lab over the summer?
I did a lot of stuff involving research with risk genes, which involved a lot of western blots. I also did some immunofluorescent cell cultures and did a lot of microscopy. I would count cells for hours every day. When I first started, we worked on a lot of rat and mouse studies. We were looking at certain inflammatory markers in ulcerative colitis and Crohn's disease, and we basically looked at certain organoids that the mice had. I would do studies with western blots and looked for certain expression levels because we were looking to confirm our results based on someone else's previous research. So, every day I would come in and I would have, like, eight western blots out on this roller machine and I would have to basically babysit them all day. I would just be crossing my fingers at this giant bulky machine, hoping that it had the right number of bands when it came out. When I left, my adviser gave me a test tube with a fake western blot in it labeled 'the perfect western blot' because she knew they were giving me trouble the entire summer.
Why are you interested in that area of research?
I wanted to actually get into the lab and do microscopy and western blots, which I did every day, because I'm interested in studying genetics for my Ph.D. People working in that area have a bit more wet lab experience than I do, so getting more experience was a top priority. I also have friends and family who have ulcerative colitis and Crohn's disease, so when I found out that someone was working on that research it definitely made a big impact on me. I realized that I could do research that mattered to people that I was close with and it made me really passionate about working with the University of Kiel on this project.

What would you say was the most memorable part about your summer?
My most memorable time was definitely during this festival called Kiel Week. It's this huge sailing event and people came into town from all over on cruise ships. It was a crazy amount of festivities for this relatively small town that we had come to think of as home for the past couple months. I went to the festival with a couple of my friends and we met a bunch of other people from the RISE program that we ended up staying with. It was super fun. They had huge sailing competitions and there were booths from all over with different foods to try. Some of my friends tried elk burgers and I had this odd thing from Poland that I didn't even know how to pronounce.
Would you recommend other students apply for this opportunity?
Definitely, 100 percent. I've already talked to quite a few of my friends about it because it's open to all STEM majors and people thought it was just for students studying biology. I know a few people who are engineers who have done it, and one of my friends is a physics major and she did it for the summer. It was just such a crazy opportunity. I would recommend it to everyone just to get outside of their comfort zone and to have a chance to have professional experiences in a totally foreign country and a new environment.
Topics