Analyzing Alligator Blood to Identify Toxic Chemical Effects
January 28, 2022
MaKayla Foster '19 (chemistry)
Faculty: Scott Williams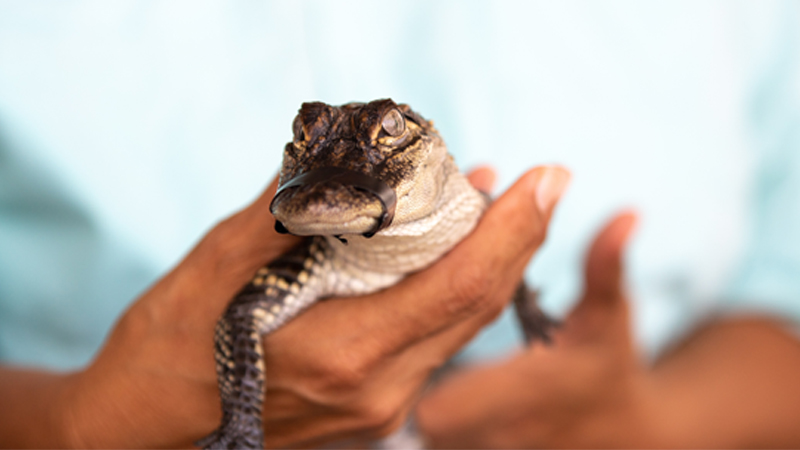 MaKayla Foster enjoyed science and math in high school and completed a BS in chemistry at SUNY Oswego. While many factors went into MaKayla's consideration of RIT for the Chemistry MS program, the campus visit played a role in her decision.
"When I visited the campus, the faculty were all extremely welcoming, and they had so many amazing research projects to choose from. I also loved the idea of teaching chemistry labs."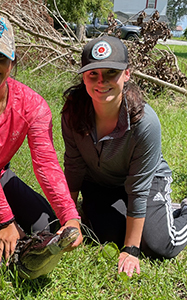 In those labs, MaKayla became passionate about her research and decided to pursue a Ph.D. in Analytical Chemistry at North Carolina State University Today, she's analyzing alligator blood to identify toxic chemicals in waterways and their effects on alligators living in the wild.
PFAS - short for per- and polyfluoroalkyl substances - are long-lasting chemicals that break down very slowly over time. They are used in everyday items such as nonstick cookware (e.g., "Teflon"), carpeting, furniture, food packaging, and foams. They are also found in personal care products.
These chemicals are linked to adverse health issues such as cancers, high cholesterol, congenital disabilities, and more. Since these chemicals don't break down quickly, they persist in the body and linger in the environment for decades. Referred to as "forever" chemicals, they end up in drinking water and bioaccumulate in our bodies. Research is critical in understanding the long-term impact of PFAS.
To identify PFAS in waterways and research their impacts, MaKayla analyzes alligators living in the Cape Fear Watershed. Why alligators? They are a great model because alligators and humans have similar immune systems, and these alligators have been living in the water since the PFAS were released. Alligators also have a high site fidelity (the tendency to return to a previously occupied location) which can help look at specific chemicals released in a particular waterway. Since alligators can live between 30-50 years, it's not surprising that some have been tested more than once for the long-term effects of PFAS.
MaKayla is researching with Dr. Erin Baker to compare the alligators living at Greenfield Lake with alligators in Law Waccamaw. The team has to catch alligators, secure their jaw, and take a blood sample and measurements. Samples are being collected by Dr. Scott Belcher's lab. Blood analysis can tell scientists how many PFAS are in the water and how alligators respond to them.
"I am using liquid chromatography-ion mobility-mass spectrometry to analyze the alligator blood samples and trying to determine the effects of PFAS in the contaminated waterways. Alligators are also understudied in many different areas, and I am looking at their lipids to determine how they are affected by PFAS and if there are any new lipids in alligators not seen in humans."
MaKayla credits her committee members and her advisor, Scott Williams, a professor in the School of Chemistry and Materials Science, for being where she is today.
"They were all extremely supportive and helped me grow as a scientist and as a person. I also found my love for research while at RIT."
She feels the most important thing for people interested in this field is being passionate about what they do and always staying optimistic. "Science can be a ton of fun and super interesting, but it can also be very frustrating when it doesn't work, however, understanding each failure brings you one step closer to what will work! It is also extremely important to have hobbies."
---