From RIT to Unilever: The Learning Journey Continues
April 1, 2022
Shin Lutondo '18 (chemistry)
Faculty: Gerald Takacs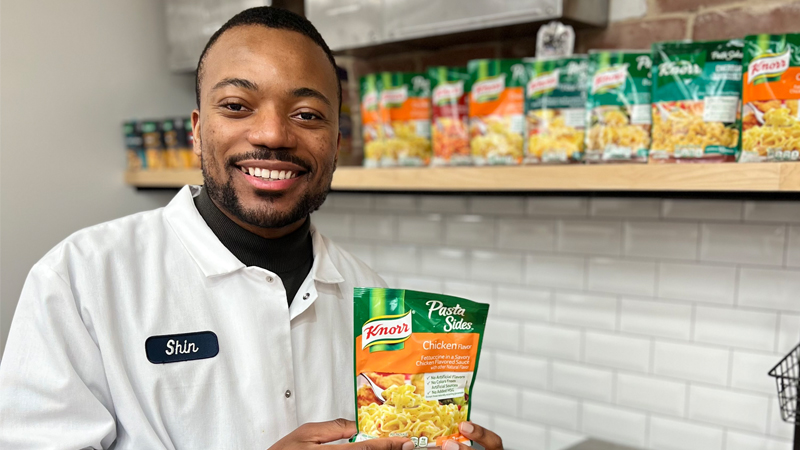 From a young age, Shin Lutondo '18 (chemistry) was always fascinated by the pursuit of universal truth. Math and science were his favorite subjects throughout high school, and an enthusiastic chemistry teacher kept him wanting to learn more. Today, he's a scientist and a Learning Champion with Unilever, encouraging fellow members of the Research & Development (R&D) community to continue their own learning journeys.
Internally at Unilever, Shin is known as a Technical Project Lead (TPL) because he manages all R&D activities required to launch a product to market. He works on packaged food products for US and Canadian markets under Unilever's Knorr and Stafford brands including side dishes, bouillons, soups, and bases. In a typical week, Shin is working on product development, material specifications management, materials procurement, and production trials. His day is filled with bench-top development work and 1-1 meetings with members of the R&D team who work on his projects.
The most important skill for Shin's line of work is being a team player. The R&D world involves working with many different stakeholders and teams. This was a shift from his undergraduate research work which was mainly solo lab work and periodic updates with his advisor. In addition, R&D projects frequently change in response to consumer or market demands. Shin recognizes how important it is to be flexible in order to navigate the ups and downs of product launches successfully.
In addition to his role as a scientist, Shin is a leader in many other Unilever projects. As a Learning Champion, he encourages members of the local R&D community to be active in their development journeys, taking advantage of employee training and learning sessions. Shin is also a Super-User of the Electronic Lab Notebook (ELN) tool, a cloud-based platform where scientific data like experiment results are recorded for future reference. He supports the ELN as the local digital expert of the tool and works to get other people to use it.
Shin is also active in Unilever's efforts to sustainably source 100% of its palm oil supply. As the local material expert, he works to discontinue the use of unsustainably sourced palm oil materials from the Knorr and Stafford brand products. This initiative combats human rights and environmental issues such as the displacement of indigenous groups and deforestation.
Describing his journey as "explorative," Shin credits the wide variety of activities he engaged in while at RIT for leading him to where he is today. The research program he participated in provided crucial training in how to structure research initiatives. The scientific method of proposing a hypothesis and recording observations that either reject or fail to reject the null is an important part of truth-finding, and something that has facilitated many of the successful product formulations he has brought to market in his years with Unilever.
Shin also participated in intramural sports, Men of Color, Honor and Ambition (MOCHA), and the National Society of Black Engineers while at RIT. Every experience helped him figure out what he liked, what he didn't like, and it exposed him to diverse groups of people. He formed wonderful friendships and developed a strong network of successful RIT graduates that helped him find the opportunity at Unilever.
For students interested in pursuing Chemistry, Shin recommends that they get involved in research programs early on to figure out what kind of work they enjoy. He also recommends the RIT co-op program to gain industry experience, especially if someone wants to work in the R&D world after graduation. More than anything, Shin recommends that students remember, "we're all using different clocks," and the self-discovery journey takes time. "Try to have fun in the process."
Shin continues to live that advice in his own life. He recently was accepted into Columbia Business School's MBA program. After years of talking about the financial performance of his products in the market, he's decided to dive into financial services headfirst. He hopes to transition into investment management.
---