RIT Imaging Science: One Major, Countless Careers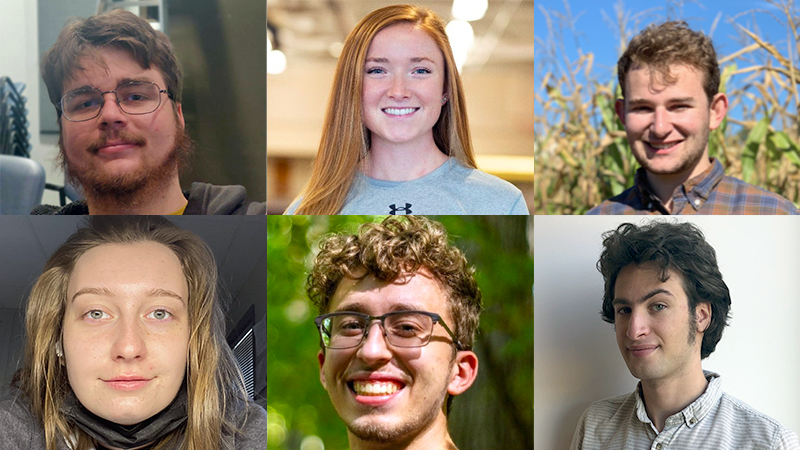 In one RIT major students learn a wide range of skills and technology used in growing industries like optics, satellite imagery, aerospace and remote sensing. Imaging Science is the perfect major for students interested in computer science, physics, engineering, and photography. Hear what graduating imaging science majors said about their experience in the program and the career opportunities now available to them.
"Once companies knew what my major was, they made every effort to recruit me."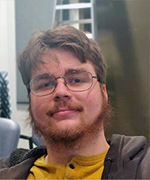 When Charles Brinsfield started at RIT, he was an engineering exploration student who didn't know what he wanted to do after graduation. After taking some computer science and physics courses, he wanted to find something that would blend them together. Charles was immediately drawn to the imaging science program because it offered that combination and because of the novelty of the curriculum. "We learn about optics, light propagation and detection, image processing, and even color perception. All things I wished were presented to me earlier in my career as a student!"
Once he formally changed majors into the imaging science BS program, Charles found that he thoroughly enjoyed the image processing and programming courses. "While some computer science courses will teach you data structures and how to code, we're taught how you can code in a scientific environment." He also liked how professors and students get to know each other well and often have friendly chats about things not related to class. Charles regularly attended the imaging science club which hosts professionals and recruiters to speak about imaging science in the workplace.
When other students ask Charles to describe imaging science, he tells them, "It's desirable. We are a unique niche in education, with most imaging programs being exclusive to operating medical equipment. Imaging science is different in that students are taught the whole package of imaging applications."
Charles will be joining EagleView, Inc. as a software engineer after graduation, working in their Image Processing Research Development division. "Not that many people can say their job is to analyze spectral scans taken by planes and satellites! I will likely be coming back to pursue a master's or Ph.D. in the field."
---
"Imaging Science is the superchild of physics and optics, computer science, math, and technical engineering"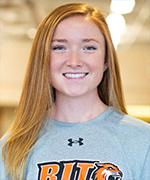 Erin Percy began her undergraduate career at RIT in the photographic sciences program but quickly learned that she wanted to know more about the science behind imaging. She spoke with some professors in the imaging science program and decided to transfer. "It offered what I wanted to study and it has an outstanding graduate success rate."
Erin tells other students that imaging science offers everything you can imagine if you want to learn about the science behind imaging systems. "Whether it's how a DSLR camera works from start to finish, how we use Landsat imagery to study our planet, track our eye movement in a virtual reality headset, or anything else within imaging science, this is the program for you."
Erin has taken advantage of all that imaging science has to offer, working in the Imaging Systems Lab at RIT since her second year, and securing an internship at the NASA Goddard Space Flight Center in their optics branch. Erin credits the close-knit community in imaging science with giving her the strong friendships needed to succeed. "With how rigorous the program is, it's critical to have a strong support system to encourage each other as we work through all our courses."
While all of the faculty in the imaging science department were extremely helpful to Erin, the two professors who really helped guide her career were Nanette Salvaggio, lecturer in the photographic sciences program in the RIT College of Art and Design, and Carl Salvaggio, professor, and director of the Digital Imaging and Remote Sensing Laboratory (DIRS). "Nanette Salvaggio was the one who initially advocated for me to explore the imaging science program and encouraged me throughout my career. Dr. Carl Salvaggio supported my classmates and me as we worked towards our degrees. Without the two of them, I would not be where I am today with the amazing opportunities ahead of me."
After graduation, Erin will continue to work at the NASA Goddard Space Flight Center while also finishing her accelerated MBA program at RIT. "I am in a program that allows me to continue my graduate education while simultaneously working for NASA." Erin's MBA focus is on project management and public policy.
---
"Any high school student interested in research should look into the imaging science program."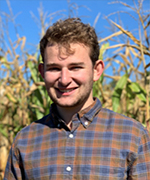 Ethan Poole was an undeclared science student when he attended a lecture from the Associate Director at the Chester F. Carlson Center for Imaging Science. Ethan learned about emerging fields and the cool specializations that came out of the imaging science major. "I had a passion for photography and ecology, and I learned that the field of environmental remote sensing can combine both of these passions in an impactful way."
Ethan was able to get involved in a variety of research projects in the imaging science program since many of the professors and research staff at the Center also have active research labs and funded projects. He gained experience in remote sensing for natural sciences, radiometry, and Landsat-9 TIRS-2 thermal calibration during his time with the Digital Imaging and Remote Sensing Laboratory. His work with the NASA/U.S. Geological Survey Landsat inspired him to further his education.
Ethan describes the imaging science major as "the multitool of cutting-edge technology." He had unique experiences that are only available to students in the imaging science program. "I traveled to perform fieldwork, fly drones, operate state-of-the-art thermal imaging systems and even calibrate satellites."
The advisors and mentors within the DIRS lab pushed Ethan to take on uncomfortably challenging projects and offered advice whenever he needed it. After graduation, he will be working for Raytheon Intelligence & Space as a Systems Engineer.
---
"I didn't realize how exciting learning could be."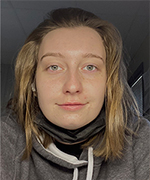 Emma Wilson struggled to decide between a variety of math and physics degrees when enrolling in college. Imaging Science caught her eye when exploring the majors offered at RIT because it was the perfect conglomeration of all her interests.
Now that she is graduating, Emma is grateful she had such significant exposure to all that is imaging science. In addition to her coursework, Emma has been involved in the Imaging Science Club and worked as a research assistant and intern with the Chester F. Carlson Center for Imaging Science. She also worked part-time as a Lab Technician with JML Optical Industries, LLC. "I would advise high school students to utilize all of the great resources within the department."
Emma describes imaging science as novel and exciting, and she credits her success to the immense support from peers and everyone in the imaging science department. After graduation, she will be working as an Alignment Technician at IDEX Health & Science LLC.
---
"Imaging science stretches you in many different ways, but that allows you to be so much more marketable once you graduate."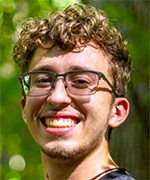 Ethan Snell found Imaging Science through Monroe Community College (MCC). He earned his associate's degree in Optical Systems Technology and transferred to RIT through the 2+2 program. Ethan chose RIT because he was fascinated with the uniqueness of imaging science and excited about the many opportunities in the imaging and optics fields in Rochester.
Now that he's graduating, Ethan is grateful for the plethora of opportunities he had to explore different fields at an undergraduate level in imaging science. He took courses in color science, vision, image processing, optics, and more. He describes imaging science as a niche: "there is no other place to get this type of education, which makes companies love you once you graduate."
Even as a transfer student, Ethan connected with his peers and faculty and had amazing experiences in labs and classes. He especially appreciated Dr. Anthony Vodacek who was his senior project advisor. Shortly after graduation, Ethan will be starting his full-time job as an Image Science Engineer in the Space & Airborne Systems division of L3Harris, here in Rochester.
---
"Imaging Science stood out to me for being such a unique program in the country."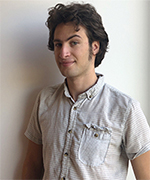 Max Lipitz, a photographer and science enthusiast, thought the imaging science program was a happy medium for both his passions. Max appreciated the opportunity to learn about so many different types of imaging technologies while in the imaging science program. "You get the opportunity to have a deeper understanding of the camera and why you can send a selfie a world away faster than a speeding bullet!"
Max said several professors helped him during his academic career including Dr. Robert Kremens, Dr. Chris Kanan, and Dr. Grover Swartzlander. Today, Max looks forward to working in the aerospace industry after graduation.
About RIT's Chester F. Carlson Center for Imaging Science
Imaging science is a unique major that combines math, physics, computer science, and engineering to develop imaging systems used in a wide array of industries. Today, imaging systems monitor agriculture, study art, visualize architecture, protect and secure the nation, explore the universe, and drive cars. The Chester F. Carlson Center for Imaging Science is dedicated to pushing the frontiers of imaging in all its forms and uses.
The imaging science major at RIT begins with a year-long, project-based class in a free-form learning environment and culminates with an independent research project under the guidance of the center faculty. This revolutionary approach to education has been so successful at the undergraduate level, that incoming Ph.D. students now do something similar, taking on a new project at the start of each year.
Graduates of the Center's bachelor, master, and Ph.D. programs are employed at world-renowned companies such as Adobe, Amazon, Apple, Aptiva Imaging, Boeing, Google, L3 Harris, Lockheed Martin, NASA, National Geospatial-Intelligence Agency, Naval Undersea Warfare Center, and more.
---