RIT Electronic Gaming Society reinvents itself to connect students during COVID
Virtual game nights are just one way to build a community of gamers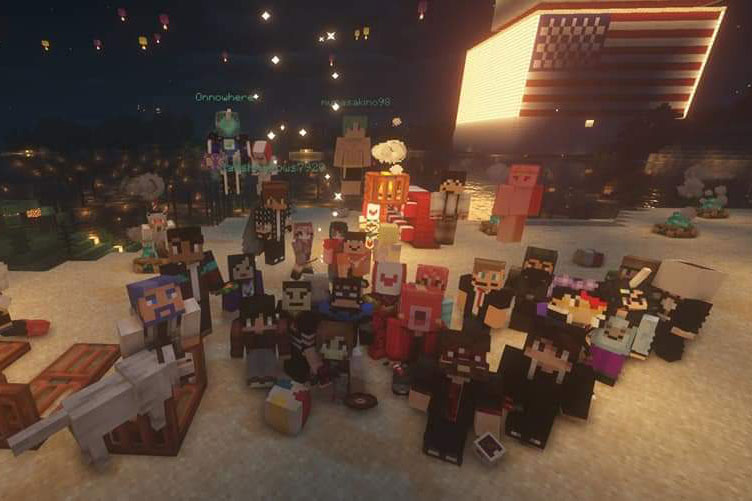 Alexa Amoriello
RIT's Electronic Gaming Society is always reinventing itself to provide its members with the best gaming experience possible. During the COVID-19 pandemic, that has been no different. In addition to offering students access to more popular consoles and hosting game servers, the club is experimenting with virtual reality that has made their weekly game nights, Wednesday evenings from 8 to 11 p.m., increasingly popular.
Before COVID, RIT gamers could be found gathered together with their consoles, Xboxes, Playstations, or at open TV spaces. But with the onset of COVID and physical distancing requirements, Electronic Gaming Society members have partnered with Discord to officially host the club. Virtual game nights include titles like Jackbox, Among Us, Super Smash Bros., Mario Kart, Halo, Overwatch, and Rocket League, to name a few. The group is also working on the popular Minecraft Project, where members gather weekly to use the game to build a digital version of the RIT campus.
"I think we are very heavily invested in the Zoom culture now where the only thing we're doing is using technology to learn and function in life which was not what it was before," said Alexa Amoriello, a third-year game design and development major from Westchester, N.Y., and Electronic Gaming Society president. "I think it's really important for students to take a break and explore different mediums of technology, and de-stress for a little bit."
Amoriello believes electronic gaming plays a huge role in community building, especially at a time like this. "A lot more games are being developed to bring people together, which truly is the need of the hour," said Amoriello. "Newbies" often start by joining a gaming community to learn more about what they might be interested in, what they can try themselves, and meet people with similar interests.
Hardcore gamers or even beginners who want to learn can participate in the club. In addition to the weekly game nights, The Electronic Gaming Society, which is sponsored by RIT Student Government, hosts tournaments and LAN parties. It also sponsors several communities for gamers such as the Pokemon Club, among others, and has established partnerships with game companies like Ubisoft. The club has also hosted launch parties for games such as Assassins Creed. The club was also recognized by Microsoft and was featured in their COVID Gaming Session Podcast that was joined by more than 5,000 attendees.
Amoriello and the other club members plan to continue to engage gamers in fun and interactive ways and look forward to when they all gather together again.
"With COVID slowly going away, we hope to create a safe space again for students to come back once the precautions have been approved by RIT," added Amoriello. "Gaming is for everyone and we hope that the Electronic Gaming Society is a good outlet to help a beginner get started or an experienced gamer connect with a community they hadn't before."
To learn more about the club's weekly virtual game night, go to its Discord page.