March 1, 2021
by Greg Livadas and Susan Gawlowicz
Weekly testing for COVID-19 continues with promising results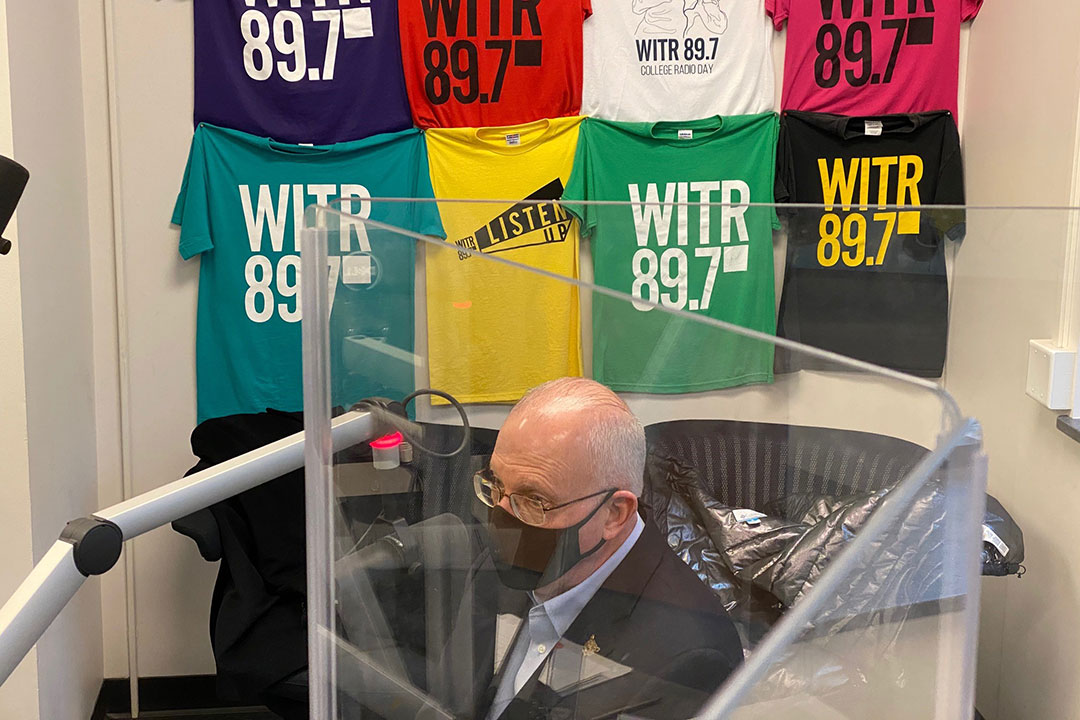 Bob Finnerty
While COVID-19 remains a global concern, RIT is doing "far better than other colleges and universities" across the nation, RIT President David Munson said last week in a live radio interview. Weekly testing is yielding one positive case out of every 1,000 RIT students tested, and there has not been a single case of viral transmission inside campus classrooms dating back to August.
 "We are thrilled with how things are going," Munson said during his latest "Ask Munson" question-and-answer interview on Feb. 24 on WITR (89.7) radio. "Kudos to our students and their behavior. We know how to stay safe. Keep it up!"
Munson said about 95 percent of RIT students are complying with weekly testing, but everyone must remain vigilant.
"RIT has committed to weekly testing for all students who circulate on campus for at least the next several weeks," said Dr. Wendy Gelbard, RIT associate vice president of Wellness. "We continue to assess and reassess our testing needs."
RIT has surpassed 41,000 tests since Jan. 25.
 "If one has been fortunate enough to secure the vaccination, you do still need to participate in weekly testing, continue to wear your mask, and watch your distance," Gelbard said. "No vaccine is 100 percent effective, and we will not be able to relax our infection prevention strategies until a majority have been vaccinated and/or had the illness conferring immunity."
Gelbard's team closely monitors COVID-19 levels in the nation, in Monroe County and at RIT. "We are not out of the woods," she said, noting a few instances of private student gatherings resulting in an uptick of infection.
"One gathering a few weeks ago resulted in transmission of the virus to many in attendance," Gelbard said.
RIT's Stopping the Spread campaign reminds students to follow safety protocols to keep COVID-19 spread to a minimum.
"As tiring as these rules are, we urge you to continue to observe the four W's: Wear your mask, wash your hands, watch your distance, and find that willpower to keep at it," Geldard added. "Please do not host or attend gatherings with those outside your COVID bubbles. Socialize, but do so safely."
Topics