National Council - Karen Roth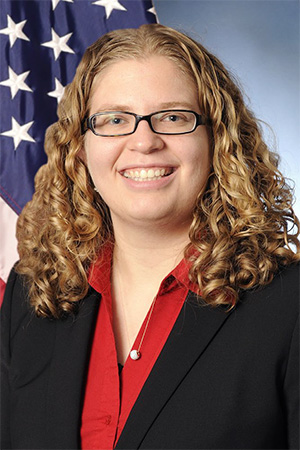 Karen Roth
'06 BS Software Engineering
Ms. Karen E. Roth is the deputy director of AFWERX, the innovation arm of the Department of the Air Force. She leads the strategy and execution across the $1.3b portfolio through AFVentures, Spark, Prime, SpaceWERX, and the Small Business Innovation Research and Small Business Technology Transfer programs, which serves to expand the defense industrial base for advanced technologies, empower Airmen and Guardian talent, and drive faster technology transfer to operational capability.
Previously, Roth was one of five senior leaders for the Air Force Research Laboratory Information Directorate as chief engineer and ensured technical excellence across the $1.5b portfolio on an international stage. She directed programming and focused on strategic external partnerships to accelerate change and technical impact to the Air Force, which resulted in the creation of the Innovare alliance. Innovare is an impact driven global community of scientists, engineers, and entrepreneurs converging on Air Force technology interests via specialized facilities and programming for Technology Transfer and open innovation. 
Her passion and advocacy for women in STEM led to her participation in the Society of Women Engineers where she is the FY25 society president and past treasurer and director of professional excellence of the international organization. She has brought this passion to other organizations like the Girls Scouts and the RIT Golisano College National Council. 
Ms. Roth holds an Executive MBA from Indiana University Kelley Business School. She also holds a bachelor's degree in software engineering from RIT and a master's degree in Systems Engineering from Cornell University. She is currently pursuing an executive certificate in Public Leadership from the Harvard Kennedy School of Government.